rTMS is a procedure in which cerebral electrical activity is influenced by a pulsed magnetic field. The magnetic field is generated by passing brief current pulses through a figure 8 coil. This coil is encased in plastic and is held close to the scalp so that the magnetic field can be focused onto specific areas of the cortex, or surface, of the brain.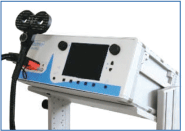 The magnetic field that is generated in rTMS can penetrate the scalp and skull safely and painlessly to induce a current in specific regions of the brain. It is termed repetitive TMS, or rTMS, because the magnetic stimulation is delivered at regular intervals.
Many aspects of rTMS, referred to as stimulation parameters, can be changed. The ability to change parameters while directly targeting specific brain areas suggests that rTMS has valuable therapeutic potential.
The stimulation parameters are:
The number of stimuli
The strength of the stimuli
The duration of the stimuli
The length of the interval between stimuli
The targeted area of the brain
This means that the delivery of rTMS therapy may be customized for each patient. It also suggests that rTMS may be used to elicit certain desired effects in the brain (i.e. excitatory or inhibitory effects) that have shown promise for treating various conditions or illnesses such as depression. rTMS may be used to elicit certain desired effects in the brain (i.e. excitatory or inhibitory effects) that have shown promise for treating various conditions or illnesses such as depression.
When was rTMS developed?
1831
Faraday discovers the principle of mutual induction. Faraday's law quantifies the conversion of electrical energy into magnetic fields and magnetic fields into electrical energy.
1896
D'arsonval places a subject's head inside a power magnetic coil. Subjects reported seeing "magneto phosphenes" (sparks) and experiencing vertigo and syncope.
1902
Researchers in Vienna, Austria treat a patient for depression using an electromagnetic coil placed over the skull to pass vibrations into the cranium.
These early innovations represent the historical structures that have shaped today's modern version of rTMS but did not permit high intensity or frequency usage.
1965
The first magnetic stimulation of human nerves is conducted by Bickford and Fremming.
Mid 1980's
Anthony Barker at the University of Sheffield, England, built the first effective, modern Transcranial Magnetic Stimulation (TMS) device. It was designed as a neuro-diagnostic tool. Researchers could now induce movement in the finger and foot by placing the coil over a specific region of the brain. It was also used to study nerve fibres and create a functional map of the brain. The procedure's noninvasive and painless nature allowed early researchers to utilize the TMS devices to map and study regions of the brain that were involved in memory, vision and muscle control.
1990's
The first open trials of using TMS for depression began. Hoflich et al. suggested that TMS, which was applied over the vertex, has antidepressant effects. The first clinical utilization of the early TMS devices involved diagnostics for multiple sclerosis and motor neuron disease.
2002
rTMS therapy was approved by Health Canada for clinical delivery in Canada.
1900's ~ Present
rTMS research has been ongoing for over 20 years around the world.
More recently, rTMS has been used to investigate sensory and cognitive aspects of cortical processing.
Current research suggests that rTMS has a valuable therapeutic potential for many other illnesses and disorders in addition to depression because of its unique capacity to selectively increase or decrease the excitability of neurons in discrete brain regions. This emerging technology represents the most significant innovation in neuropsychiatry in the last 50 years.
READ MORE ABOUT rTMS THERAPY ONLINE
The Elata Foundation
Nonprofit organization dedicated to funding research into transcranial magnetic stimulation (TMS) as
a treatment for depression.
National Institute of Mental Health (NIMH)
http://patientinfo.nimh.nih.gov
Pubmed
A service of the U.S. National Library of Medicine that includes over 17 million citations from MEDLINE
and other life science journals for biomedical articles back to the 1950s. PubMed includes links to full
text articles and other related resources. http://www.ncbi.nlm.nih.gov/pubmed/
French guidelines on the use of repetitive transcranial magnetic stimulation (rTMS): safety and therapeutic indications.
http://www.ncbi.nlm.nih.gov/pubmed/22153574