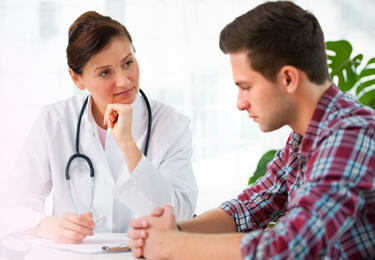 Patient Referral Form (TO BE PRINTED)
We are proud to announce that the MUHC is now offering Transcranial Magnetic Stimulation (rTMS) treatment.
This procedure is an important advancement in the treatment of many neuropsychiatric conditions, and has been endorsed by CANMAT, the Canadian Network for Mood and Anxiety Treatments, as an effective treatment for depression, and other neuropsychiatric conditions.

Since 2013, rTMS is a treatment covered by Medicare (RAMQ). There are two ways to access this therapy:
We are offering this treatment to patients who suffer from conditions for which rTMS is recognized as a 2nd and 3rd line treatment.
Clinical research trials in which we are trying to better understand the application of rTMS for different illnesses. Patients who fulfill the criteria for entry into a clinical research trial may be recruited into our studies and would have access to treatment at no cost.
On behalf of the team that has developed the MUHC-rTMS Centre, we are confident that, in Quebec, the MUHC will take a leadership role in further developing rTMS and other neurostimulation treatment options for our patients.

Patient Referral Form  (TO BE PRINTED)
The Neuromodulation Unit wishes to acknowledge an important donation from Bell Canada through the Bell Let's Talk initiative towards the acquisition of advanced rTMS equipment to increase access and quality of care. READ MORE