Social Workers play vital role in helping patients get back on their feet
Hospitals can create stress and anxiety for just about anyone. From tests and procedures to waiting for results and wondering what comes next, many patients rely on social workers to help guide them through the process.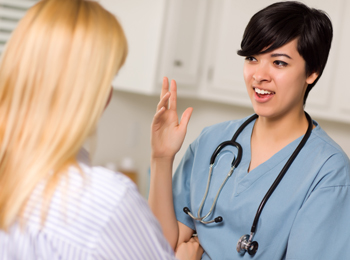 More than 100 social workers count themselves among the Social Services staff at the McGill University Health Centre (MUHC). Angela Teixeira is one of those people. Angela has been a social worker for more than 25 years and currently works in both Gynecology/Oncology and Cardiology. She sees two distinct roles for the social worker. "There's the instrumental side, which involves paperwork and administration, but there's also the emotional side: the illness, treatment, and how the patient will recover. We have to work quickly to assess our patients and then create the best plan for them to go home, one that will address their physical and emotional needs."
A balancing act
The Social Services team can provide counselling for patients and their families, and referrals for community support such as CLSC s and support groups.
It's a balancing act and the social worker has to bring everyone together to focus on what's immediately important. "There's no set formula," says Angela. "Each patient is unique so we have to be flexible and creative in our solutions. We try to make the patient's experience less traumatic."
Sometimes they go the extra mile. Angela worked with a young woman who lived at home with her parents and sisters, and was about to start chemotherapy. "She really wanted her own bedroom," says Angela, "so I contacted everyone—from CanSupport staff to the president of a home building retailer— to ask for help." The donations came in, and soon the family was putting up another bedroom in their basement. Years later, the young woman continues to do well. "It made a huge difference in helping her get better both emotionally and physically," says Angela.
Digging deeper
At the Montreal Neurological Hospital (MNH), social worker Nathalie Cloutier-Fons' patients have epilepsy. "I'm definitely the kind of person who needs to help people," she says. "Social work offered me the chance to work with all ages— and the hospital gives me the challenge and fast pace I was looking for."
Nathalie says that social workers facilitate the discussion between patient and doctor. "The illness is the reason the patient comes in but it's up to us to assess everything about them. In a way, we're 'detectives,' which is the role I love the most."
One of Nathalie's patients—a man in his forties with active epilepsy—was admitted to the MNH after a seizure. Nathalie learned he shared custody of his daughter with his ex-wife. He asked Nathalie if she could organize a meeting with his family to help them understand epilepsy better. He was also worried about his daughter so Nathalie offered to meet with her. "We read a children's book with a positive message about epilepsy. I tried to normalize the situation using education and active listening. She opened up and said she was worried that her dad would hurt himself when he had the seizures." In the end, the meetings helped the family work out a solution that satisfied everyone.
With shorter hospital stays than in the past, MUHC social workers have less time to work with their patients. "I do everything I can," says Nathalie. "I work with my head, my heart, and my skills but then I have to make the link to the community so that my patients can move on successfully."
Angela agrees. "My goal is to enter their lives, ease out of their lives and make an impact along the way. My hope with each patient is to plant a seed that will blossom some day."