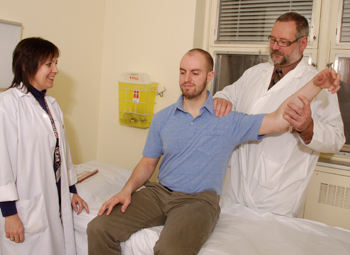 Back in 2003, when he was a high school student in Connecticut (USA), Jonathan Geller was diagnosed with a sarcoma type of cancer. Sarcoma is a cancer in a class of its own. Rather than attacking an organ, it attacks muscular tissues, bones, nerves or fat. And it doesn't discriminate. It can affect people of all ages and any part of the body but it is relatively rare, since it only represents one to two percent of all cancer cases. Traveling back to Montreal (his home town) to receive treatments, Jonathan felt supported both by the doctors who allowed him to continue doing sports and offered him flexible treatments to match his international school's schedule and the nurses who were always there to support him and his family through difficult times. "I'm extremely grateful for the care I received and I'm always ready to try to give back, for example by giving speeches to new patients and trying to reassure them that they are in good hands with the MUHC's sarcoma team," he adds.
At the MUHC, we have a dedicated team for sarcoma cancers ready for patients who come from far and wide to receive the best care available in the province and beyond. The multidisciplinary sarcoma team that assists its patients consists of orthopaedic, thoracic and plastic surgeons, radiotherapists, medical oncologists, nuclear medicine specialists, pathologists, molecular biologists and pharmacists. "It's a big team because sarcoma patients need a lot of complex care that requires a lot of specialists," says Dr. Robert Turcotte, Chairman of the Department of Orthopaedic Surgery and Orthopaedic Oncology at the MGH. In addition, pivot nurses, researchers, ward and external clinic nurses, physiotherapists, occupational therapists, psychologists, psychiatrists and more add to the support team.
"As a pivot nurse, I help patients such as Mr. Geller when they're going through this challenging time and transitions in their life by acting as a link between the team of doctors, and by providing them with a continuity of care," says Judy Hughes, pivot nurse for the sarcoma program.
Some areas of advancement include modern prosthesis for individuals that can have many advantages for patients, such as being covered with silver to decrease the chances of infections or, in the case of a child, be able to grow with them. The team also constantly tries to use the latest diagnosis techniques, such a molecular biology or the newest approved experimental drugs, even when they are not easily obtained in Canada. "We always try to use vanguard techniques," says Dr. Turcotte. "It's all about our patients. Our approach to care reflects their needs and, as a result, we deliver the best care we can."