Cancer care, teaching and research will be revolutionized in Montreal, thanks to the construction of a new $155 million Cedars Cancer Centre on the Glen Site as part of the $2.2 billion MUHC redevelopment project.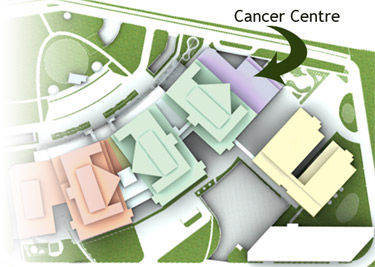 The Cedars Cancer Centre is one of the few truly comprehensive centres of excellence for cancer care in North America. Representing a new Canadian standard, it provides Quebecers with some of the finest facilities in the country.
The McGill University Health Centre is already at the forefront of innovative surgical oncology, including minimally invasive surgeries. It was one of the first cancer centres in Quebec to incorporate robotic surgery for cancer care. These revolutionary techniques have led to an increase in day surgery, shorter recovery times, less pain and discomfort, and a reduction in the length of hospital stays for patients requiring hospitalization.
At the Cedars Cancer Centre, the McGill University Health Centre will continue to pioneer advances in cancer diagnosis and treatment. Patients benefit from diagnostic developments like DNA/gene sequencing, preconception risk assessment and prenatal genetic treatments, targeted and specialized chemotherapy and radiotherapy treatments, biotechnological advances in gene altering and biologic-targeted therapies.
Our $155 million Cancer Centre
Consolidate all aspects of our cancer program in one location
Bring together clinicians from a variety of disciplines including surgical oncology, medical oncology, pediatric oncology, pathology, genetics, specialized nursing services, radiation oncology and palliative care as well as nutrition, rehabilitation,psychological and social services
Measure over 12,630 square metres
Be the site of about 150,000 treatments and clinic visits each year
Provide patients with the latest in cancer therapies in a thoughtfully designed environment that supports their physical rehabilitation and meets the emotional needs of them and their families
The newly renovated Balfour M. Mount Palliative Care Unit strives to deliver exemplary physical, psychological, social and spiritual care for patients and families with complex problems related to coping with a life-threatening illness. Building upon the visionary work of Dr. Mount, the interdisciplinary team works in close collaboration to ensure the delivery of comprehensive care that aims to optimize quality of life.
A Facility for the 21st Century
The modern and comfortably furnished Cedars Cancer Centre provides space and resources for the full array of diagnostic and treatment services. In addition, day hospital patients experience a far greater degree of privacy, benefit from much improved infection control and have access to a Health Information Resource Centre dedicated to cancer patients and their families.
Increasingly, chemotherapy is administered in outpatient settings, and our facilities have been specially designed to facilitate this change.
The Outpatient Oncology Clinic and Oncology Day Hospital offer intensive, complex chemotherapy treatments for high-risk patients, while the Radiotherapy Unit provide patients with advanced radiotherapy treatments, blood transfusions, assessments and complete follow-ups. Combined, these facilities allow careful monitoring of complex cases while reducing the expense and inconvenience of unnecessary hospitalizations.
The McGill University Health Centre has established a vision of cancer treatment that represents the best in evidence-based care and collaborative, interdisciplinary research. Making this vision a reality is a team of world-class professionals whose commitment and skills are leading our institution to a new era in cancer care. In this new age, proactive prevention, early diagnosis, new treatments and even cures for many types of cancer will finally be within reach.
With our exceptional pool of talent and introducing approaches that have proven effective in the world's leading oncology centres, the McGill University Health Centre's new Cedars Cancer Centre serves as a model for cancer care and research, enhancing the quality of life and improving survival rates for patients for generations to come.