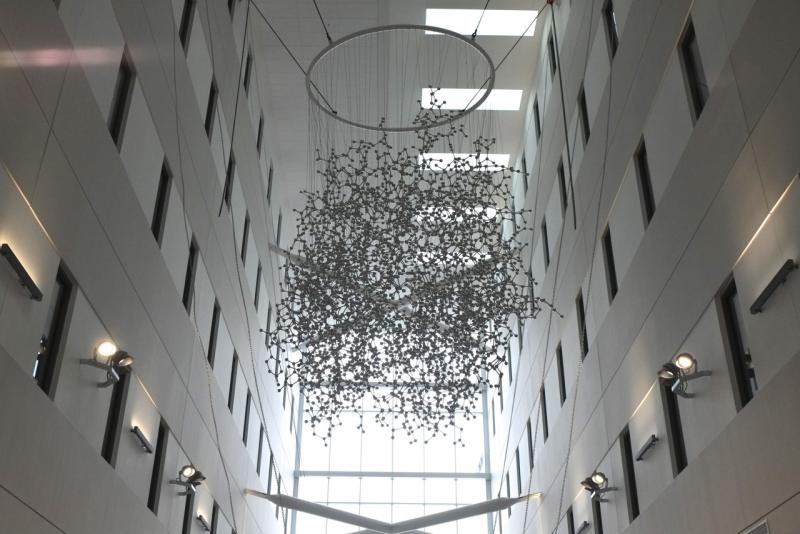 "Through its reflective material (polished stainless steel) and the symbolic content of its form, the work can be seen as a representation of the Institute itself; a microscopic sample taken to macroscopic proportions — rendering visible what goes on inside the human body, as well as what happens in the vital work of research."
Lustre (hémoglobine)
Measuring 10 x 10 x 10 metres, this is a 3D reproduction of human hemoglobin. The macromolecule is made of reflective stainless steel, composed of about 4500 spheres and almost as many rods, all chosen for their iridescent effect. This enormous structure brings a grandiose space to life, giving the Research Institute a symbol that represents life in its purest form. For the artist, the work evokes, amplifies and poeticizes what goes on here – the good, the real, the essential – serving the purpose of science which is to help, heal and save, as the expression of human knowledge and compassion.
Material: Stainless steel
Dimension: 10 x 10 x 10 m
Location: Atrium of the MUHC Research Institute
Get to know the artist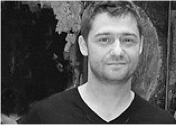 Nicolas Baier (born 1967) lives and works in his native Montréal. Baier earned his BFA at Concordia in 1994 and has since shown his works in Montréal (MMFA, MAC), Toronto, Ottawa, Halifax, Madrid, Paris and Boston. He has been part of several group exhibitions, most recently at Mass MoCA (2012) with "Oh Canada". He has produced a number of public works in Québec. His works can be found in public and private collections, including those of the Art Gallery of Ontario, the National Gallery of Canada and the National Bank of Canada.