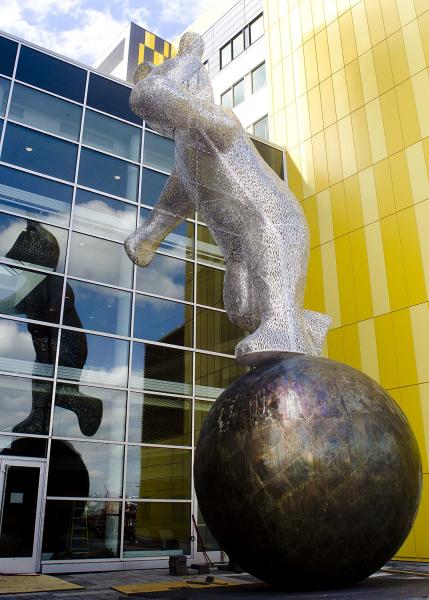 "Drawing inspiration from a child-like world, I invented a story of a giant bear who courageously learns to walk on planets and travel between the stars."
« Je suis là ! »
By virtue of its multidimensional and interactive character, this piece encourages children and parents to discover its different dimensions and tones, which change depending on the time of day and the viewer's vantage point. Meanderings, outlines and paths will evoke the movement of clouds, and viewers will be free to ask their own questions and draw their own conclusions. The bear balancing on the large sphere stands out at first glance because of its grandiose stature, yet the overall perspective, which can be viewed from the inside, is what eventually renders its importance relative. Come evening, the blue light of the sky will coalesce with the blue emanating from within the bear. Inspiring calm and trust, the bear will watch over us come nightfall and help to renew our courage.
Materials: Aluminium, anodized aluminium, electrostatic paint, brass, granite.
Location: Atrium and terrace at the children's hospital
Dimensions: 11.3 m (bear), 3.65 m (sphere) 
Get to know the artist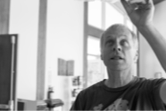 Michel Saulnier lives and works in Saint-Jean-Port-Joli. He holds a Master's in Art History from the Université de Montréal. Since 1989, he has completed close to 30 public commissions. His works have been showcased in solo exhibitions in Québec, Canada, the United States, Germany and Japan. They are also featured in private and public collections in Canada, Europe and Japan. In 2006, Michel Saulnier received the Conseil des Arts et des Lettres du Québec's Prix à la création artistique for the Chaudière-Appalaches region. The Musée régional de Rimouski presented a retrospective of his work in the summer of 2008.