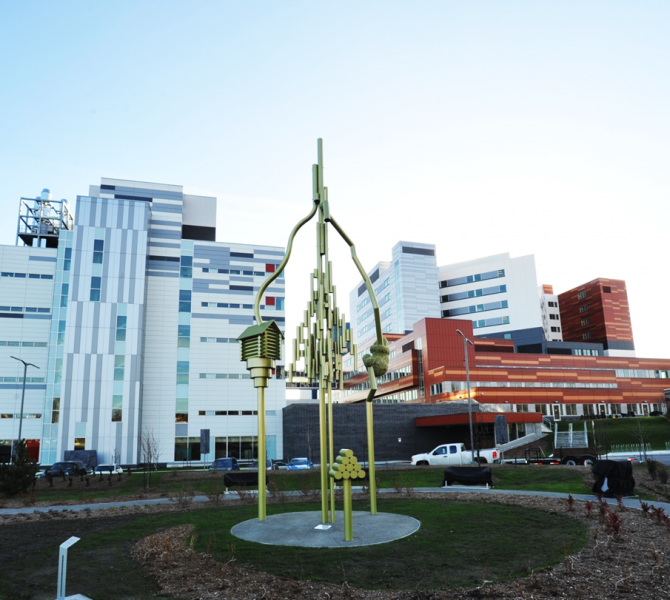 "A sculpture that tells a green story, that of a forest, a waterfall and a hermitage; its poetic allusions rekindle the strange well-being one feels when immersed in the heart of these original places."
Printemps
The artist imagines this sculpture as a large drawing, using the same form – the round stem – to construct each of the elements. By varying the diameter, position, organization, and assembly of these stems, figures are made to appear within this landscape, and seem to transmit the message that "everything is in everything." Inspired by the time-honoured practices of Chinese painters, the lines and volumes draw us into its grandeur and spirituality, rather than directly representing the landscape. Each line suggests multiple ways of reading the work and can evoke, all at once, a branch, the outline of a mountain, or the movement of water or smoke. The aerial construction of elements provides an interesting visual point of access, regardless of the viewing angle and the time of day, as the sculpture will be lit up on all sides.
Materials: Aluminium, stainless steel, paint, lighting.
Dimensions: 10 m x 4.6 m x 1.5 m
Location: Healing Garden, adjacent to the Cancer Centre
Get to know the artist

Gilles Mihalcean is a Québec-born sculptor living and working in Montréal. Over the years, his works have been exhibited in Montréal, Canada, the United States and Europe. Mr. Mihalcean has earned numerous prizes and awards since 1971, including the Jean-Paul-Riopelle career grant (2005) and the Prix Paul-Émile-Borduas (2011). He has also created several public art works in Montréal. Through a surprising exploration of materials coupled with paradoxical and polysemic juxtapositions of form, Gilles Mihalcean's work features objects devised to reflect something akin to humanity as he sees us, which can be summed up in three words: invention, humour and ambiguity.