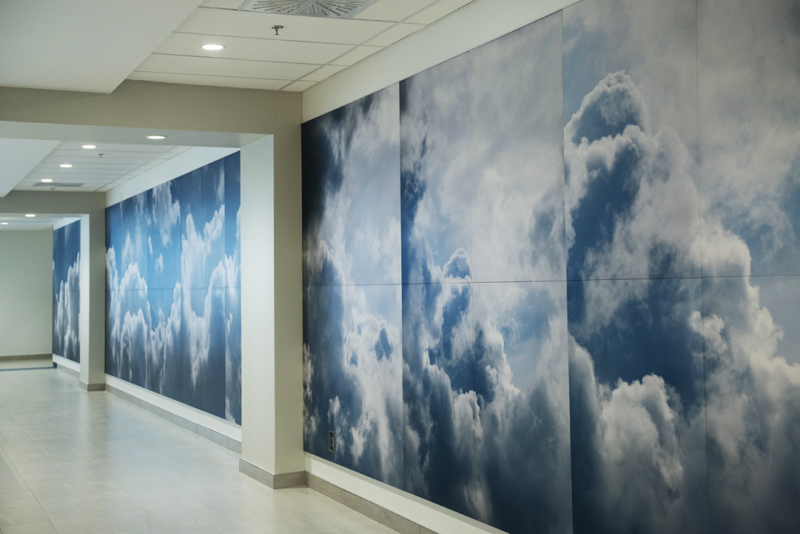 "I've always been fascinated by clouds — as a small child, teen, adult, and artist. I love clouds, I watch them, and I've taken pictures of them for many years intuitively, for no particular reason at all."
 «  Blanc de plomb et bleu de Prusse, études sur les nuages » 2014
This work is at once a narrative and a reflection. Among the evocations in these representations of clouds, we find the senses of universality, change, contemplation and dreaming. It would be reductionist to hold fast to these evocations, but they are the values that led to the theme's development. Looking at clouds provides an infinite source of inspiration without any direct reference to the multiple boundaries created by humanity. For the particular environment of the atrium, the artist created a work that interweaves a multitude of close links between his own concerns as an artist and the stated objectives of the integration program. Of its two main parts, the south-facing, three-section mural presents close-up views of cloud edges. The photos reveal the deeply-creviced features of cumulus clouds, while the mural in its totality presents us with the irregular forms of clouds in tones of blue and white. The north-facing mural is a mosaic of cloud photos on a neutral gray background.  This grouping displays a variety of skies and cloud types, entering into a dialogue with the other mural as well as with a screen display in front of it at rail level.
Materials: photographs, recycled aluminium (photographic transfer onto aluminium by sublimation)
Dimensions: 2.44 m x 19 m,  2.44 m x 6.5 m
Location: North and south section of the adult hospital atrium
Get to know the artist

Denis Farley lives and works in Montréal, where he earned his Masters in Fine Arts at Concordia University (1984). He has taught in the Visual and Media Arts department at the Université de Québec à Montréal since 1998. A frequent explorer of industrial and technological sites, his recent photographic work has questioned the relationships between nature and the urban environment. He has been exhibited on several occasions in Canada, the USA and Europe. His works can be found in many public and private collections, notably those of the Musée d'Art Contemporain de Montréal, the Canadian Museum of Contemporary Photography in Ottawa, the Montréal Museum of Fine Arts, the Musée National des beaux-arts du Québec, the Musée de la Photographie de Charleroi, and the Fonds National d'Art Contemporain in Paris.