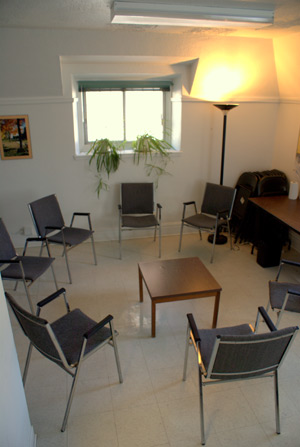 The primary goal of treatment at the Addictions Unit of the McGill University Health Centre is abstinence from drugs and alcohol. In order to help our clients achieve this, treatment programs are individualized and vary considerably from one person to another. The recommended program may be of very short duration or extend over a 6-12 month period. In some cases inpatient detoxification is recommended, followed by referral to an extended care facility such as Portage or Foster Pavilion. The treatment approach followed will be determined during the initial assessment in the clinic, and is explained at that time.
The main modality of treatment is group therapy. It provides a unique opportunity to exchange views and experiences with other people who meet together in order to make changes in their lives, attitudes and behaviours.
Another modality of treatment is short-term individual counselling and follow-up. The role of the therapist is to help identify strategies that will be effective in achieving and maintaining abstinence from alcohol and drugs. We use a team approach and individuals may be treated by more than one professional during treatment. The goals of our program are to help people achieve a drug-free lifestyle, examine the function that substance(s) may have served, and develop new ways of coping in social, occupational and interpersonal situations. The Program has a urine testing program that is mandatory for all our clients. The procedures for this are explained in detail when therapy begins.
Some Elements of Our Evidence-Based Treatment Approach
Elements of the model for "Best Practices" include the following: 
Formal and in-depth assessment of biological, psychological, and social elements as well as psychiatry disorders is conducted at initial assessment
Recommendation of abstinence from substances of abuse/dependence.
Psychiatric assessment and ongoing evaluation, provision of services, referral.
A combination of group and individual treatment.
Varying intensities of treatment based on needs assessment.
Selective use of specific pharmacotherapies for substance use disorders (e.g. Naltrexone, Disulfiram, Buprenorphine).
Specific groups for skills acquisition (e.g. Stress Management, Relapse Prevention).