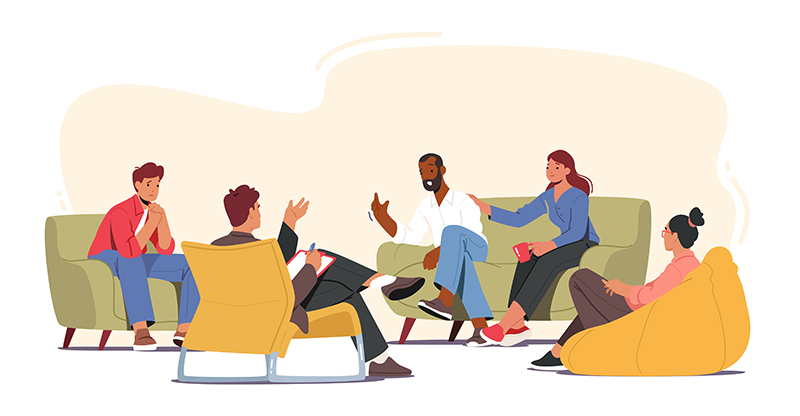 The MUHC Addiction Psychiatry Program offers treatment services for individuals seeking to recover from substance use disorders. Our treatment services are individualized and vary in duration and intensity.
Group therapy is the main psychotherapeutic intervention. We also offer short-term individual counselling, as well as pharmacotherapy for withdrawal management, relapse prevention or treatment of concurrent psychiatric disorders. Urine testing for alcohol and drugs is a required component of our treatment program.
Intake
Individuals seeking treatment must contact the clinic by telephone. The intake nurse will explain the service and admission requirements and collect preliminary demographic information, current and past substance use, and addiction treatment history. A referral note from your current health care provider, psychotherapist, or addiction counsellor is requested.
Assessment
On the day of the assessment, there is an interview with one of the team therapists, psychology intern or psychiatric resident, as well as with one of the team psychiatrists. The assessment involves questions related to alcohol and substance use, medical history, psychiatric history, family and relationships, legal issues, and school/work history. This entire process takes between two to three hours and concludes with an individualized plan for joining the treatment program. A urine sample for alcohol and drugs testing is required at assessment.
Detoxification
Detoxification can be completed safely and effectively in both outpatient and inpatient treatment settings. Most patients detoxify on an outpatient basis, with or without medications for withdrawal management. However, some patients may require admission to the hospital for detoxification when withdrawal in an outpatient setting may be hazardous.
Inpatient detoxification includes daily medical and nursing assessments to help relieve the immediate symptoms of withdrawal, overcome physical and psychological dependence on substances, as well as diagnose and treat concurrent psychiatric illnesses. There are four beds allocated to the Addictions Psychiatry Program for detoxification on the 4 West Psychiatry Unit of the Montreal General Hospital.
Once discharged from the hospital, some individuals continue in the outpatient program, while other individuals are referred to residential addiction rehabilitations centers.
Pharmacotherapy
Evidence-based pharmacotherapy is offered as indicated for opioid, alcohol and other substance use disorders.
Pharmacological interventions include but are not limited to buprenorphine and methadone in the treatment of opioid use disorders; naltrexone, acamprosate, disulfiram and other medications in the treatment of alcohol use disorders; integrated management of co-occurring psychiatric disorders (e.g., mood and anxiety disorders, PTSD, ADHD, and psychotic disorders); as well as the care of addiction patients with chronic pain or trauma histories.
Acute treatment: phase I (regular) and day program (intensive)
Following detoxification (if needed), patients may participate in either the regular phase 1 (one group per week) or the intensive day program (five days per week). Regardless of the selected intensity, the acute therapy program is approximately six weeks in duration; it includes weekly individual counseling, psychiatric monitoring as required, and regular urine screening for alcohol and drugs. A family member or significant other is welcome to join the patient for one of the individual meetings with their therapist. Significant others play an important role in recovery and mutual benefit may be obtained by the patient and family member learning more about the consequences and reactions long-term substance use can engender.
The therapy is largely based on psychoeducational, cognitive-behavioral, and motivational interviewing techniques. The day program also has a mindfulness group, a creative expression group, a speaker's meeting (run by the Recovery Transition Program), and a life skills group. The day program provides structure and support for individuals recovering from substance use disorders.
Maintenance treatment: phase II (regular)
Individuals who have successfully completed phase I (regular) or day program, and who are motivated to consolidate an alcohol and drug-free lifestyle, are invited to join the maintenance therapy program. It is important for individuals to have specific, definable goals pertaining to their recovery from addiction to participate in and benefit from phase II. The regular phase II program lasts between six and twelve months; group therapy sessions are offered weekly, as well as additional individual support during times of crisis. Specialized phase II groups include a women's trauma-focused group, a dual diagnosis group, and a life management skills group.
The program also offers time-limited phase II options at different time points throughout the year (six to eight weeks in duration). Patients may opt to complete a time-limited group instead of, or in addition to a regular phase II group. These are skills-based groups, such as relapse prevention, emotional regulation, learning to live after addiction, and stress management.
Maintenance treatment: skills-based groups
Relapse prevention
Relapse prevention is an important component of substance use disorder treatment; it helps patients understand and manage the relapse process. Relapse prevention is based on a cognitive-behavioral approach to the treatment of addictive behaviors and tries to address the nature of the relapse process. as well as suggest coping strategies useful in maintaining change.
Topics covered in the relapse prevention group include:
1. Increasing the patient's self-efficacy, eliminating myths regarding alcohol and drug effects, managing lapses, and restructuring the patient's perceptions of the relapse process.
2. Identifying specific high-risk situations and enhancing skills for coping with those situations.
3. Identifying and recognizing urges and cravings and exploring techniques for coping with them.
4. Recognizing angry feelings and learning about anger management techniques.
5. Introduction to relaxation and stress management and problem-solving techniques.
6. Strategies on how to achieve a balanced lifestyle and how to handle a relapse episode.
Distress tolerance
Topics covered in the emotional regulation group include:
1. Recognising and accepting distress – hot / cool / wise mind, meditation.
2. Distraction, self-soothing & relaxation – time-out, relaxation exercises, imagery, visualization.
3. Mindfulness – mindfulness meditation.
4. Coping thoughts – coping flashcards, self-talk, serenity prayer, mantras.
5. Grounding – physical grounding, mental grounding, mandalas.
6. TIPP skills for crisis.
Stress management
The stress management group focuses on learning new ways to recognize and cope with stress and anxiety. The group provides an opportunity to learn basic relaxation techniques, cognitive behavioral strategies, and skills for assertive communication.
Recovery Transition Program (RTP)
The RTP is an innovative program of services designed collaboratively by staff and patients in the Mental Health Mission at the MUHC. The program consists of one-on-one supportive peer mentoring by patient volunteers called Peer Mentors. They are trained to use their lived experience in recovery from mental illness and/or addiction to provide support and information to patients during transitions in treatment, or during the transition from institutional care to the community. All Peer Mentors complete an intensive 30-hour peer mentoring training course, attend weekly supervision meetings, and follow a code of conduct. In order to access the RTP, patients within the Mental Health Mission need to be referred by their healthcare provider.