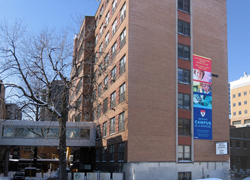 Since its founding in 1903, the Montreal Chest Institute (MCI) has been a leader in treating respiratory ailments and a pioneer in research related to this field.

Implantation de l'approche milieu de vie - Plan d'amélioration
The hospital address:
The Montreal Chest Institute
3650 St-Urbain
Montreal, Quebec H2X 2P4
Patient Information Guide
The main entrance to the Montreal Chest Institute is at 3650 St-Urbain Street, located south of Pine Avenue. Cars or taxis may pull up to the main entrance and drop off passengers.
Click to see the MCI hospital map.
Click to see a Google map of the MCI area.


Handicap Access
Handicapped entrances are at the Main Entrance, or through the Ambulance Entrance at the side of the hospital in the main parking lot.
Directions to the hospital
Metro
The nearest Metro station is Place-des-Arts on the green line, which is located near the corner of Ontario and St-Urbain.
Bus
Convenient bus numbers and bus stops are:
#144 at Pine Avenue and St-Urbain Street,
#535, 80 or 129 at Parc Avenue and Prince Arthur Street,
#55 at Prince Arthur Street and St-Urbain.
For more information on public transportation call 288-6287, or dial 514-AUTOBUS. You may also consult the STM web site at http://www.stm.info.
Car
North: By St-Denis until Pine Ave. Turn right (West) until St-Urbain St. Then left until the hospital.
By Parc Ave. until Pine Ave. to the left (East) until St-Urbain. Turn right until the hospital.
South: Champlain Bridge - Ville-Marie Expressway (720) - exit St-Jacques - Left until University - turn left to the North until Pine Ave. Turn right until St-Urbain. Turn right until the hospital.
Jacques-Cartier Bridge - left at Sherbrooke St. At St-Laurent turn right to the North until Pine Ave. Turn left until St-Urbain. Turn left until the hospital.
East: By René-Lévesque blvd. until St-Laurent St. Turn right until Pine Ave. Turn left until St-Urbain. Turn left until the hospital.
West: Ville-Marie Expressway (720) - exit University - Turn left to the North until Pine Ave. Turn right until St-Urbain. Turn right until the hospital.
Parking
There is a parking lot north of the main.
Reserved areas and signage must be respected at all times. Individuals who do not respect the no-parking signs may be ticketed or have their car towed.
Getting a Hospital Card
Upon arrival, you should register with the Admissions Office J1.33, and have a hospital card made, if you don't already have one. You should also bring your valid Medicare card.
What to Bring
Please bring all medications that you are taking. This will ensure that the admitting physician or nurse can verify the exact medication and dose that you have been prescribed.
Although the hospital provides hospital gowns, you may feel more comfortable in your own pyjamas/ clothing, housecoat, and slippers/shoes. You should bring a toothbrush, toothpaste, tissues, shaving items, soap, skin lotion, sanitary supplies and other personal-care articles. Since storage is limited, you are asked not to bring large suitcases.
Consent
At the time of admission, you will be asked to sign a general consent form for treatment and tests. For patients who are incapacitated, the curator, spouse, tutor or close relative may sign the consent form.
At the same time, you will be asked whether or not you agree to release medical information to your insurance company and/or to referring doctors, hospitals or clinics. You can choose not to release information outside the hospital. Please be assured that the refusal to release information will in no way influence the quality of the treatment you will receive.
Cafeteria
The cafeteria is located on the second floor and sells meals and snacks. It is open to patients and visitors during the following hours:
10:45 a.m. to 1:30 p.m., Monday to Friday
Vending machines are also available on the second floor at the Montreal Chest Institute.
Visiting Hours
We have a flexible visiting policy that acknowledges the importance of family and visitors. At times, the nursing staff may limit visiting in the best interest of the patient.
Information about Patients
As a family member, you may call the hospital Ward at any time (day or night) for information about a relative. For security and confidentiality reasons, information can be relayed only to the immediate family. Please choose a spokesperson who will gather information and pass it on to other family members.
Montreal Chest Institute