Adaptability, composure under pressure, and learning on the go are all skills that need to be mastered quickly by new nurses entering the work force. A team of nurses at the McGill University Health Centre (MUHC) are hoping to provide the support and resources to help soften the transition, in the form of a Comité de la relève infirmière (CRI) for young nurses who have been working for the MUHC for five years or less.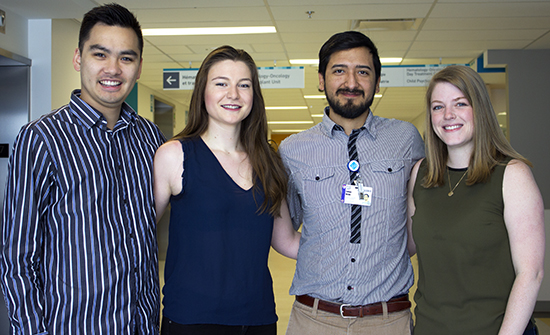 Left to right: Yvan Duong, Laurence Cobo, Felipe Mena, Ariane Belanger
Spearheaded by Ariane Belanger, a nurse at the Montreal Children's Hospital of the MUHC, the CRI is a sub-committee of the Council of Nurses, an official advisory body that provides a platform for nurses to voice their recommendations on everything pertaining to quality, safety, accessibility, and other topics directly affecting the areas in which they work, to the MUHC Board of Directors and President and Executive Director.
The committee is in its early stages, with eight members and an approved plan of action in writing. They are eagerly planting the seeds for future projects, consulting with the Council of Nurses, the Director of Nursing of the MUHC, and other groups in the hospital network in order to optimize resources, as well as to understand how they can best fit the needs of the young nursing population.
The CRI also works in collaboration with the Ordre des infirmières et infirmiers du Québec's youth committee to both listen to and advocate for its members through educational, social and support projects.
"I think we under estimate the impact a resource like this could have. The committee is first and foremost a voice for new nurses. Nurses need support, and it is important that they know they have resources. We chose this work, and this field, because we love it. But it's important that we are happy at work, and that we feel a sense of belonging at the MUHC," says Vice President Laurence Cobo, who is currently celebrating her first year as a nurse at the Montreal Neurological Institute and Hospital Intensive Care Unit.
Laurence and Ariane have both been nurses for less than five years, so the stresses that come with establishing yourself on the job are very fresh for both of them. They both described the climb from school to work as a steep one. It's especially difficult at the MUHC, in a tertiary-coronary care environment that presents many obstacles and complex patient cases. In this line of work, there are many things that need to be lived to be learned.
"The stress is hard to manage for some, and integrating into a new team isn't always easy. It's important to remember that young nurses are also studying for their professional order exam in the first year they are working, so there is a lot going on for them," Ariane explains.
Hitting the ground running
One of the first projects they are launching in September is what they are calling a "survival guide" for new nurses. Unlike the more technical information new hires receive during their trainings, this guide offers tips and tricks for the day-to-day grind, everything from key resource contacts, stress management, and where to get that hearty, comforting meal when you really need it.
The committee meets once a month, and held their first 5 à 7 in March, which saw nurses coming together to get to know each other and unwind. They are working to make themselves visible to the community, and to strike up engagement.
Ariane, Laurence, and the rest of the team are excited to see how this committee will grow. The creation of the committee has been a learning experience in and of itself for them, and also a bit of a balancing act with work, but they say it is all worth it.
"We love working together because everyone is so motivated," Laurence says. "It's a really lovely team."
Want to reach out to the team or be in the loop about events and up-coming 5a7? You can email the committee at: CRI [at] muhc [dot] mcgill [dot] ca
Or follow them on social media:
Facebook: @CRIMUHC
Instagram: @cri.muhc