Men need to listen to their body: advice from throat cancer patient
Last winter, Claude Charlebois was doing renovation work to transform his house into an intergenerational home for himself, his spouse and his parents-in-law. In January, he began to have a persistent sore throat and difficulty swallowing.
"My family doctor prescribed cortisone thinking it was inflammation or dust intolerance, but it didn't work," explains the 49-year-old patient. "He then referred me to ear, nose and throat specialist Dr. Catherine Tanguay-Renaud of Hôpital du Suroît in Salaberry-de-Valleyfield. With the help of a camera, she saw a small mass and a change of colour at the back of my throat. After some tests, she sent me to the director of the Head and Neck Oncology Team at the McGill University Health Centre (MUHC), Dr. Anthony Zeitouni.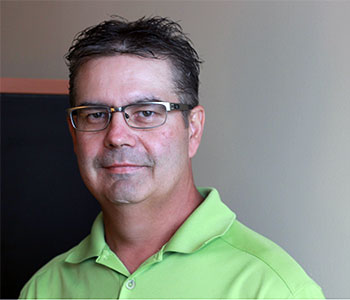 Mr. Charlebois, who never smoked and drank very little over the course of his life, had cancer of the oropharynx – the part of the throat just behind the mouth, including the tonsils – caused by the human papilloma virus (HPV). Very common, HPV is transmitted during sexual intercourse or oral sex and is responsible for almost all cases of cervical cancer in women and a growing number of cases of the oropharyngeal cancer, especially tonsil cancer. The risk varies depending on the number of sexual partners a person has had in their lifetime.
"At one time, tonsil cancer was only seen in people who smoked and drank alcohol," explains Dr. Zeitouni, who is also associate professor at McGill University. "But over the last ten years, we've seen an increase in cases of cancer related to HPV types 16 and 18, mainly in men." 
Dr. Zeitouni says only a small percentage – less than one per cent – of people who have the dangerous strains of the virus, however, will develop tonsil cancer. The vast majority of infections are eliminated by the body.
"Tonsil cancer takes a long time to develop. Patients who now have it were infected ten, twenty or thirty years ago," he explains.
Vaccination, the best prevention  
Mr. Charlebois, who did not wait long to consult a doctor, believes men should be more alert and listen to their bodies. Dr. Zeitouni advocates early diagnosis, but he adds that the prevention of amygdala cancer requires the vaccination of pre-teens and teenagers.
"In 2020, tonsil cancer in men will be more common than cervical cancer in women," he says. "We must protect boys and girls before they start having sex."
A treatable cancer
Tonsil cancer linked to HPV is less aggressive and responds better to treatment than other throat cancers. Unfortunately, radiotherapy and chemotherapy have major side effects.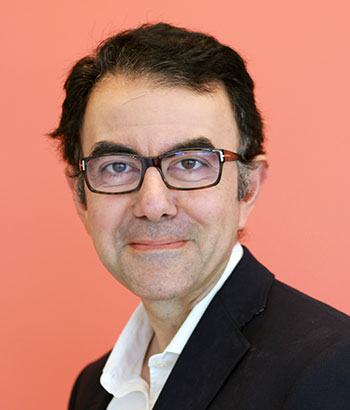 "These treatments can burn and irritate the mucosa lining of the throat over the short term, causing discomfort, pain and problems with swallowing," explains MUHC speech-language pathologist Jessie Burns, who followed Mr. Charlebois in collaboration with pivot nurse Elizabeth Blouin, nutritionist Nancy Heppell, radiation oncologist Dr. George Shenouda and oncologist Dr. Nathaniel Bouganim. "We give patients an exercise program to try to maintain their ability to swallow as much as possible."
After a month and a half of treatment and a few days of being unable to talk or swallow, during which he was tube-fed, Mr. Charlebois began to eat again.
"Lipton soup with tofu and oatmeal – those two dishes are off the menu for the coming months," he laughs.
He has good memories of his experience at the Royal Victoria Hospital of the McGill University Health Centre (RVH-MUHC) at the Glen site.
"The staff is friendly, smiling and ready to listen. All of the services – computed tomography, magnetic resonance imaging, radiotherapy, chemotherapy, the Cedars Cancer Centre – are all under the same roof. The chemo treatment room is glassed in. We see the train go by, the city, the sunshine. It gives us courage."
Throughout his journey, Mr. Charlebois continued to do small renovations at his home. His parents-in-law moved there in mid-August.
"I wanted to stay in shape and clear my mind," he says.  An illness like that; it's a test, but life must go on."
The search for more effective treatments to combat tonsil cancer
There is still a lot to understand about the links between the human papilloma virus (HPV) and cancer of the oropharynx – the part of the throat located at the back of the mouth, including the tonsils – which have increased significantly in recent years. Experts are trying to determine among other things, how HPV causes cancer, why men are more prone to it and why some people get rid of the virus and others develop cancer.
Head and neck oncologists are also looking for treatments for oropharyngeal cancer that are less harmful and have fewer side effects. Clinical studies are underway to develop more personalized treatments depending on the stage of the patient's cancer. It could mean, for example, changing the doses of radiotherapy or types of chemotherapy.
Surgical techniques are also being examined. The director of the Head and Neck Oncology Team at the McGill University Health Centre (MUHC), Dr. Anthony Zeitouni, hopes soon to be able to perform tonsil surgery using the DaVinci surgical robot. Already used in urology and gynecology at the MUHC, the robot allows for less invasive surgery and may remove the tumour with fewer side effects.