How long have you worked here?
I've been working in the MS Program for about four years and as a nurse for 11 years—all of which have been at the MUHC.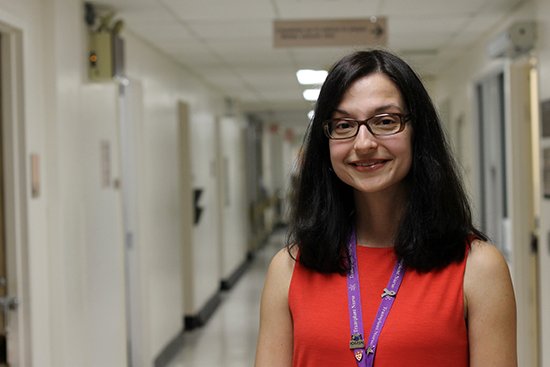 Vanessa Spyropoulos
"I do feel like a private investigator, as there are often many layers to each case, and you do need to invest the time and energy to peel away each layer, until you get to the main concern."
Why did you choose this field?
I got into the MS world because I love the holistic, family-centred approach to providing care at the Neuro. One of my immediate family members had brain surgery at the Neuro many years ago and I remember how comforted and supported I felt at the time by the wonderful staff. I knew in my heart that my loved one was receiving the best care possible and as a result I knew it was at the Neuro that I would like to work one day. I am so glad this dream came true! I also love getting to know my clientele over time and this is definitely my reality in the MS world given that MS is a chronic and progressive illness.
What do you do over the course of a day?
I see patients each day in the clinic and I provide teaching and support as they begin a new MS treatment, or switch to a new treatment. I also work with individuals who are being assessed for an MS relapse. I explain the treatment our team prescribes in such a case and the effect it has on the evolution of the relapse. I also coordinate the follow-up in the community via the CLSC and the pharmacy.
In light of the MS disease burden, I assess how patients and their caregivers are coping at home as well and I refer patients and families accordingly to CLSCs, rehab centres and mental health services, as needed, for symptom management, psychological support, work capacity evaluation, and evaluation of needs for increased services at home.
Much of my time is also spent on the telephone with patients and their caregivers to address questions regarding MS treatments, relapses, symptoms, and other health questions related to the disease.
Beyond my work with patients and families, I am a preceptor to two nurses who are completing their Master's degree in Nursing at McGill.
What do you like about your job?
I love being able to accompany my patients and their loved ones on their MS journey over time, identifying their strengths and their needs for support and helping them to discover their resilience and managing their illness. I do feel like a private investigator, as there are often many layers to each case and you need to invest the time and energy to peel away each layer, until you get to the main concern. This is so important: feeling as though your healthcare team is hearing your concerns and acknowledging them is an important first step in being able to trust your team and work together with them. I am privileged to be able to do what I do and I know that no matter how stressful the day may be, I can go home every time and know that I have made a difference for someone, even if it is a teeny, tiny success.
What do you do in your spare time?
I love to spend time with my close friends, usually sharing a good meal and laughter—I really believe that laughter is the best medicine and food makes everything better! I also enjoy going to see concerts and live shows and to yoga classes to unwind. I try to get to church when I can, as my faith has kept me grounded throughout my life. Lastly, visiting my nieces and nephew in Toronto and Boston is one of my favourite things to do, as they truly have my heart, and they know it!
Confessions
Favourite hobby: Getting lost in an Agatha Christie mystery
Favourite fitness activity: Hot yoga - like a regular vinyasa class, but the room is heated to 38-39 degrees - quite the workout!
Favourite place in Montreal: The Biodome - awesomeness for all animal lovers!
Favourite travel destination: Anywhere in Europe
Favourite quality in a person: Kindness
Favourite place at the MUHC: The Neuro Day Centre- the nurses working there are the loveliest of comrades! They listen when I've had a tough day, they make me giggle, and they feed me all kinds of sugary goodies!