Enjoying life after heart surgery
At 72 years old, Robert Palov described himself as a busy man on the go. Juggling time between a marketing job and golf courts, he took good care of his health to maintain his busy lifestyle. But in May 2015, Palov experienced two weeks of chest pains. Following a visit with a cardiologist at the Lakeshore Hospital he knew his lifestyle was about to change.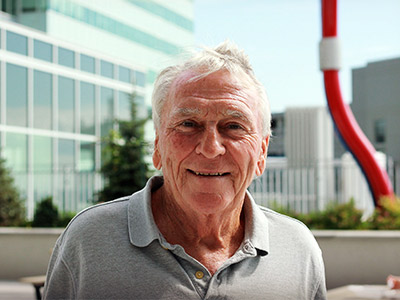 "After running different tests for two days, my doctor decided to admit me to the hospital on the spot; she also suggested that I see another doctor at the McGill University Health Centre (MUHC) for specialized testing," recalls Palov with emotion. "The following Friday morning, I was transferred to the Royal Victoria Hospital (RVH-MUHC) for an angiogram."
The angiogram was very clear: Palov had extensive blockage in his arteries (85 to 90 per cent) and needed to undergo surgery as soon as possible.
It was Dr. Patrick Ergina, cardiac surgeon at the RVH-MUHC, who treated Palov. "Mr. Palov came to the MUHC because he needed an Aortic valve replacement and coronary bypass surgery," he explains. 
Dr. Ergina's mission was to help restore the blood flow to Palov's heart by replacing the blocked aortic valve with a new prosthetic valve and by bypassing the blocked coronary arteries with vessels that were taken from his legs.
A month  after the operation, unexpected complications surfaced and Palov had to be taken back into the operating room. "Mr. Palov was at the right place at the right time," says Dr. Ergina. "We were able to provide him with the best type of care, despite the unexpected circumstances, and that's one of the things that helped him.  His positive attitude and efforts towards the rehab process was also a huge factor in his recovery." 
After a few days in the intensive care unit (ICU), Palov began a slow recovery process. He was moved out of the ICU, but  had to stay in the hospital for a while longer. "My condition put a lot of demand on the staff," he recalls. "From my temperature, to scans, to blood tests, there was always someone coming to the room to make sure that everything was ok." 
Raji Cambow was one of Palov's physiotherapists during his stay at the MUHC. As part of the unit's multidisciplinary team, Cambow's main role consists of helping patients gain back their mobility after a cardiac surgery.
"Mr. Palov was very motivated and participated very well in the exercise plan we had for him," says Cambow. "As a physiotherapist, I have to gain the trust of patients. It becomes easier for them to participate in the exercises if they feel at ease with us. That's exactly what happened with Mr. Palov—he was able to get up and moving by following our guidelines."
In fact, this first experience at the newly located Royal Victoria Hospital left nothing but good impressions on Palov who made sure to send a letter of appreciation to the MUHC upon his discharge from the hospital. 
"I have to admit that I had a lot of anxiety as an inpatient," says Palov. "I was used to playing tennis, working on my house, moving around; I felt confined at the hospital, but it was the staff and the medical team who really made a difference for me." 
"Everybody was very attentive and very accommodating," he says.  "I had someone at my side 24/7 and I am truly grateful for that. Thanks to their care, I am now back on my feet enjoying life again."