From the darkness to being okay
As I walked into Julia Bene's third-floor Montreal apartment, the sun-filled kitchen caught my eye. A glass of water was waiting for me at the table and paintings leaned against the wall on the floor just behind the chair where Julia sat.
"That one there," she said, as I took my spot around the table. "I painted it on Sunday. It represents my pinhole of hope—that's what keeps me going."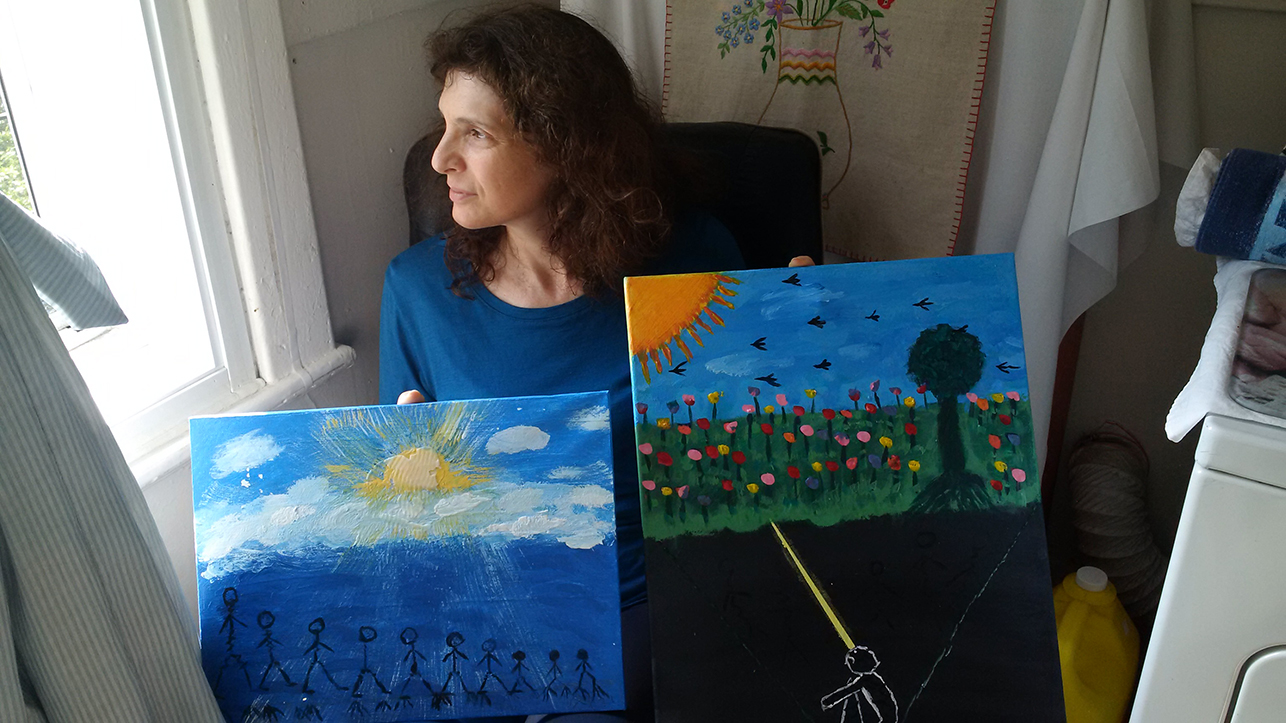 The painting is of a person sitting in a dark cave-like hole holding her legs close to her body. A small ray of sunshine penetrates through the earth to this person who is looking up at it.
Mental health is mental health, she told me. "I don't need to disclose my diagnosis because it doesn't matter; there is post-partum depression, schizophrenia, bi-polar, anxiety disorder—they are all the same. It all comes from a place of emotional suffering and I think everyone is touched by it in one way or another."
She told me that every time she starts getting sad or starts thinking her "life is hard" she says, okay, what is going well? "It could be as simple as I have a glass of water and I am putting lemon in it. And I love that I live in a place where there is sunshine in my bedroom in the morning and sunshine in my kitchen and living room in the afternoon."
Today, Julia is in a good place. In fact, she is part of a patient group that is receiving training to be part of a new initiative at the McGill University Health Centre (MUHC) called the Recovery Transition Program (RTP). It aims to promote long-term recovery by reducing relapses and re-admissions, and improve quality of life for patients with mental illness.  The group being trained has real life experience with mental illness and will deliver recovery-oriented support, workshops and self-management tools to those who are recovering. "Peer support is super high on my priority list and led me to complete peer support training in Ontario this past May," said Julia. "I'm excited to do my internship this summer."
Words of encouragement, hope and action decorate Julia's hallway and bedroom walls.
But getting to this point in her life was not easy. "It has been a 10-year struggle—a roller coaster ride of ups and downs. Over the past three years have been the worst," she says. "My sister died of cancer and then my mother passed away from a stroke, all this within six months. It was then that I hit rock bottom. Just going to the bathroom was an enormous effort. I remember walking to a doctor's appointment once and feeling like I was wearing a very heavy metal vest and cement boots. I thought, how can a human survive through this…but look, I am still here."
"You know what?" she said. "When you are in that state you just want to be okay. You don't need to be happy, ecstatic or thrilled or any of that…. you just want to be okay….and commit to it. So I made a choice to want to be okay."
She told me that she really believes little things make a big difference. "Getting up and brushing my teeth was worth celebrating or opening up a can of soup. Did you know that there are about 21 steps to brushing your teeth?"
During her recovery period at the Montreal General Hospital of the MUHC, which provides complex care for mental health patients, Julia was asked for the first time to offer peer support. Every Thursday for the last year and a half Julia has been co-leading Doctor's Corner with Dr. Pascale Desrosiers at the Transitional Day Program.
"Patients ask questions and the doctor gives professional advice, while I give my lived experience. This has been inspiring for the patients and it has helped with my recovery. Although this has been one of the most difficult times of my life, sharing, encouraging and giving other patients hope as well as working cooperatively with healthcare professionals has enriched my life and has been therapeutic for me."
This experience has inspired Julia to also become a member of the MUHC Mental Health Continuous Quality Improvement committee, which is comprised of healthcare providers, administrators and patients. Together they work to create a more patient- family-centered approach to care and find improvement strategies.
The pinhole of hope, accepting, self-love, self-acceptance, and being responsible for you while making the decision to always focus on what is going well—these are Julia's tools for staying okay.
"Every day and in every way," she says, "I am getting better and better."
Join us on June 12, 2016 at Parc Maisonneuve to Run it Out. Walk it Out. Talk it Out. for Mental Health. The main goal of this run is to raise awareness and funds which will provide clinical services and research in women's mental health. 
This could be for your mother, sister, cousin, grandmother, co-worker or friend. Some individuals are reluctant to seek help for mental health issues due to the associated stigma.  It's time for us to come together and take steps towards changing this!  
Here is what you can do to get involved!
Establish Team Captains: Teams of 4 participants (or more), led by a Captain, register to participate as runners/walkers in either a 5K or 10K race route. 
Fundraise:  During the registration process, set up your fundraising page and set a goal for you and your team.
Participate:  Another way to help is by cheering on your colleagues, supporting them with a donation or volunteering at the run site.  To do so, please visit the Run for Women website Montreal and click on How to Give or Volunteer.
Incentive: The top fundraiser in the top 3 Montreal Fundraising teams will receive a $100 Pharmaprix Gift card 
Direct link: http://www.runforwomen.ca