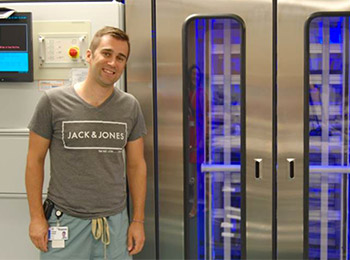 For Christian Coursol, working for the Royal Victoria Hospital has played a crucial role in shaping his career.
"At the time, back when I first arrived as a student, I met such passionate, engaged and dedicated people who fuelled my desire to continue down this path. Being able to begin your career where both the atmosphere and the team are incredible is a real motivator!"
Christian is proud to have worked his entire life at the Royal Vic, beginning as a pharmacy student, a clinical pharmacist in solid organ transplant and intensive care and now, as Manager of the Glen site Central Pharmacy.
But it's not just the people that make his job so fulfilling. "The complexity of care provided at the Royal Vic has always piqued my interest. Working in a tertiary and quaternary care environment has presented me with many opportunities for innovation." For example, after his residency at the Vic, Christian had the chance to establish the transplant pharmacy service for the hospital (which represented a welcomed challenge he never would have experienced working in a community hospital).
His thirst for challenges came in handy once again during the transition to the Glen site, particularly because this transition represented not only a change in location, but a fusion of four departments as the Royal Vic, the Montreal Chest, the oncology and palliative missions of the Montreal General and Montreal Children's pharmacies are now both working together under one roof. "It is a challenge because each team has very distinct way of working. But everyone is getting to know one another and learning how to work together to build a cooperative environment. And that is something we can all be proud of".
And what does he think about this new home for the Royal Vic?
"Where we are now is really state-of-the-art. Everything is new, the technology is high-tech, and I'm sure that little by little, the soul of the old hospital will start to grow here as well. But when we consider the quality of care for our patients, yes, the installations will surely contribute to improving their health, but it's the people, as a team, who work here who will really continue this tradition of providing the best care for life."
[See all]