At The McGill University Health Centre (MUHC) our nurses fill many different roles in our multidisciplinary teams, each with their own challenges and specific skillsets. From neuroscience nursing to filling the role of a nurse educator, there is incredible diversity in the type of work they do, and they do it all with a shared vision: providing the best patient care possible.
Meet some of our nurses!
Yasmin Neisha Khan and Justin Lim- Neuroscience nurses- The Montreal Neurological Institute and Hospital
Yasmin Neisha Khan and Justin Lim wear an array of different hats as neuroscience nurses at The Montreal Neurological Institute and Hospital of the McGill University Health Centre, and have to adapt to each of their patients' cases.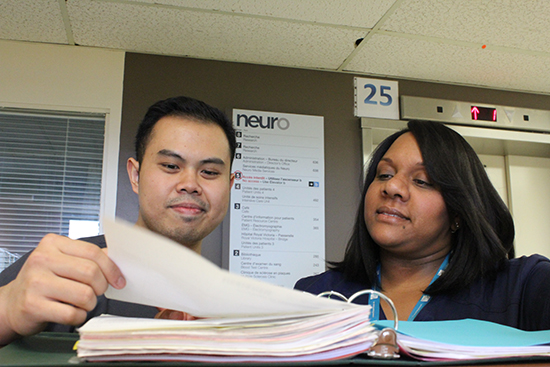 "We can have a surgical patient who is up and about walking and doing well. And right beside him, there can be a mother of three who is dying from brain cancer, and we have to play a palliative care role," Yasmin explains.
The brain is complex; an organ of the body with many different components, it affects every aspect of someone's being. Yasmin, Justin, and their colleagues work with stroke patients and surgical patients. This is a very specific patient population, as nurses are not just dealing with one part of the body, but the human system as a whole.
"We provide a very holistic and interdisciplinary care; we are working closely as a team to ensure that the patient's needs are met," Justin explains.
The nursing team must works with occupational therapists, physiotherapists, blood technicians, speech language pathologists, prépose aux bénéficiers (PABs), and most importantly, the families.
"You're never alone," Yasmin explains. "We all work together to be on the same page, and to adapt to the changing goals for each patient."
"It's about caring, compassion, helping, and healing. It is about being there for the patient and their family, and advocating for their needs," says Yasmin. "It can be fulfilling in many ways, like when we see a patient walk out of here and go to rehab. It can be fulfilling in other ways too, such as working as a team to ensure the family is comforted with access to all the resources they need."
Julie Dicaire- Nurse Practitioner- Royal Victoria Hospital
During her time as an ICU nurse at the Montreal General Hospital of the McGill University Health Centre (MGH-MUHC), Julie Dicaire felt the need to push herself further in the nursing field. For Julie, this meant stepping back into the role of a student to become a nurse practitioner (NP).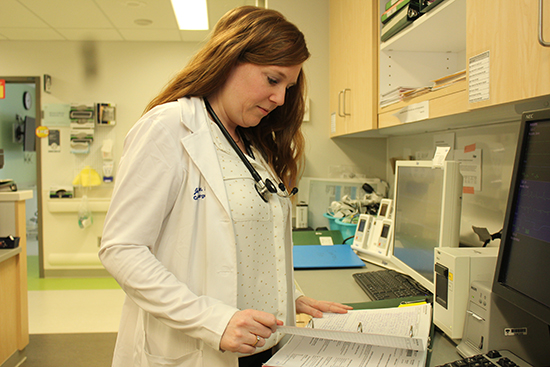 Nurse practitioners are healthcare professionals educated and trained to diagnose and treat acute illnesses and chronic conditions. Julie has a Master's of Science in Nursing, as well as a complementary diploma in advanced practice. The complex cases of the cardiac patient population always interested her, leading her to become an NP in the D7 Cardiac Surgery Care unit of the MUHC Royal Victoria Hospital (RVH-MUHC) at the Glen.
A typical day as an NP sees Julie admitting patients before surgery, performing physical evaluations on patients, and acting as a link between all the players in the multidisciplinary team. She studies each of her patients' files, working closely with the patients and their families to make important decisions when it comes to their healing process, including adjusting certain medications and treatments when needed. And Julie ensures she has a constant presence on the unit when the physicians are in the OR.
"I think what sticks with you the most is when patients say thank you; 'thank you for having taken the time to listen to me, to speak to me, to teach me, and to answer my questions,'" Says Julie. "The patient's recovery and satisfaction, I think, is the biggest reward."
Mary Siciliano and Luc Binet- Operating Room Nurses- Montreal General Hospital
Mary and Luc have over 60 years of nursing experience between them. As assistant nurse managers in the operating room at the Montreal General Hospital of the McGill University Health Centre (MGH-MUHC), they are very familiar with the importance of agility, organization, and keeping calm under pressure.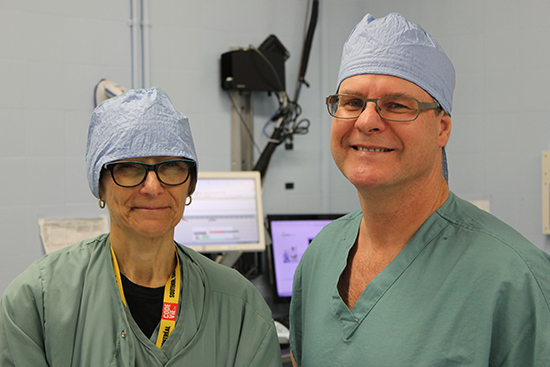 The job of an OR nurse is a fluid one; ever changing, always moving, and constantly adapting.
For Mary, an OR nurse primarily working in orthopedics, she starts her day by ensuring the implants, instruments, and materials needed for each surgery are ready to go and placed in the OR. With surgeries, things change quickly, and there are a lot of variables at play. Mary and Luc need to ensure that the booking of the rooms are in order at all times, and that the logistics behind the scenes of each procedure are set in place.
For Luc, who primarily works in Thoracic and General surgery, the uncertainties that come with the day-to-day grind are what he enjoys.
"There's always something that's not available, or is unplanned, and you have to adapt yourself to that reality. It could be a broken instrument or we may get an emergency call and we have to respond immediately. So we have to be ready," he says.
Both Luc and Mary have seen quite the evolution in the operating room over the years, from the advanced technology to the speedy recovery of patients due to less invasive surgery methods used in all aspects of health care. But the one thing that hasn't changed is the need for strong team work.
"The OR is an area where you are working very close with each other. You need the collaboration of all the operating room personnel; everyone must know their role and their responsibilities. We have to be prepared to execute them quickly and safely, and as assistant nurse managers we have to be a step ahead to anticipate and over-see everything," Luc says.
"We are responsible for the well-being of the patient throughout the operation. It's a good feeling when you contribute to the success of a surgery. You feel good knowing you played a role," Mary says.
Besides the impressive years of professional experience shared between them, the two assistant nurse managers are actually a couple and have been married for 36 years!
Amélie Rivard- Nursing Professional Development Educator (NPDE) - Lachine
After over 20 years of service at the MUHC, Amélie Rivard reinvents herself day in and day out. As a Nursing Professional Development Educator (NPDE) at Lachine Hospital and the Camille Lefebvre Long-Term Care Pavilion of the McGill University Health Centre, she finds herself at the centre of all movement in nursing practices.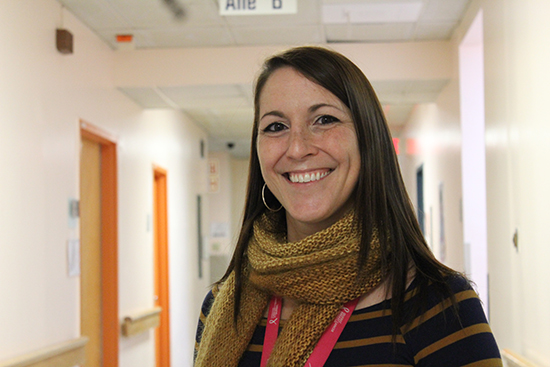 Amélie began her career at the MUHC as a prépose aux bénéficiers (PAB). Once she finished her studies in Nursing, she worked as a nurse in Internal Medicine at the Montreal General Hospital. It is a profession she dreamed of pursing since she was a child, but after spending some time working on the unit she came to a realization.
"I observed that there was an increase in what was being asked from nurses when it came to improving patient care. There were new protocols, changes to the way nurses worked, and new techniques being introduced. And with these changes I noticed the distress in my colleagues. It can be a lot to take in. This pushed me to go out there and obtain the competences in order to better support my colleagues in this changing environment," she explains.
This is when she decided to bring two of her passions together: nursing and education. She pursued a Master's of Science in Nursing with a concentration in education. In 2010, after working in a few other roles, including as a consultant in infection control, she found herself filling a new role at Lachine Hospital, one of an NPDE.
As an NPDE, Amélie covers the entire hospital—from long-term care to the ICU — along with two colleagues. This is a challenge, as she must have a broad knowledge of each unit's needs. She describes herself as being at the centre of the coordination of all practical changes in nursing. NPDE's oversee training of nurses, plan around the implementation of new medical supplies, such as new dressings and catheters, and provide the support to staff when using these products. She also works heavily with hospital procedures and protocols, and must collaborate with other professionals to ensure that all protocols at Lachine are harmonized with other MUHC sites.
For Amélie, this vast list of responsibilities means that her role requires her to use her best judgment and to prioritize. It might sound overwhelming, but she says the support she receives from the leadership team, and the fact that she can consult with so many different people in the multidisciplinary team on a day-to-day basis, makes all the difference.
"I am surrounded by passionate people who constantly want to do more, and want to improve patient care. Their energy is what really motivates me to overcome obstacles and accomplish things I thought impossible," she says.
Amélie enjoys her job, and says she wouldn't want to be working anywhere else. For her, the uncertainty of each day is what drives her.
"I'd say what I love most about my job is the diversity, and the need to be versatile," she says. "I'm definitely never bored!"