Cancer pain, the neglected symptom
The world of oncology has evolved considerably over the last two decades. Nowadays, patients can survive and live much longer, even with metastatic cancer. But at any stage of the disease, a cancer patient's life is not without symptoms, and the most common of those is pain.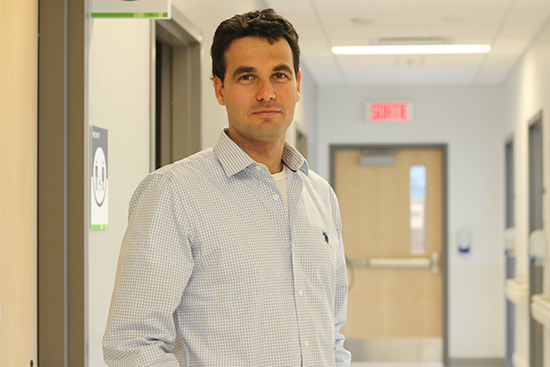 "When I help a patient and I sense there was a change for the better, I'm thankful. I feel like I am where I'm supposed to be," says Dr. Uri Hochberg, a physician from Tel Aviv, Israel who is completing a one-year fellowship program in Cancer Pain Management at the MUHC.
"Pain is not something that will necessarily go away when the treatment ends," says Dr. Uri Hochberg, a physician specialized in Internal Medicine and Pain Management. "When the chemotherapy, radiotherapy and surgery are over, the pain stays behind, and we must address it."
Dr. Hochberg, who comes from Israel, is completing a year-long fellowship program in Cancer Pain Management at the McGill University Health Centre (MUHC). The program developed by Dr. Manuel Borod, director of the Division of Supportive and Palliative Care Programs at the MUHC, and Dr. Jordi Perez, director of the Cancer Pain Program, is the only one of its kind in the world. As its first fellow, Dr. Hochberg has spent the past several months studying various ways to treat cancer-related pain in a variety of disciplines. He did rotations in radiation oncology, medical oncology, interventional anesthesiology and palliative care, among others, before joining the Cancer Pain Program.
A new discipline
Pain management in oncology is such a new discipline, that when Dr. Hochberg finished his studies in Israel in 2009, it hadn't been recognized yet.
"Pain is a biological, psychological and sociological problem," Dr. Hochberg explains. "Two cancer patients from different backgrounds will suffer from the same type of pain, but could respond differently to it. Additionally, many caregivers have gaps in how to approach and evaluate pain. So it all starts with the education of patients and caregivers."
Dr. Hochberg points out that leaders and decision makers should also realize the importance of addressing pain in cancer.
"In 2016, the American Cancer Society published a 20-thousand-word study on the state of cancer today, and the word pain was only mentioned three times," he says. "Not a single paragraph was devoted to the subject of pain management. So something is not right."
An interdisciplinary approach to cancer treatment
Dr. Hochberg is particularly impressed with the interdisciplinary model to assessing and managing cancer pain adopted by the MUHC's Palliative Care and Cancer Pain Programs.
"Usually patients will travel from one discipline to the other, and each specialist will write down their own impression," he says. "At one point, a single physician will put it all together and decide on the treatment. With the MUHC team, this collaboration is deepened, because all specialists interact with the patient at the same time. We hear the same answers and see the patient's body language and face expressions. Afterwards, we discuss and come up with one care plan. The results in terms of patient satisfaction and patient response to the treatment are convincing."
When he returns home at the end of July, Dr. Hochberg intends to implement something similar at the Tel Aviv Sourasky Medical Centre, where he works. The hospital, which is affiliated with Tel Aviv University, is one of the leading tertiary care institutions in Israel. But for the moment he's still working as a temporary member of the MUHC Cancer Pain Clinic and enjoying spring in Montreal with his wife and three young kids.
"This past year has been fantastic. If I had created a checklist at the beginning of my fellowship, everything would have been checked by now," he says. "This is an intense hands-on program, and all my expectations have been fully met."
An award-winning approach to relieving the pain caused by cancer
In six years of operation, the MUHC Cancer Pain Program has treated more than 1,500 new patients with poorly controlled pain secondary to their cancer.
"We adopted an interdisciplinary approach to assessing and managing cancer pain," says Dr. Jordi Perez, director of the Cancer Pain Program. "This model of care gives patients access to clinicians from different specialties and to a variety of treatments. The goal is for the patient to benefit from different expertise, but also for the team to learn from each other."
The program, which is supported by the Louise and Alan Edwards Foundation, has been so successful that it was awarded the Prix québécois de Cancérologie by the Minister of Health and Social Services in 2015. The prize highlights exemplary innovative projects in Quebec. Dr. Perez and his team hope that this recognition and initiatives like the fellowship program in Cancer Pain Management will contribute to raising awareness on the importance of adequate and timely cancer pain management on a local, regional, national and international level.