MUHC in the News | November 27 - December 1, 2017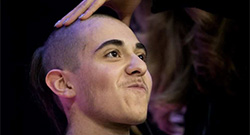 Syrian students shave their heads to benefit Cedars Cancer Foundation
The six students sit in a row, nervously awaiting their turns. Some hold hands, while others fidget in their chairs. Mgrdich Derderian passes his hand through his long, dark locks, one last time. All six kids — Patil, Sylvie, Alik, Taline, Arthur and Mgrdich — are cutting their hair to raise funds for the Cedars Cancer Foundation and to help make wigs for patients who lose their own hair. Read more.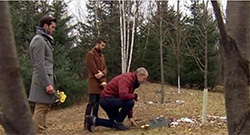 Honouring Cédric's memory and advancing cancer research
Dr. Krista Goulding, a surgeon in orthopedic oncology at CUSM, spoke with TVA Sports as part of a story intended to honour the memory of Cédric Finn, the son of former Nordiques player and sports analyst Steven Finn. Cedric died in January after a battle against sarcoma. The family wants to share their son's story to raise awareness and help fund cancer research. Listen to the touching story (in French).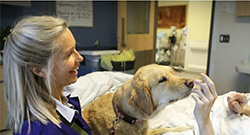 With Grace: Volunteer dogs help 'break the sadness spell' in palliative care
When they're on the palliative care unit at the McGill University Health Centre's Glen campus, where both are volunteers, Diana Henry takes her cues from Grace — her golden retriever. They start at the door to a patient's room, with Henry asking whether the patient likes dogs or wants a visit. If they get a yes, Grace heads directly to the bedside and places her head on the patient's hand, or maybe licks it. Read more.