MUHC in the News | May 30, 2018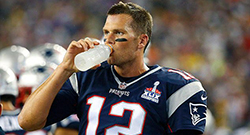 Experts warn drinking too much water can lead to brain swelling
Research by Dr. Charles Bourque and his team from the RI-MUHC reveals drinking too much water can cause hyponatremia – a life-threatening condition that can result in brain swelling. Read about it in the Daily Mail, the Boston Globe, Business Standard, Economic Times, Decan Chronicle and Timesnow News.
A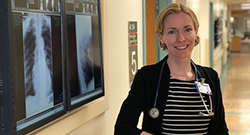 rthritis drugs potentially safe for expectant mothers
A study by Dr. Evelyne Vinet of the RI-MUHC reveals pregnant women with rheumatoid arthritis (RA) may use certain RA drugs without possible increased health risks to their unborn babies. Read about it in Everyday Health, Science Daily, Medpage Today, News-medical.net and EPR.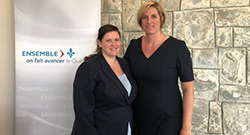 University network targets 'unacceptable' wait times for cancer patients
The MUHC is one of the three centres designated to implement a newly created inter-university network to improve the survival rate of patients struck by musculoskeletal sarcoma, a rare, often fatal, cancer. Read the article in the Montreal Gazette. Photo: Dr. Krista Goulding, orthopedic surgical oncologist at the MUHC, and Dr. Sophie Mottard, orthopedic surgeon at Maisonneuve-Rosemont Hospital.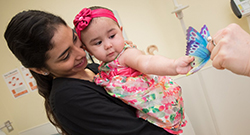 Being born in the right place, at the right time
Ten-month-old Florence Corleto, affectionately nicknamed "Florencita," was on the cover of the Montreal Gazette this week! She was born with Maple Syrup Urine Disease, a rare genetic disease. But she can't go back home to El Salvador, because there are no specialists who can treat her disease, no labs who can run her bloodwork and her special formula is not available. Read her story here (Montreal Gazette).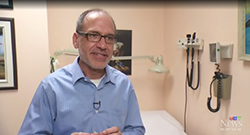 Advice for preventing Lyme disease
Dr. Michael Libman, director of McGill's Center for Tropical Diseases at the MUHC, tells CTV News and CJAD the warm weather means Lyme disease will increase in the coming years so we best adapt now.