MUHC in the News | December 4 - 8, 2017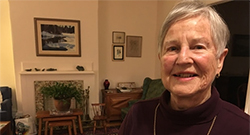 'Please remember,' says volunteer behind a white ribbon tribute to victims of Polytechnique massacre
Erin Hogg, now 83 years old and a retired nurse from the Royal Victoria Hospital (RVH), says the shooting Dec. 6, 1989, that killed 14 women at École Polytechnique opened her eyes to the reality of violence against women. Since she retired in 2003, Erin has prepared 1000 white ribbons every year to distribute at the RVH December 6th. This year the MUHC took over organizing the event and Erin was present to hand out ribbons and raise awareness. Read more.
Erin Hogg also talked to CTV News about the White Ribbon Campaign.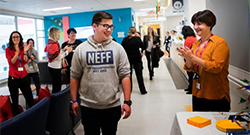 Émile, who had a heart transplant when he was two, will soon turn 18
The first Canadian child to have been hooked up to a mechanical heart waiting for a transplant will soon be 18 years old. On Wednesday, Émile Jutras met the new team of doctors from the MUHC who will now follow him at the adult Heart Failure and Transplant Clinic. Read more.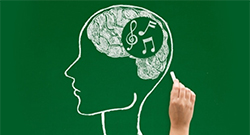 The pleasure of listening to music can be modulated
By stimulating neural pathways, a team of researchers from the Montreal Neurological Institute was able in a recent experiment to influence how much a group of twenty-something's enjoyed their favourite music. The researchers hope the process can be as an alternative treatment for mental illnesses such as depression or addiction. Read more.