MUHC in the News | August 28 - September 1, 2017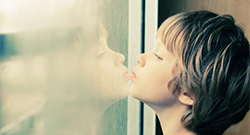 Early signs of autism from the age of six months
Alterations in the brains of six-month-old and one-year-old children identify those at risk for autism spectrum disorder, according to a recent study led by John Lewis, senior author of the study and a researcher at the Montreal Neurological Institute and Hospital and at the Ludmer Center for Bioinformatics and Mental Health. This discovery, therefore, makes it possible to exclude certain environmental factors as a possible cause of the disease. Learn more in the Journal de Montréal.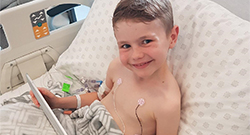 Urgent need of a heart for little Liam
Seven-year-old Liam is being cared for in the MCH ICU and is being kept alive by a mechanical heart. He needs a heart transplant to save his life. TVA nouvelles followed up with him and his mom, click here to watch the full report.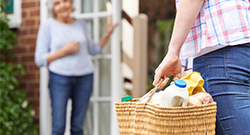 Why eating protein is so crucial for seniors
Many elderly people – especially in North America – often save their daily protein consumption for either lunch or dinner. But a new study conducted by researchers at the Research Institute of the MUHC shows that that's not enough to help senior citizens maintain their strength. Scientists looked at data from more than a thousand Quebecers on nutrition and aging and found that eating protein three times a day was linked to greater mass and muscle strength in the elderly. Dr. Stéphanie Chevalier, RI-MUHC scientist, was interviewed by Mutsumi Takahashi on CTV to talk about the findings. The news was also picked up by L'Actualité.