Two innovations grants awarded to RI-MUHC research leaders
The Research Institute of the McGill University Health Centre (RI-MUHC) is pleased to announce that Dr. Morag Park and Dr. Alain Ptito, both RI-MUHC members, have been awarded major grants to advance their innovative work in the areas of cancer therapy and brain injuries respectively. These research grants were part of a national investment of $333 million for research infrastructure through the Canada Foundation for Innovation (CFI). The two RI-MUHC projects, along with eight others submitted by McGill and its Hospital-affiliated Research Institutes, amount to a total of $30 million in funding, which will be matched by the Government of Quebec. The federal announcement was made today in Ottawa by the Honourable Ed Holder, Minister of State (Science and Technology).
"We are thrilled to receive this government grant and CFI's continued support for cutting-edge research facilities and for the enhancement of pioneering science projects," says Dr. Vassilios Papadopoulos, Executive Director and Chief Scientific Officer of the Research Institute of the MUHC (RI-MUHC). "Dr. Park and Dr. Ptito are both leaders in their respective fields and I am sure their teams will achieve major breakthroughs in medicine that improve lives thanks to these grants."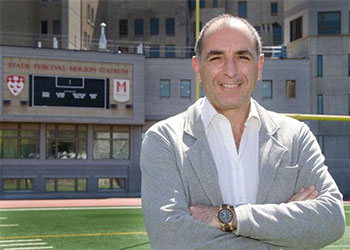 Mild traumatic brain injury (mTBI) is among the most common neurological conditions with an estimated annual incidence of up to 600/100,000 in Canada.  CFI-funded researcher, Dr. Ptito, who is a medical scientist at the RI-MUHC and a Professor of Neurology and Neurosurgery at McGill University, will lead a first-of-its-kind research facility focused on measuring the effects of mTBI, such as concussions, and developing innovative treatments. This new facility, led by researchers with expertise in neurology, psychology, ophthalmology, physics and engineering, and enabled by the $2,995,246 million in funds for the requested infrastructure, will become a leading-edge research centre.
"With the support of the CFI, our team will have an Ultra High Performance MRI system that will be able to carry out more applications than any existing MRI system and will help us observe the brain's response to trauma with exceptional precision. This knowledge will allow us to develop new diagnostic tools and treatments to help thousands of Canadians who suffer head injuries every year,'' explains Dr. Alain Ptito, who is also a neuropsychologist at the Montreal Neurological Institute and the Director of the Department of Psychology at the MUHC.
"Thanks to the Innovation Fund, our donors to the MGH Foundation and the vision of the Max Pacioretty Foundation, this new specialized MRI will place the Montreal General Hospital as one of the leading tertiary trauma centres in Canada. This valuable piece of healthcare technology will also allow our world-class researchers to better understand brain injuries, which will lead to improved patient diagnosis and treatment," adds Jean-Guy Gourdeau, President and Chief Executive Officer of the Montreal General Hospital Foundation at the MUHC.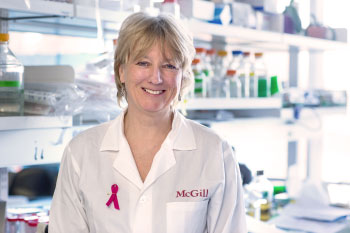 With 14 million new cases annually, cancer is among the leading causes of morbidity and mortality worldwide. The spread of disease to different organs and the resistance to therapy are current cancer challenges. CFI-funded researcher, Dr. Park and her team, who has been awarded $2,389,840 million, will build cutting-edge technologies to address these challenges in urgent need of solutions and result in new personalized approaches to treat cancer. 
"Thanks to this grant, we will use micro-fabrication and novel scaffold materials to recreate the environment of multiple cancers.'' explains says Dr. Park, who is a researcher at the Goodman Cancer Research Centre at McGill University and at the RI-MUHC. "It will help us to enhance discovery of new targets and potential drugs for the tumour ecosystem and not just the tumor." 
The Government of Canada investments, made through the CFI, and the Government of Quebec, equips universities, colleges and research hospitals across the country with state-of-the-art tools and laboratories where researchers can discover and innovate. Their ideas and inventions help create jobs, improve the health and quality of life of Canadians and further Canada's reputation for research excellence.
– 30 – 
The Research Institute of the McGill University Health Centre (RI-MUHC) is a world-renowned biomedical and health-care hospital research centre. Located in Montreal, Quebec, Canada, the Institute is the research arm of the McGill University Health Centre (MUHC) affiliated with the Faculty of Medicine at McGill University. The Institute supports over 500 researchers, 1,200 graduate students, post-docs and fellows devoted to a broad spectrum of fundamental and clinical research. Over 1,600 clinical research studies are conducted within our hospitals each year. The Research Institute of the MUHC is supported in part by the Fonds de recherche du Québec - Santé (FRQS). www.rimuhc.ca
The Montreal General Hospital Foundation established in 1973, is a registered charity dedicated to raising and managing funds in support of excellence in patient care, teaching and research at the Montreal General Hospital. These funds are invested in the priority needs of the hospital and its patients, in accordance with the wishes of donors. Over the last ten years, the Foundation has invested more than $140 million in support of patient services, research, research awards and scholarships. www.mghfoundation.com
The Canada Foundation for Innovation gives researchers the tools they need to think big and innovate. By investing in state-of-the-art facilities and equipment in Canada's universities, colleges, research hospitals and non-profit research institutions, the CFI is helping to attract and retain the world's top talent, to train the next generation of researchers, to support private-sector innovation and to create high-quality jobs that strengthen the economy and improve the quality of life for all Canadians. For more information, visit Innovation.ca or follow us on Twitter @InnovationCA.
Media contact:
Julie Robert        
Public Affairs & Strategic planning                                                     
McGill University Health Centre  
[email protected]        
514 934-1934 ext. 71381  
facebook.com/cusm.muhc | @cusm_muhc