New Laval clinic aims to expand reach of MUHC DOvEE project
The DOvEE project (Diagnosing Ovarian and Endometrial Cancer Early) of the McGill University Health Centre (MUHC) has opened a satellite clinic at Place des aînés de Laval. The new clinic, the first outside the Montreal area, will extend early diagnosis services for ovarian cancer and improve patient access to care for women in Laval and the north shore area of Montreal.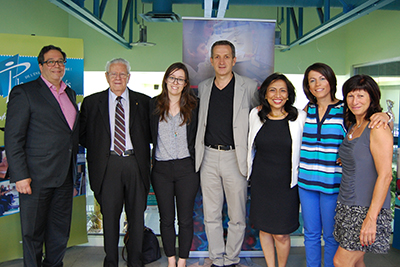 Mr Jeff Shamie, President and CEO of Cedars Cancer Foundation with the DOvEE project team and the Place des aînés team
"The DOvEE team has been looking forward to the launch of a satellite clinic in Laval for some time. There has been a real need for this service in the suburbs of Montreal," says Joëlle Malek, the Nurse Manager of the  DOvEE project. "It is important that the population of the North Shore of Montreal know that this service exists, because by offering quick and easy access to care, we know we can save lives."   
Ovarian and endometrial cancer is the fourth leading cause of cancer-related death in women. Dubbed the silent cancer, its symptoms are often seen as harmless and ignored by women. Years of research has revealed that three quarters of ovarian cancers start in the fallopian tubes, and that a routine examination at the gynecologist's office will not  be enough to detect the cancer. 
"The vast majority of women affected are diagnosed at an advanced stage, when the cancer has already spread throughout the body," says Dr. Kris Jardon, Gynecologist Oncologist at the MUHC and member of the DOvEE project. "At this point patients must undergo major surgery and chemotherapy and their chances of survival are reduced to about 3 years." 
If the cancer is diagnosed early, the survival rate can be three times higher – it is this fact that makes the DOvEE team's work, and the opening of this new clinic, so important.
The clinic will be located in one of the premises of Place des aînés de Laval - a non-profit organization. "The City of Laval is one of the largest demographic areas in Quebec and has a high growth rate,".  explains Mr. André Bourgeois, Director of Place des aînés. "It is only natural to us to collaborate with the MUHC to make this service accessible to our population.",
All women aged 50 and older who think they have at least one symptom of ovarian cancer (feeling full quickly, bloating,  swelling of belly, abdominal or pelvic discomfort or pain, vaginal discharge or bleeding, frequent need to urinate) are invited to contact the DOvEE team to make an appointment  (1-866-716-3267). The DOvEE team can then carry out the tests necessary for early diagnosis on site.  
To learn more about the program: www.mcgill.ca/dovee
-30-
About the DOvEE project
The DOvEE project is a specialized clinical study for early diagnosis of ovarian cancer. Since 2008, eligible symptomatic women have been invited for specialized medical tests to diagnose ovarian cancer as early as possible. In this way, diagnosis improves the chances of successful surgery and survival.  Several other clinics have opened at Anjou, Lachine, Montréal, Montréal-Nord, Rive-Sud et Ville Saint-Laurent.
Contact for media : 
Valérie Harvey
Affaires publiques et Planification stratégique
Centre universitaire de santé McGill
514 934-1934, poste 71381
[email protected]
@cusm_muhc cusm.ca  ircusm.ca