Young adults with cancer relax and bond during Cedars CanSupport summer retreat
The first time Noémie Robidoux, 24, took part in Cedars CanSupport's annual weekend retreat she had just finished a year of rehabilitation, after having had surgery for bone cancer. As an inpatient at the Montreal General Hospital of the McGill University Health Centre (MGH-MUHC), where she had part of her pelvis removed, Robidoux had benefited from Cedars CanSupport services such as art and massage therapy, and the support group for adolescents and young adults (AYA). In July 2014, she felt well enough to take the bus ride with 26 other young cancer patients, facilitators and healthcare professionals to Jouvence Resort Hotel, in Mont-Orford National Park.
"This was the first time I did something outside of my comfort zone as a person with reduced mobility," Robidoux explains. "I was a little intimidated at the beginning, but everybody made me feel welcome. We were all there because we had, or had had, cancer. There was no pity, no uneasiness, no need to explain anything. I felt I could talk freely about my disease. It was liberating."
The three-day retreat is funded by the Cedars Cancer Foundation and welcomes 18 to 39 year-old patients from all Montreal hospitals. It combines group activities, workshops and free time for AYAs to connect with others, enjoy different outdoor activities or simply relax.
"Being an adolescent or young adult with cancer has particular challenges," says Jennifer Finestone, CanSupport program coordinator for complementary therapies and support groups and Drama Therapist. "In your 20s or 30s, you don't think about dying. If you get a cancer diagnosis, your friends won't necessarily understand what you're going through. You feel very isolated. The retreat fosters a sense of community; AYAs realize they're not alone."
Learning to cope with the disease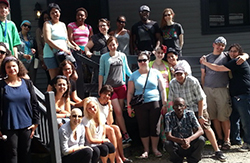 "Retreats help heal your spirit, recharge. They offer tranquility, respite and just make you feel a little less alone. It's a truly life-changing experience that is very meaningful and empowering." – participant Laura Loebenberg (in bright green cardigan)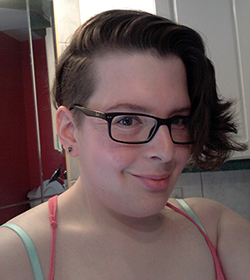 "The links we create allow us to break down the barriers of isolation and to share our experiences. It's very valuable." – participant Noémie Robidoux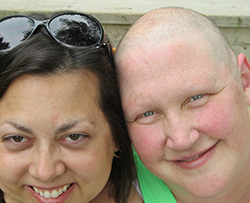 "I have participated in several workshops and activities that have changed me in such a positive way. I have learned so many things from the amazing facilitators and the awesome participants. Knowing you are not alone in your fight and your feelings is so important." – patient Sarah Labelle (right), with patient Julie Szasz during CanSupport's 2014 summer retreat.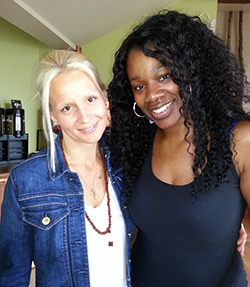 Young cancer patients could talk freely with Dr. Geneviève Chaput (left, with participant Monique Joseph) during the retreat.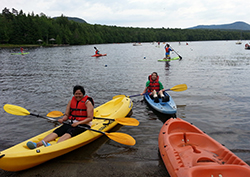 The retreat and all other CanSupport activities are funded by the Cedars Cancer Foundation.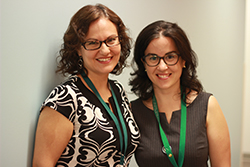 CanSupport is one of the few programs in Quebec that offers complementary therapies to patients within the hospital setting such as art, drama and music therapy, relaxation, yoga, massage therapy – Jennifer Finestone, CanSupport program coordinator and Andréanne Robitaille, CanSupport director.
The workshops cover themes that patients at all stages of cancer can relate to, such as uncertainty about the future, changes in relationships and body image. Retreat participants are encouraged to attend, and those who don't want to talk can just sit and listen.
"The workshops allow us to question ourselves, to find ways to integrate the disease into our daily lives and to move forward," says Noémie Robidoux. "Even if there's no trace of it left, cancer will follow us throughout our lives."
For some patients, the retreat can be a first experience with a support group or an opportunity to get away for a weekend after months of treatment. For others, it is a chance to make friends. When attributing shared rooms, Finestone tries to match participants she hopes will connect.
"Last summer, I put participants Julie and Sarah, both mothers with young kids, together, and they hit it off," she says showing a picture of two smiling young women. "Sadly, Sarah passed away last Fall. She had been a mainstay of the retreats, the support groups and the young adult community in general."
During the retreat, AYAs can talk to a number of professionals and facilitators in a context that's different from a hospital environment. For the first time since the retreats started, in 2007, one of the retreat's leaders was Dr. Geneviève Chaput, director of the MUHC Cancer Survivorship Program.
"Everyone was so excited to have Dr. Chaput there," says Finestone. "She's incredibly open and accessible, and people felt comfortable talking to her."
Noémie Robidoux, who decided to repeat her experience at the retreat in 2015, found it "even more enriching this time around."
"I was more comfortable to share my experience and to listen to other people's stories. That sense of community is very important. We return to our families and our lives knowing that there are others who understand our situation, with whom we can exchange later. I have a bunch of new Facebook friends, and we keep in touch. The retreat creates bonds that last beyond that weekend."
Cedars CanSupport: MUHC patients' compassionate ally in fight against cancer
Last year, Cedars CanSupport at the McGill University Health Centre (MUHC) celebrated its 25th anniversary. The free bilingual service provides a range of practical and educational services to patients, as well as emotional support to make the hard journey with cancer a little easier.
"CanSupport is a complementary program to what is offered by our healthcare system, but a necessary one," says Andréanne Robitaille, the director. "We go beyond the disease and the treatment, by offering relevant, timely support services that meet the needs of patients at a crucial moment in their lives. We are there for them from the time of diagnosis and treatment, through post-treatment, and, when necessary, at the end of life."
Thanks to funding from the Cedars Cancer Foundation and to the work of eight full-time staff, nine complementary therapists and 150 trained volunteers, CanSupport offers its patients:
Free wigs, reserved parking vignettes, refreshments in the waiting rooms and humanitarian funds
Complementary therapies to help manage pain and side effects of medication or to decrease anxiety levels: yoga, reiki, relaxation, exercise, massage, and art, drama and music therapies
Various support groups and workshops for patients and family members
Adolescent and young adults programs and annual retreats
Volunteer-led programs such as Tea at Two – tea served at two o'clock every Thursday to inpatients, greeting and way finding, and hospitalized patient visiting
The recent move to the Glen has given CanSupport momentum to improve services, design new programs and develop research projects. Survivorship workshops with Dr. Geneviève Chaput will be a novelty in the fall. Plans under way involve the transformation of the Learning Centre and its lending library into a hub for reliable patient information.
"We believe in the empowerment of patients and their families," she explains. "When they have the right information about their disease, they can feel better."
Robitaille is also pleased that CanSupport can count on the positive interdisciplinary approach at the MUHC.
"Some patients in high distress can be seen by psychosocial oncology, a pivot nurse, a social worker, and they can come to us," she says. "This innovative way of providing care is very important and can only benefit patients."
Cedars CanSupport Dragon Rain or Shine Boat Race and Festival – the main fundraising activity for Cedars CanSupport – will take place on September 19.