Largest hospital move in Canada is complete
Montreal, June 14, 2015 – Today, the McGill University Health Centre (MUHC) completed the final phase of the largest hospital move ever carried out in Canada. In two hours, 17 inpatients were transferred safely from the Montreal Chest Institute (MCI) to the MUHC's Glen site.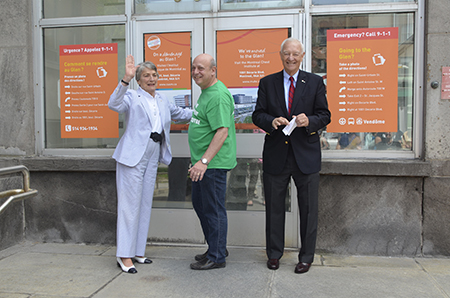 The MCI has been caring for patients for over a century. At the beginning of the 20th century, a group of Montreal citizens committed themselves to combating tuberculosis that, at the time, claimed 12,000 lives a year in Quebec. The Burland family donated their home and the group hired staff and recruited Kind Edward VII as patron, creating the Royal Edward Institute – what is now known as the Montreal Chest Institute. The official opening happened on October 21, 1909, when King Edward VII, in a country home in England, pushed a button that sent a current through an underground cable across the Atlantic Ocean to open the doors of the Royal Edward Institute.
 "The treatment of respiratory diseases has now expanded far beyond tuberculosis," explains Dr. Ronald Olivenstein, Director of the MCI. "Today we pay respect to more than a century's worth of world-class medicine, research and teaching.  Simultaneously, we move to the Glen site – a symbolic turning point towards the next one hundred years where our patients will benefit from single-patient rooms and the latest equipment and treatments at an outstanding medical facility," he added.
The MCI at the Glen site has been designed explicitly to provide a range of specialized services in respiratory medicine. Ambulatory clinics and the day hospital, for example, will evaluate and treat respiratory diseases including chronic obstructive pulmonary disease (COPD), asthma, tuberculosis, sleep disorders, cystic fibrosis and lung cancers. The MCI's central location within the hospital complex means it has direct and easy access to nearby departments, such as the adult emergency department, medical imaging, and our ambulatory test centre. This will allow respiratory care teams to provide patients with effective and accessible interdisciplinary care.
"It's hard to believe but just a short while ago we got the keys to the Glen site and started the activation process so that we'd be ready to move services and patients from the Royal Victoria Hospital, Montreal Children's Hospital, Montreal General Hospital, and Montreal Chest Institute between February and June," remarked Normand Rinfret, President and Executive Director of the MUHC. "I am immensely proud of our teams, especially for ensuring the safe and smooth transfer of 273 patients as well as the continuity and quality of care across all our hospital sites. It's impossible to explain the full scope of this undertaking. All I can say is that it was teamwork at its best and I look forward to thanking them in person during our June 19-21 Inauguration Celebration weekend."
Once again, the MUHC thanks its partners in the historic activation and moves: Health Care Relocations (HCR); Urgences-santé; Medicar; the City of Montréal; the City of Westmount; the Montreal Police Department (SPVM); SNC-Lavalin and its partners; the Ministry of Health and Social Services (MSSS);  CIUSSS de l'Est-de-l'Île-de-Montréal; the Société de transport de Montréal;  and hospitals across the entire Quebec health network. Finally, on behalf of everyone at the MUHC, I'd like to thank our patients and their families for their patience and understanding during this period of transition. The Glen site is a magnificent beginning and now we have a duty to the population we serve to complete our transformation with the modernization of the Lachine Hospital, Montreal General Hospital and Montreal Neurological Hospital," concluded Mr. Rinfret.
-30-
For more information, contact:
MUHC Public Affairs
Phone: 514-843-1560
[email protected]
About the McGill University Health Centre (MUHC) 
The McGill University Health Centre is one of the most prestigious university teaching hospitals in the world and provides exceptional patient-focused care that is integrated with research, teaching and technological assessment. Deeply committed to a continuum of care within the community, the MUHC is affiliated with McGill University's Faculty of Medicine and is part of the RUIS McGill. All of its hospitals (Montreal General Hospital, Royal Victoria Hospital, Montreal Children's Hospital, Montreal Neurological Hospital, Montreal Chest Institute and Lachine Hospital) use a multidisciplinary approach at every stage of life and apply innovative techniques and practices, strategic partnerships and leadership in knowledge transfer. A $2.355-billion redevelopment project is currently ongoing at the Glen site, the Montreal General Hospital and the Lachine Hospital to give health professionals an ideal environment to deliver the best care for life to patients and their loved ones—now and for generations to come—that also complies with exemplary sustainable development practices, such as those set out under LEED® certification and BOMA BESt certification.