Canadians want more access to Digital Health Tools
The McGill University Health Centre is proud to support the public education campaign recently launched by Canada Health Infoway (Infoway) to promote digital health which refers to the use of information technology/electronic communication tools, services and processes to deliver health care services or to facilitate better health.
[collapsed title="Read more"]
The campaign, called Better Health Together, is aimed at helping Canadians learn more about the value and benefits of digital health. The campaign is also supported by governments, as well as other leading consumer, patient and clinical health organizations.
A survey by Infoway shows that the vast majority of Canadians see extraordinary value in digital health tools. In fact, 96 per cent of Canadians think it's important that the health care system make use of digital health tools and capabilities, and 89 per cent feel it is important that they personally have full advantage of digital health tools and capabilities.  
These survey findings underscore an important reality: adoption of digital health can improve the patient experience for Canadians. 
With digital health, Canadians become active participants in their care. It has touched and enhanced lives in every province and territory, and is gradually reshaping the way Canadians care for themselves and their loved ones. And increasingly, it is providing the tools and information to empower individuals to better understand and manage their health.
To learn more and to hear stories from Canadians who have experienced its advantages, please visit www.betterhealthtogether.ca. 
[/collapsed]

DIGITAL HEALTH AT THE MUHC
OACIS – the MUHC's electronic health record constantly evolving to help our teams provide better care 
At the McGill University Health Centre (MUHC), the Oacis electronic health record is the main source of patient information.  
Depending on their roles and professional activities, MUHC clinicians use Oacis to:
View inpatient lists for each care unit and create their own patient lists
Consult patients' demographic data, lab results, pathology and imaging reports, and medical record documents (that are scanned or electronically transmitted)
Document patient information, such as allergies and vital signs
Prescribe various procedures and tests for inpatients (medical imaging, labs, microbiology, nutrition, transfusion services, neurophysiology and respiratory medicine)

 
OACIS FACTS
At the MUHC, Oacis has:
Nearly 7,000 unique monthly users and over 3,500 unique daily users
Over 250,000 monthly logins
Peaks of 1,100 concurrent users 
Although the first MUHC modules were rolled out in 2006 and 2007, the Oacis team has been developing the system since 2002. (Read more)

Patient Education Office provides a wealth of online modules
The collection, which consists of over 400 health modules, pamphlets, teaching sheets and even a colouring book, all of which explain diseases and conditions, as well as treatment and rehabilitation options, is image-rich, in plain language, evidence-based, and developed with the assistance of a wide range of healthcare professionals from the MUHC, to ensure the content is as accurate and up-to-date as possible. (Read more)

There's an MUHC App for that! 
My First Surgery by Dr. Robert Baird
Having a child undergo surgery is never easy; this app is designed to make it a little bit easier.
My First Surgery was the winner of a McGill University Centre for Biomedical Innovation mHealth app creation Challenge.  (Read more) 
V-Sign Flow helps us care our most vulnerable patients
Developed by the MUHC's Information Systems team, the V-Sign Flow project has been used by medical staff in the Pediatric Intensive Care Unit (PICU) since June 2013, and has more recently been adopted by the medical team in the Neonatal Intensive Care Unit (NICU) as well. 
The app builds on technology that was initially introduced to keep track of patients' vital signs. Using staff members' personal smart phones, it keeps a record of short text messages about a specific patient's status, treatment, test results or observations and recommendations that can be viewed securely
and confidentially by all members of the team. A combination of 'tags' or filters based on keywords can also be applied to inform team members immediately of critical information regarding changes in a patient's condition.  The result is that all participating team members can view the same information in real time. 

Apps our teams use
UpToDate Anywhere
MUHC clinicians use this app to find out the latest answers to their medical questions from their smartphone or tablet.  More than 6,000 physician authors, editors, and peer reviewers use their deep clinical domain expertise to critically evaluate available medical literature to produce original content in a succinct, searchable format that can be quickly and easily accessed at the point of care.
Lexicomp 
Is a comprehensive drug information tool containing clinical modules with information about drug interactions, identification, calculations, toxicology, and patient education.  It is available via any networked computer within the MUHC and is used by our clinicians on their Android or iPhone. 
OACIS – the electronic medical record in constant evolution 
The Oacis team is a multidisciplinary group with members who come from an Information Technology (IT), clinical, nursing or other health background, which includes project managers and training experts. Some team members have been working on the Oacis deployment for eight, ten or even twelve years, which attests to their dedication to this ambitious project.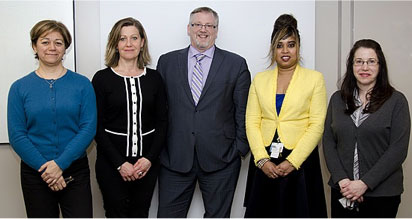 From left to right : Katy Shadpour, project manager; Dawn Bonsor, deployment coordinator; Daniel J. Morin, director, Clinical Information Systems (interim); Sabina Choudhury, supervisor, Training and Quality Assurance; Marie Lyne Martel, administrative assistant; absent: Adams Brooker, trainer. 
"Our job is to bring health informatics to the MUHC with a high-quality system and to support users while paying constant attention to patient safety. That's our priority," says Katy Shadpour, Oacis project manager.
A CONSTANT FOCUS ON PATIENT CARE AND SAFETY 
Whenever clinicians want to perform new tasks in Oacis, such as document patient information or enter prescriptions, the Oacis clinical analysts sit down with users to perform a detailed review of the processes for the requested task. The goal is to pinpoint how doctors, consultants, nurses and professionals will interact with the system.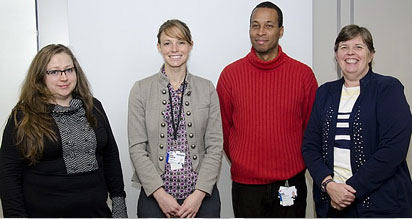 Clinical Analysis and Configuration Specifications. From left to right: Catherine Gauvin, clinical analyst; Adrielle Houweling, clinical analyst; Alain Désir, clinical analyst; Ellen Clark, senior advisor (interim); absent: Annick Deslongchamps, clinical analyst.
"We have great team spirit," says Catherine Gauvin, a clinical analyst who is also a nurse. "For example, we analysts work with our training and deployment colleagues, who have close contact with end users." 
The development and production team then adapts Oacis to the process. The new functions and interfaces are tested first by the training and quality assurance team, and are then tested in a few pilot care units. Required system adjustments can be made afterwards. 
"It's an honour and a privilege to bring such an important system to the MUHC community. I'm here to serve end users. Whatever we do is for them," says Sabina Choudhury, supervisor, Training and Quality Assurance. 
Dawn Bonsor, deployment coordinator, supports the implementation of changes at various MUHC sites in collaboration with trainers and clinical representatives.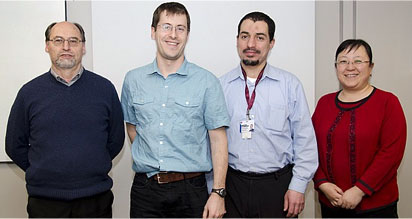 Database and Architecture. From left to right: Ted Van Rossum, supervisor; Vincent Rives, specialised analyst; Makhelouf Ait Boudaoud, specialized analyst; Lin Liu, specialized analyst. 
Behind the scenes, the technical team carries out essential work. The team of Ted Van Rossum, supervisor, Database and Architecture, performs maintenance on the platforms that support Oacis so that data is always backed up, protected and accessible, while the team of Benoit Tardif, supervisor, Development and Production, constantly monitors Oacis to ensure it's running smoothly. The team is on standby 24 hours a day, 7 days a week to respond to any bugs, slowdowns or other technical problems.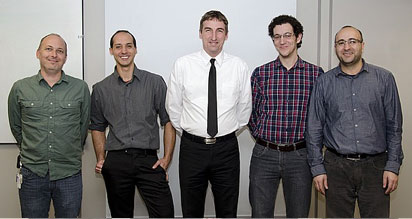 Development and Technical Support. From left to right: Marc Potvin, analyst programmer; Mathieu Biosca, analyst programmer; Benoit Tardif, supervisor, Manuel Gamero-Parra, analyst programmer; Toufik Senoune, analyst programmer; absent: Pascale Marois, analyst programmer.
"The technical team works meticulously to ensure that clinicians don't have any problems accessing information and that medical records are error-free. We help ensure that patients receive the best care, which is very motivating. This is why, I think, staff stay for a long time and become invested in the project," says Tardif, who is about to celebrate 10 years on the team. 
IMPORTANT PARTNERS PITCH IN
From the start, the Centre hospitalier de l'Université de Montréal (CHUM) has also helped develop the system. Under the direction of Dr. Jeffrey Barkun, chief of Medical Informatics, the MUHC's clinical champions (which include MUHC doctors and health professionals) have overseen the development and implementation of the Oacis system through discussions about clinical needs and any proposed solutions. The Oacis team is working closely with Telus, the system supplier, and collaborates with other MUHC Information Services teams, including the team that develops specialized clinical systems, such as O-Word, O-courbes, V-Sign and other applications that interface with Oacis. 
The road map for 2016:
The new pharmacy order module developed in 2015 will be piloted and we will start planning for a full MUHC deployment.
Now that physicians can order multiple tests and exams on nearly all inpatients, we will start to deploy the ordering module in the outpatient environment.
We will also start working on giving access to Oacis to our colleagues at the Lachine Hospital.