The Centre for Global Surgery: emergency relief and long-term positive impact
World Humanitarian Day, August 19, commemorates people who lost their lives in humanitarian service and celebrates the spirit that inspires humanitarian work around the world. Every year, McGill University Health Centre (MUHC) physicians, residents and nurses travel to countries such as Haiti, Rwanda, Mozambique and Uruguay to take part in on-site clinical work, capacity building, and education, research and exchange programs. Besides bringing much-needed support to regions with limited resources, these partnerships help our staff gain valuable experience and contribute to enhance the international profile of the MUHC. Below are examples of our doctors' volunteer work.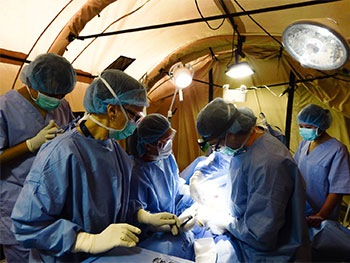 Trauma surgeon Dan Deckelbaum (right) training local physicians in essential surgical skills at the Canadian Red Cross field hospital in Dhunche, Nepal. The country was hit by two major earthquakes in two weeks last Spring. Photo: Natasha Osmond.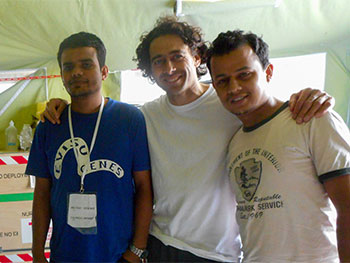 Dr. Dan Deckelbaum and two Nepalese surgeons Dr. Nishedh (left) and Dr. Prakash , he trained while on deployment with the Canadian Red Cross in June. L. to r. : Dr. Deckelbaum, Dr. Nishedh and Dr. Prakash.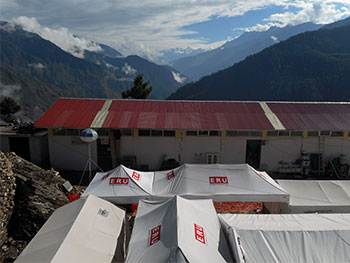 The Canadian Red Cross Emergency response Unit in Dhunche, a village in a mountainous region of Nepal.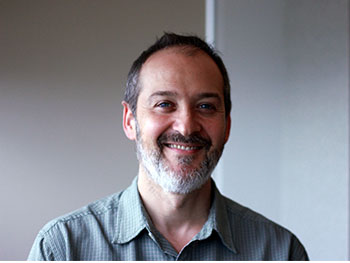 "The international work I do makes me better fit mentally and professionally to deal with challenges at the MUHC. It's extraordinarily challenging, personally invigorating and fun," says trauma surgeon Dr. Tarek Razek.
In the aftermath of the devastating earthquake that hit Nepal on April 25, dozens of international emergency response units were deployed to the affected areas. A couple of months after the catastrophic event, Dr. Dan Deckelbaum, trauma surgeon at the Montreal General Hospital of the McGill University Health Centre (MGH-MUHC), joined in the effort. He spent one month working in a field hospital in the rural village of Dhunche, as part of the Canadian Red Cross Emergency Response Unit. 
"As the only surgeon present, I covered surgical responsibilities and clinical work, and trained local physicians in essential surgical skills," says Dr. Deckelbaum. "I also established collaborations to improve surgical capacity in Nepal in the future." 
Dr. Deckelbaum is co-director of the Centre for Global Surgery at the McGill University Health Centre, a group of volunteer surgeons, nurses and educators who bring their expertise to resource-limited regions in Africa, Latin America, Eastern Europe and the Middle East. For the last ten years, members of the centre have been involved in research, education and exchange programs, on-site clinical work, and trauma system development aimed at reducing trauma-related death and injury.
"Trauma injury – resulting from motor crashes, workplace accidents, falls, violence – causes more deaths worldwide per year than HIV/AIDS, tuberculosis and malaria combined," explains Dr. Deckelbaum. "Moreover, tens of millions of people need treatment after non-fatal injuries."
Build local capacity
Before he returned to Montreal, Dr. Deckelbaum spent a week in Odessa, Ukraine, where he, surgeon Jeremy Grushka, and nurses Nancy Tze and Andre Belkin trained local healthcare workers. This program,  funded by the World Health Organization, is part of an ongoing collaboration started in 2011 by the Centre for Global Surgery and Ukrainian healthcare establishments.
 "We only go to a place if we're invited by a local champion," says Dr. Tarek Razek, chief of Trauma Services for the adult sites at the MUHC and co-director of the Centre for Global Surgery. "We help with training, logistic and administrative infrastructure, and with the design of the trauma system. We also help with academic and research infra-structure, so that local physicians can better understand their environment and target interventions."  
Mutually beneficial partnerships
Dr. Razek, who has also been active in the area of disaster response – he deployed to Haiti after the 2012 earthquake – says that although challenging, the effort is beneficial to all partners on many levels.
"Our global work experience allows us to continue to grow professionally and to remain leaders at what we do. These programs raise the MUHC's international profile and attract highly qualified physicians, surgeons, nurses and non-medical personnel to the Montreal General Hospital." 
Even remote communities with limited resources in Northern Quebec profit from the know-how obtained abroad. As an example, Dr. Razek and his colleagues are implementing database development techniques that were once used overseas in Nunavik.
The centre is mostly self-funded and covers costs by pooling and redistributing part of the earnings from its members. It also counts on financial support from individuals and organizations such as the MGH Foundation. The MUHC gives participants the flexibility to deploy when necessary. 
"It's a privilege to be able to contribute in this effort," says Dr. Deckelbaum, "and we thank the MUHC, the MGH Foundation and the Montreal community for encouraging our activities."
Video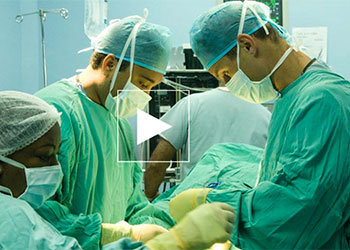 Dr. Deckelbaum talks to the CBC about the importance of safe surgery
Centre for Global Surgery at the McGill University Health Centre: http://www.cglobalsurgery.com/