Symbolic breaking ground at Lachine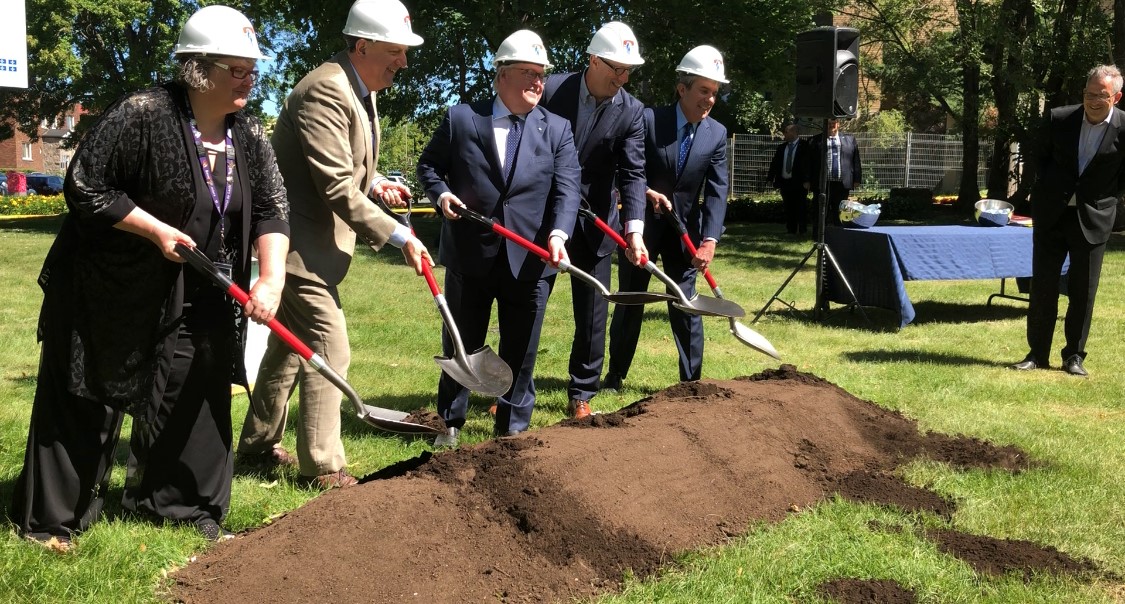 Chantal Bourdeau, clinical-administrative coordinator of the Lachine Hospital; Dr. Pierre Gfeller, CEO or PED of the MUHC; Gaétan Barrette, Minister of Health and Social Services; François Ouimet, MP for Marquette; and Jacques Filion, Chairman of the Board of Directors of the Lachine Hospital Foundation.
Health and Social Services Minister Gaétan Barrette and François Ouimet, Member for Marquette, visited the Lachine Hospital of the McGill University Health Centre (MUHC) on Thursday morning to announce that the business case for the Lachine Hospital modernization project, also known as HOP Lachine!, has been approved by the Gouvernement du Québec and that the execution phase can therefore begin.
"The Lachine Hospital project has just taken an important step forward, of which we are very proud," said Minister Barrette. "This project is directly in line with recent government actions aimed at offering the best possible health care and social services infrastructures across Québec. Once completed, the upgrades will make it possible to optimize the operation of the hospital's key sectors and better meet the needs of users and personnel."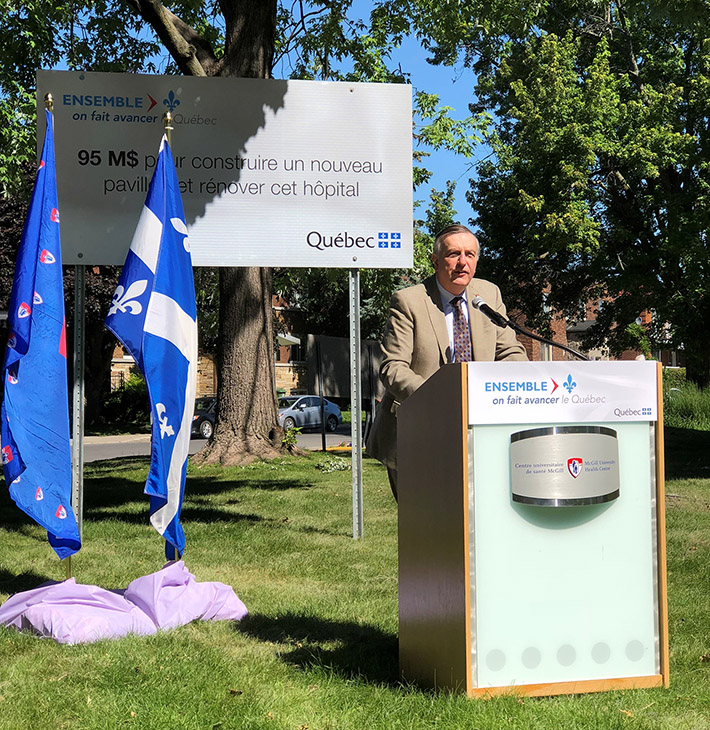 Pierre Gfeller, CEO or PED of the MUHC
At the heart of the project, patients and their families
"The Lachine Hospital modernization project, which includes the construction of a brand-new building and upgrades to the historic building, is at last reaching the implementation phase," said Dr. Pierre Gfeller, President and Executive Director of the MUHC. "At the heart of this long-awaited transformation are patients and their families. From the very beginning, our patient partners teamed up with health professionals, hospital staff and planners to rethink the way care is provided so that services can be reorganized before designing the facilities. This collaborative effort has greatly contributed to the development of a solid plan that, once completed, will enable the Lachine Hospital to better accomplish its mission and improve the services it offers to the public.
The HOP Lachine! project
Budget: $ 95 million,
Start of construction: autumn 2020
End of construction: spring 2023
New pavilion: emergency room, intensive care, day hospital service, hospitalization, medical and surgical units, and palliative care.
1st floor: redevelopment to include the test centre and outpatient clinics
5th floor: redevelopment to include the medical device reprocessing unit (MDR) and the endoscopy suite
Increase in the number of beds
Inpatient units: from 52 to 60, all single-patient rooms
Palliative care: from 5 to 10
Surgery: from 5 to 16