Simple strategies help keep your child safe
Serious childhood injuries can happen in a split-second. Whether your child takes the bus or is old enough to cross the street alone or ride a bicycle, or if you are part of a car pool, the school season is the perfect time for a refresher course on the "rules of the road."
Each year, more than 14,000 children and teens from throughout Quebec are treated at the Montreal Children's Hospital (MCH) Emergency Department for trauma-related injuries. Approximately 650 to 700 of them sustain injuries serious enough to require hospitalization and involvement of the MCH Trauma Program specialists.
Prevention is a vital aspect of trauma care. Debbie Friedman, administrative director of Trauma Care and Injury Prevention Program at The Montreal Children's emphasizes that, "Once a trauma has occurred we will provide the best care possible. However, injuries are not totally unpredictable events. Most trauma is preventable and thus prevention remains the best form of treatment."
While parents must teach their children the rules for staying safe on and around the school bus, Dr. Dominic Chalut, former director of Emergency Medicine at the Montreal Children's Hospital of the MUHC, maintains that car drivers must take greater responsibility. "The lower speed limit around school areas gives them a longer time to react and stop the vehicle, and if a child does get hit there is less impact, resulting in a speedier recovery time and fewer long-term consequences."
And Friedman directs a strong message to parents and caregivers: "Many people tell me that they are very safety conscious. But supervision means different things to different people. While encouraging their kids to be active, they must be aware of the risks, know the safety recommendations, make smart choices and above all, set a positive example!"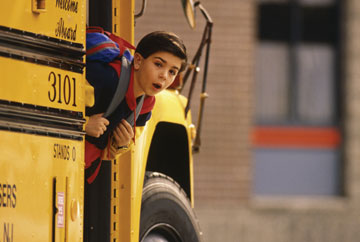 For more information on these and other trauma and injury prevention topics please contact the Montreal Children's Hospital Trauma and Injury Prevention Program at 514.934.1934, extension 23310 or visit www.thechildren.com.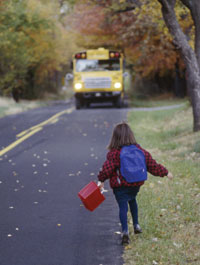 TIPS FOR KEEPING YOUR KIDS SAFE
On the school bus
Always wait until the bus has come to a full stop and the doors have opened before getting out of the bus seat
Always cross in front of the bus, never behind, and make eye contact with the driver
Stay seated when the bus is moving, keep head and arms inside the windows and keep the aisle clear
On the road
Cross the street at safe places, such as traffic lights, corners with stop signs, at pedestrian walkways - never between parked cars
Learn to stop before stepping onto the road; look in all directions and listen before crossing the street
If cycling, wear approved protective headgear that fits squarely on the head with a tightly attached chinstrap
In the car
Use properly installed age appropriate car seats, booster seats and seatbelts
Never double belt children in car pools to make room for more passengers
Adhere to speed limits and drive slowly in school and residential areas
Children under 13 should not sit in the front seat in case the airbag deploys