Alexander Normandin was a third-year McGill University medical student when he first learned he had Multiple Sclerosis (MS), an unpredictable degenerative disease that attacks the central nervous system.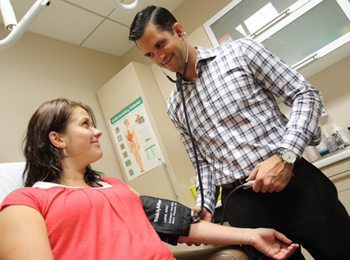 Dr. Alexander Normandin, right, whose life was saved by BMT treatment and who is now a practicing doctor himself.
"I was so engrossed in my studies that I didn't pay attention to the first signs," says Normandin. "But within a few days of waking up with a numb temple, my face felt frozen, I had fatigue and I had problems with balance and coordination. I soon learned that I had a very aggressive form of MS and would probably be in a wheelchair within a year. It was a brutal blow."
Normandin was enrolled for an experimental bone-marrow stem-cell transplant at the Ottawa General Hospital, a treatment developed in collaboration with doctors at the Montreal Neurological Institute and Hospital – The Neuro. He became patient #19 of only 24 and had his transplant in 2008. The procedure is risky because a patient's immune system is knocked out with chemotherapy and then rebooted with their own stem cells.
Today, Normandin is a family physician, his MS has stabilized and he is no longer taking medication. The procedure seems to have halted the progression of the disease.
New research surrounding this treatment supports these types of results and more. All participants in the study who had the experimental bone marrow transplant showed no new disease activity. The study published in the Annals of Neurology and led by Dr. Amit Bar-Or at The Neuro, shows that there are no new lesions in their brains. It also compares patients' immune systems before and after treatment. The results indicate that there is a diminished function of a subset of immune T-cells, which could be a potential biological target for future therapies that carry less risk than the bone-marrow transplant. Doctors explain that the results are preliminary, and it is still not known if the risky treatment is effective at stopping other types of MS, such as those with purely progressive forms of the illness.
Normandin says the illness has had a silver lining. As a doctor it has given him a perspective that can't be taught in medical school. "It has certainly affected the way I view my patients. I'm more conscious of how I talk to them and more empathetic in dealing with their conditions."
Multiple Sclerosis
MS is a disorder of the brain and spinal cord that causes fatigue, disequilibrium, sensory problems and muscle paralysis. The cause of MS is unknown, but evidence suggests that it is an auto-immune disease that destroys myelin, a substance coating axons, the thin strands that carry signals between brain cells. It usually strikes between the ages of 15 and 40 but can begin as early as age two. Women have twice the probability of developing MS than men. Canada has one of the world's highest national rates - about 1,100 new cases each year. Some 50,000 Canadians have MS. More than 1 in 500 lives in Quebec.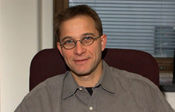 Dr. Amit Bar-Or of The Neuro was involved with developing the BMT treatment and conducted the follow-up biological study.
BMT
Bone marrow transplantation (BMT) has positive results in patients with particularly aggressive forms of Multiple Sclerosis. The transplantation treatment, which is performed as part of a clinical trial and carries potentially serious risks, stops virtually all new relapsing activity as determined by clinical examination and brain MRI scans. The treatment involves ablative chemotherapy followed by stem cell transplantation using the patient's own cells. Twenty-four patients participated in the overall clinical trial as part of the 'Canadian MS BMT' clinical trial, coordinated at the Ottawa General Hospital.