Radiation wait times meet modern technology
Just over a year ago at the McGill University Health Centre (MUHC), Dr. John Kildea, Medical Physics, Dr. Tarek Hijal, Radiation Oncology, and Professor Laurie Hendren, McGill's School of Computer Science, were granted $150,000 to fund a creative new project to improve radiotherapy patients' experience. They were the winners of the 2014 Challenge Q+, which was launched in 2012 at the MUHC to promote, support and reward a culture of quality. The primary goal of their project was to provide radiotherapy patients with realistic expectations and explanations regarding the time they will wait for the provision of care as wait times are a well-known determinant of overall patient satisfaction.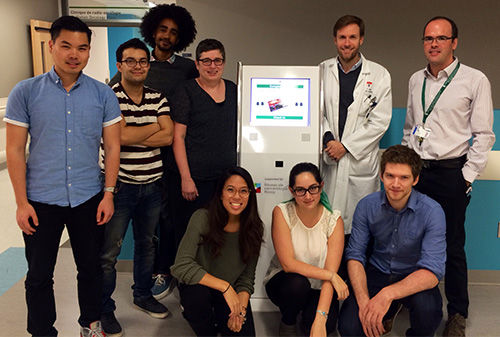 Fast forward to today and Drs. Kildea and Hijal and Professor Hendren are well on their way to not only seeing this project become a reality, but in the process they have taken the patient experience to a whole new level.
"Our original project has grown exponentially with the help of doctors, physicists, radiation therapists, patients and a team of computer scientists—students included—analyzing algorithms and using existing data, " says Dr. Hijal. "It now includes a patient calling system, a waiting room management system and a patient app. While we worked on estimating the waiting times we had to figure out how we were going to provide them to the patients, which is where these extra elements came in."
The management system includes kiosks where patients can check in with their Medicare cards to a virtual waiting room. The kiosks were initially acquired as part of a project launched by the Rossy Cancer Network, to assess the feasibility of electronic check-in for radiation oncology. That project was a success, in terms of decreasing wait times for registration and increasing patient satisfaction. 
The system also informs the healthcare team how many patients are waiting, for how long and what they are waiting for. When the team is ready to call the patient, they click "Call patient" and the system rings and displays where the patient should go on large screens in the waiting room.
The app was developed to give patients more information. Knowledge is power and literature shows that just knowing wait times makes patients less stressed. The app is very similar to the online shipping tracking system which shows where your mailed package is in the system and when it will arrive. The whole idea is to show that while you are waiting there is progress being made. Knowing when you will expect the package is very much like knowing and understanding the steps in radiation treatment planning. 
"We wanted to be able to display the information in a web version but then we thought all patients have their phones with them so let's make an app," says Dr. Kildea. "Then we started to look at what other sort of information patients may need. Suddenly, we had this whole new way of delivering information."
The app is personalized to each patient so when they come in for their appointment they can check in with their phone. Instead of going to the waiting room they can go to the cafeteria, for a walk, to one of the stores in the Glen. It also geo-locates the person so they cannot be 10 miles away—they have to be within the hospital to check in. Of course, people will still be able to check in at the reception or at a kiosk.
The app also includes contacts, like the patient's primary physician; notifications, for example the patient's appointment may be delayed so they are notified by their care team; appointments, which can be seen as a list or in a calendar view; a map to see where the appointment is at the Glen; lab results with colour codes to indicate normal and not normal; an image to show which part of the patient's skin will be affected by  the radiation; and patient education material that will be available at all of the radiation care phases so it can be taken in progressively instead of all at once. All of this can be shown to other healthcare professionals if required to provide optimal care. The team is hoping that eventually the app will be available in three or four languages in addition to French and English.
"There are other patient apps out there but they usually just display general information or ask patients to enter their own data," says Professor Hendren, who received radiation as a patient at the MUHC. "This is different because we are providing them with their own personalized information." 
Of course, a big concern for the team is the security and confidentiality of the data so with the MUHC Security team they have ensured it will be doubly encrypted. 
"In the MUHC department of Radiation Oncology, we provide approximately 3,500 patient consultations, 10,000 follow-up appointments and 40,000 scheduled radiotherapy treatment sessions per year," says Dr. Hijal. "To have these systems in place will not only greatly benefit our patients and their families but also our teams."