Patricia O'Connor Receives Canadian College of Health Leaders Nursing Leadership Award
The Canadian Foundation for Healthcare Improvement (CFHI) and the McGill University Health Centre (MUHC) today congratulated Patricia O'Connor, Director of Nursing and Chief Nursing Officer of the MUHC, who is the recipient of the 2014 Canadian College of Health Leaders (CCHL) Nursing Leadership Award.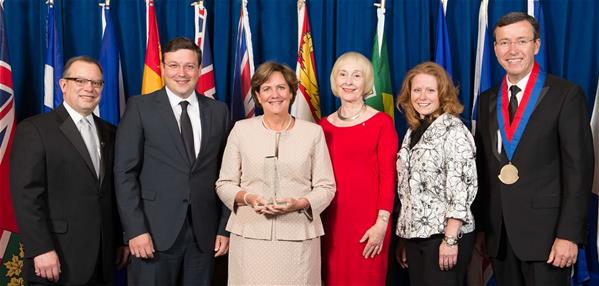 Left to right: Ray Racette, President and CEO, CCHL; Alex Adani, Director Strategy and Business Development, Baxter Corporation; Patricia O'Connor, Director of Nursing and Chief Nursing Officer, MUHC; Maureen O'Neil, President, CFHI; Sherri Keller, Senior Manager, Clinical Services, Baxter Corporation; Brian Schmidt, Chair, CCHL Board of Directors
"Ms. O'Connor has consistently demonstrated outstanding leadership and commitment to quality improvement," said Maureen O'Neil, President of CFHI, which nominated Ms. O'Connor for the award. "Through her continued involvement with CFHI's work to engage patient and families in improving health care for Canadians, she is helping organizations across the country deliver better patient care."
The Nursing Leadership Award builds on themes of patient-centered care and leadership, and honours those who demonstrate an ongoing commitment to excellence in these areas. Ms. O'Connor received the award at CCHL's June 1 National Awards Gala in Banff, where the 2014 National Health Leadership Conference takes place.  
"Patty O'Connor has exceptional knowledge and a real passion for nursing," said Normand Rinfret, Director General and CEO of the MUHC. "She has demonstrated leadership through her capacity to innovate care at the bedside and her ability to introduce the patient and family voice into multidisciplinary teams. Her work has profoundly improved the care we provide to our patients."
Since 2009, Ms. O'Connor has served as Director of Nursing and Chief Nursing Officer at MUHC, where she is responsible for nursing practice, patient safety and quality of care, nursing manpower planning, nursing education and research. Since  2010,, she has implemented the Transforming Care at the Bedside Program (TCAB) across 19 clinical units/areas, supported by CFHI's Patient Engagement Program (PEP) initiative. Her innovation was to partner patients with the frontline staff in redesigning care, using rapid cycle improvement processes. The project has evolved to include more than 1,500 nurses and other healthcare providers, with outstanding results. Results to date include an 8% increase in direct time in care by registered nurses, a 20% improvement in patient experience of care, and a 60% reduction in medication transcription errors, while waste time has halved. In December 2013, this initiative was recognized by Accreditation Canada as a Leading Practice, as  was a specific TCAB innovation in mental health, where the process of admission was reduced from 4.3 hours to 1, by shifting to a joint interdisciplinary admission interview with the patient
Ms. O'Connor serves as faculty for CFHI's new Partnering with Patients and Families for Quality Improvement collaborative. In this position, she will help support teams from Canadian healthcare organizations to engage patients and families in designing, delivering and evaluating healthcare services to produce better patient care and outcomes. This new collaborative launches this summer.
Ms. O'Connor has a long history with CFHI. In 2003/04, she participated in CFHI's EXTRA program for health care improvement, where she co-led an organization-wide effort to reduce falls and fall injuries at the MUHC. This has resulted in a  50% reduction in falls and a 60% reduction in severe fall injuries since this program was launched. She was also the first nurse in Canada completing the U.S. Commonwealth Fund's Harkness Fellowship Program in Health Care and Health Policy, partly funded by CFHI, in 2008-2009. And she completed a fellowship with the Canadian College of Health Leaders in 2010, focused on the reduction of adverse events.
Among Ms. O'Connor's previous accomplishments have involved co-leading a stroke strategy unifying practice across MUHC sites, which was designated an Accreditation Canada Leading Practice in 2007; receiving the Valerie Shannon Award for Innovative Leadership at the MUHC in 2008; receiving a Lifetime Achievement Award from the Montreal Neurological Institute and Hospital in 2010; And being recognized as one of the Top 8 Women in Business in the Healthcare Sector in the province of Quebec in 2012.
-30-
The Canadian Foundation for Healthcare Improvement is a not-for-profit organization dedicated to accelerating healthcare improvement by working with provinces, territories and other healthcare partners to promote efficient healthcare that delivers better outcomes. With a $10 million annual federal investment, CFHI supports the development of innovations that could save provincial-territorial healthcare budgets over $1 billion per year. CFHI is funded through an agreement with the Government of Canada.
About the McGill University Health Centre (MUHC)
One of the world's foremost academic health centres, the MUHC offers exceptional and integrated patient-centric care, research, teaching and technology assessment. Affiliated with the Faculty of Medicine of McGill University and part of the RUIS-McGill, the MUHC has a mandate to focus on complex care and is highly committed to working with partner organizations to ensure continuum of care in its community. The partner hospitals of the MUHC—the Lachine Hospital, the Montreal Chest Institute, the Montreal General Hospital, the Montreal Neurological Hospital, the Royal Victoria Hospital and the Montreal Children's Hospital—value multidisciplinary service throughout the lifespan, innovative technologies and practices, strategic partnerships and leadership in knowledge transfer. The MUHC is currently carrying out a $2.355-billion Redevelopment Project on three sites - the Glen, the Montreal General and Lachine hospitals. The project will support environments that ensure patients and their families receive the best care possible, now and for many generations to come. The sites are also anchored in best sustainable-development practices, including LEED® and BOMA BESt guidelines.
For more information, please contact:
Paulette Roberge
Senior Communications Specialist
Canadian Foundation for Healthcare Improvement
W: 613-728-2238 ext. 288
C: 613-790-1070
E: [email protected]