Ocular oncologist and research lab join forces to save patient with eye cancer
What started as a large floater in Marla Stermer's right eye was the beginning of a journey that taught her strength in the face of fear.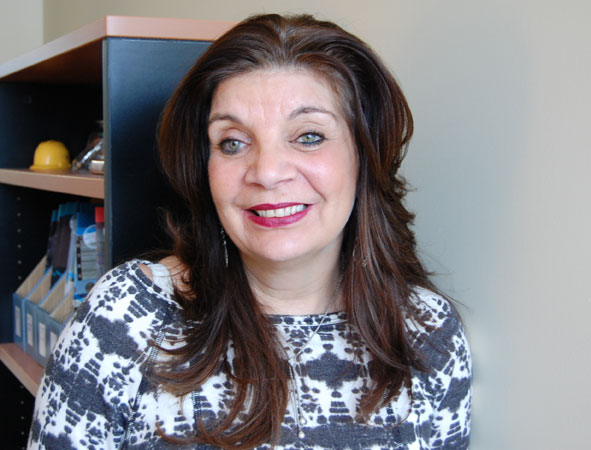 Marla Stermer is happy and healthy two years after the removal of her right eye due to cancer. She now wears a prosthesis that was made to perfectly match her left eye.
 
"I knew floaters were a normal occurrence for people my age," says Stermer. "But when months passed and my vision decreased and the floater got larger I went to see an optometrist who referred me to an ophthalmologist. On December 4, 2012 I found out it was a cancerous tumour called uveal melanoma." 
Stermer was referred to the top ocular oncologist at the McGill University Health Centre (MUHC), Dr. Sonia Callejo, whose office is at the Montreal General Hospital (MGH). "This ocular melanoma is rare in the general population and in Quebec," says Dr. Callejo. "We have 40 to 50 new cases per year." 
In Stermer's case, Dr. Callejo had to remove her eye and then send it to the Henry C. Witelson Ocular Pathology Laboratory—part of the Research Institute of the MUHC—for further analysis. The lab, which is directed by Dr. Miguel N. Burnier Jr., a clinician researcher who specializes in uveal melanoma, is one of a kind in Canada and the largest in North America. It specializes in finding treatment options for individuals afflicted with ocular diseases. "In our lab we don't conduct research as an intellectual exercise," says Dr. Burnier. "At the end of the day, we do research for our patients."
The lab is so well-renowned people from around the world come to train in its facilities. 
Uveal Melanoma is mostly found in adults and is characterized by a mass underneath the retina in the layer of the eye known as the uveal tract. The measurement of the tumour is very important. If the tumour is small-sized or medium-sized, the patient can have radiation therapy and preserve the eye. However, if the tumour is large, the eye needs to be removed. 
"There are not many known risk factors for this cancer," says Dr. Callejo, "so the best prevention is to have an annual eye exam. We see cancers that are much smaller and in these cases it is more possible to save the eye." 
Dr. Burnier's Lab confirmed the type of melanoma and all the prognostic factors, including cell type, presence of vascular loops, lymphocytic infiltration and the number of mitotic figures.  The tissue was then forwarded on to a laboratory in the United States that studies the risk of metastasis. Using a genetic test, chromosomes 3 and 8 were examined in Stermer's eye. If abnormalities were found in any of these two chromosomes then there would have been a high risk for metastases. 
By April 2013, Stermer was given the wonderful news that she was not at high risk for the cancer spreading and she received her eye prosthesis. 
"This was a very scary time in my life for me because both of my parents died from cancer but I am stronger for it now. And I am thankful to have had Dr. Callejo as one of my guardian angels," says Stermer. "She saved my life, and I'll never forget that."