Women and men over 50 years old who already take calcium and vitamin D supplements to prevent osteoporosis may have to consider adjusting their protein intake as well. According to recent research by the Canadian Multicentre Osteoporosis Study (CaMos), older adults lacking an adequate amount of protein in their diets run a higher risk of increased bone fragility and fractures.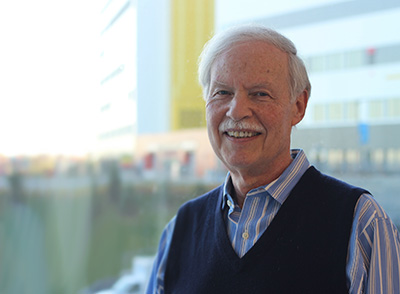 "We found that dairy protein, possibly because it also has calcium, was especially important for bone mineral density (BMD), which is an indicator of osteoporosis," says Endocrinologist Dr. David Goltzman, principal investigator of CaMos and director of the Calcium Research lab at the Research Institute of the McGill University Health Centre. "We also found out that low protein intake, independent of the source (animal, dairy or vegetable), increased the risk of fractures."
Dr. Goltzman decided to undertake this study because of the conflicting scientific data about the effects of protein intake on osteoporosis.
"The prevailing theory was that you shouldn't eat too much protein, because the acid associated with it could lead to bone loss," says Dr. Goltzman, who is also a professor of Medicine at McGill University. "But our study shows that for older adults, too little protein can be harmful to bone health."
Dr. Goltzman recommends that adults over 50 get at least 15 percent of their daily calories from protein.
"Health Canada's lower end of the acceptable range for protein intake is 10 per cent, but that's not enough to prevent fractures in people over 50, especially for those at high risk of fracture," he says. "Protein, like calcium, is a major component in bone and is essential for its renewal. Furthermore, protein intake is also important for maintenance of muscle function that may help preserve bone mineral density."
A fruitful long-term study
This is just one of the more than 120 publications based on the CaMos database. The initiative started 20 years ago and recruited 10, 000 participants with an average age of 60 years old in nine university centres across Canada. Although no participants were recruited in Montreal, the city has been the centre of the operation, compiling and analysing all data. The internationally recognized study has contributed on an important level to the knowledge about osteoporosis, with topics ranging from causes and treatments to genetics to quality of life. Dr. Goltzman hopes CaMos will continue to receive funding from the Canadian Institutes of Health Research (CIHR).
"Of the 10,000 participants, there are now only 3,500 left, he says. "We would like to expand the study to include family members and friends of participants, and an ethnic minority. We would also like to examine the interplay between osteoporosis and diseases such as arteriosclerosis, diabetes and sarcopenia (muscle loss due to aging). We need twenty more years to continue to study osteoporosis."
A few facts about osteoporosis
Osteoporosis is a disease characterized by deterioration of bone tissue. It's often called the 'silent thief', because bone loss occurs without symptoms, until there's a fracture, particularly hip, spine and wrists.
Approximately 1.4 million Canadians suffer from osteoporosis. It's two to three times more prevalent in women than in men.
Osteoporosis-related fractures are a major cause of pain, disability and death.
Recent data suggests that each hip fracture represents a total cost of $34,600, including hospital stay, rehabilitation and aid from the social welfare system.
Sources: Canadian Multicentre Osteoporosis Study and Osteoporosis Canada.