MUHC researchers led one of the Québec Science magazine's top 10 discoveries of the year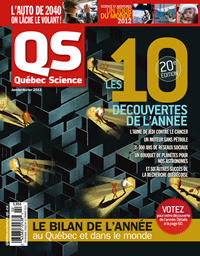 One of the top ten scientific breakthroughs of 2012 selected by Québec Science magazine was achieved by researchers from the McGill University Health Centre (MUHC) and McGill University. Their work is featured in the February issue, now available on newsstands.
The work of Dr. Lucy Gilbert from the RI-MUHC who is also Director of the Gynecologic Oncology at the MUHC and Professor of Medicine at McGill University, attracted considerable public and media attention last winter. Dr. Gilbert and her team found that the deadliest type of ovarian cancer often starts in the fallopian tubes rather than in the ovaries. This discovery could help thousands of women be diagnosed earlier and therefore treated more effectively.
Study contributors: Olga Basso (RI-MUHC); John Sampalis (RI-MUHC); Igor Karp (CRCHUM); Claudia Martins (MUHC); Jing Feng (MUHC), Sabrina Piedimonte (MUHC); Louise Quintal (MUHC); Agnihotram V. Ramanakumar (McGill), Janet Takefmam (MUHC); Maria S. Grigorie (MUHC); Giovanni Artho (MUHC); and Srinivasan Krishnamurthy (MUHC).
Click on the link below for the video "Découverte QS n°4 – L'origine du cancer de l'ovaire":
http://www.quebecscience.qc.ca/les-10-decouvertes-2012/4-Cancer-trompeur
The public is now invited to vote for THE top discovery of 2012:
http://www.quebecscience.qc.ca/les-10-decouvertes-2012/decouverte2012