The MUHC and RI-MUHC chosen as two of Canada's Top Employers for Young People in 2015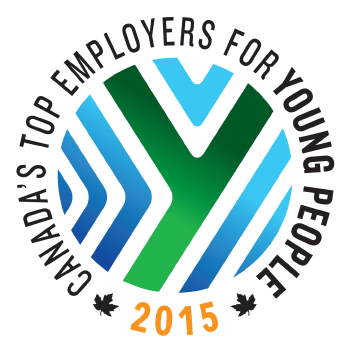 Following a comprehensive audit and selection process that examined nation-wide best practices, the McGill University Health Centre (MUHC) and the Research Institute of the MUHC (RI-MUHC) have been named one of Canada's Top Employers for young people. This award recognizes the institution's commitment to nurturing and building the next generation of healthcare and research professionals. To be chosen, the editors of Canada's Top 100 Employers look at programs that attract and retain younger workers, as well as benefits such as tuition assistance and the availability of co-op or work-study programs. The editors also examine each employer's mentorship and training programs, and they review each employer's career management program.  
Below are the testimonies of just a few of our young employees, who tell us why they chose to work at the MUHC and RI-MUHC: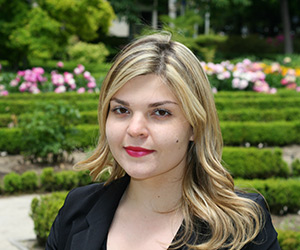 Plamena Andreeva
Administrative Agent: Class 3 at Royal Victoria Hospital 
Plamena Andreeva wanted to work at the MUHC after her family members received treatment at both the RVH and the Montreal General Hospital. "The MUHC is such a wonderful organization, the level of care and commitment that the doctors and team demonstrated was amazing," she says.  
Plamena works in the Medical Archives department. Her role is to prepare and scan all of the patients' charts at the RVH since everything at the Glen will be digitized. Once all the charts are digitized, she will continue at the MUHC by doing some clerical work. 
 "The relationships I've formed here have benefitted me professionally and personally," she says about her colleagues.  
Plamena's team is relatively young but there are older people and she believes it is a nice blend. "You get the experience from the older people and the energy from the younger people," she adds.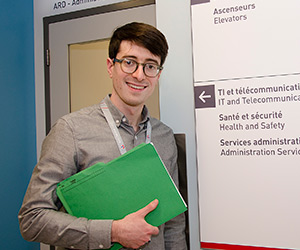 Joshua Ejdelman
Technician – RI Transition Planning  
Joshua Ejdelman came to the Research Institute (RI) as a summer student in a newly-established laboratory at the Montreal General Hospital. "Besides conducting a research project in prostate cancer, which spanned several years, I participated in many aspects of starting up a research lab," he says.  
With this experience, Joshua was equipped to take on a position in the Transition Support Office in which he shared responsibility for the RI move to the Glen site this year.  
"Each day," Joshua says, "I learn more about our research community and the maintenance of the RI's impressive infrastructure. I am grateful to play a role in what is undoubtedly a big step towards the future of collaborative translational research at the MUHC."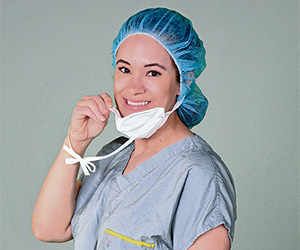 Elizabeth Joly
Nurse: Operating Room, Montreal General Hospital 
Elizabeth Joly seems to have been born and bred to be an MUHC employee. Her connection to the institution began at the Montreal General Hospital daycare, a place she used to go every day while both of her parents worked at the MUHC. "I guess you could say it was a natural choice for me to pursue a nursing career here," Elizabeth explains. 
Prior to becoming a nurse, Elizabeth actually worked as a housekeeper and an orderly, always for the MUHC, to then pursue a career in nursing in September of 2012. "What I love about my job in the operating room is that every single person is important. From the person who cleans and sets up the room, to the anesthesia team, to the surgical team and of course the nursing team who is vital and necessary to run an operating room. It is wonderful to be a part of this," she says. 
Elizabeth believes the mix between younger and older nurses is essential to the success of those who are starting up in the field. "Nursing is a career based on both knowledge and practice and who better to share their experiences than a nurse whose career expands over many years."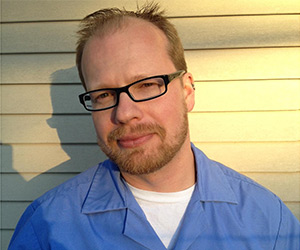 Jason Wiebe
Housekeeper: All sites, except Lachine Hospital  
Jason Wiebe works in Housekeeping part-time while studying full-time at Vanier College to become a nurse. He wants to apply as a PAB this upcoming summer. "I'll be able to get more hands on experience to help me with my schooling and once I'm done school, I'm going to apply as a nurse," he explains. "
"It's a very positive experience, there's a lot of interesting people, including coworkers and just talking to patients and their families as I go about my day," he says. "And I like that there is a lot of opportunity to grow." 
Jason thinks there's a good mix between older and younger workers on his team. He is excited to be working at the Glen site. "I look forward to a long career with the MUHC," he adds.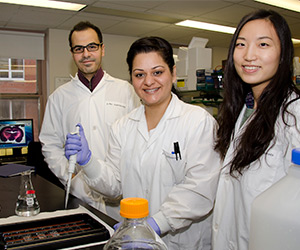 Zehra Khoja
Research Assistant, Child Health and Human Development/Cancer Programs, Research Institute  
Zehra Khoja discovered the field of neuroscience as an undergraduate psychology student at Concordia University. "The first time I looked at a section of a brain under the microscope and saw the intricate organization of the different structures," she says, "I was mesmerized. I thought, 'This is it! I have to study the brain."  
This path took Zehra to the Neuropeptide Physiology Laboratory of the Research Institute (RI) in 2007, and she has worked as a research assistant in child health and cancer research laboratories at the RI since that date.  
"I am constantly inspired by the aptitude of the international and local trainees with whom I work," says Zehra, "as well as the dedication of the staff and volunteers who continually innovate new ways to improve the lives of our young patients and their families."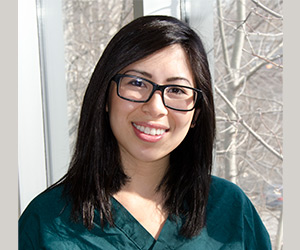 Jacqueline Nguyen
Nurse: Birthing Centre, Royal Victoria Hospital 
During her school years, Jacqueline Nguyen did two internships during the summer within the MUHC with the long-term care at the Montreal General Hospital and Lachine Hospital. "The job gave me the opportunity to really understand this healthcare population," Jacqueline explains. 
Jacqueline had an internship in the birthing centre and fell in love with it. She likes the action of the birthing centre where she assists during deliveries and labours. The environment is fast-paced and she gets to be with only two patients at the time to offer them one-on-one care. 
"One of the reasons I really like the MUHC is because it's so easy to access resident doctors," Jacqueline says about the staff. "Everyone is on the same platform."