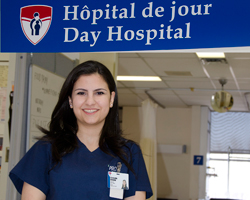 At the Montreal Chest Institute in the Day Hospital (DH) and Emergency Department (ED) Christelle Khadra has been caring for patients with respiratory problems since last September, when she joined the team soon after obtaining her Masters degree in Nursing. 
Khadra migrated to critical care as she pursued her studies. She likes how it "stimulates her clinical judgement". At the forefront, however, is her desire to help families through their healthcare experience: "It is always nice to see how you can make a difference and help them". 
In the DH and ED, Khadra's practice is divided in three main areas: 1) patients who come to receive treatments; 2) patients who need further investigation, such as bronchoscopies, thoracoscopies, or day hospital procedures, such as pleurex insertions, pleural taps, chest drain insertions; and 3) patients with respiratory emergencies who are seen in the walk in clinic. 
A large part of the nurse's job in these departments also includes patient education. "This is crucial given that most of our patients have chronic respiratory problems, such as asthma and COPD," says Khadra. "Teaching is necessary to control the disease and its symptoms in order to avoid a relapse, thus helping them maintain a good quality of life".