CHIP program gets people moving to better health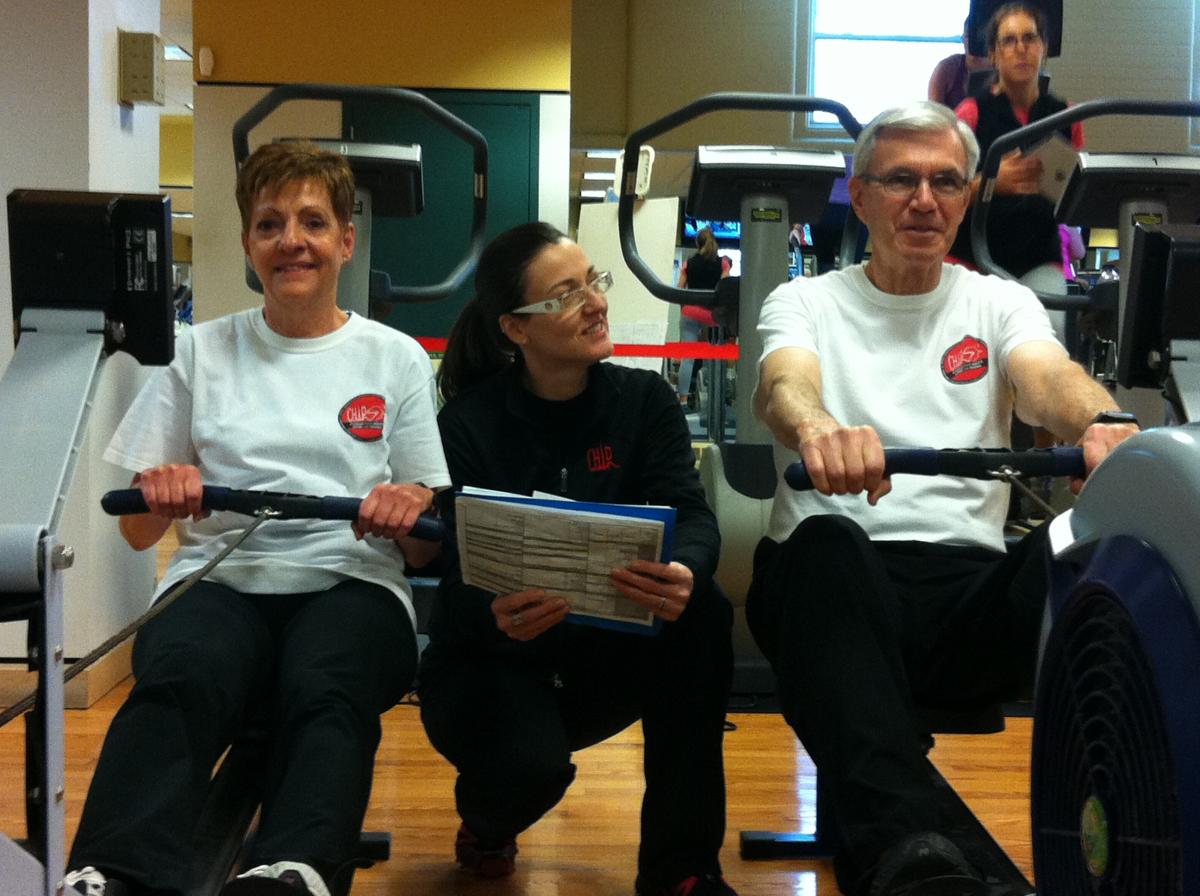 The start of a new year always comes with not-so-new resolutions to shed pounds and quit bad habits. At the McGill Comprehensive Health Improvement Program (CHIP), which is staffed by professionals from McGill University teaching hospitals, most of whom are from the McGill University Health Centre (MUHC), healthy living is a year-round pursuit. The goal: to help people achieve lifelong healthier living. 
Founded in 1996 as a nonprofit cardiac rehabilitation program, most of CHIP clients are heart patients, but it's grown to help treat or prevent other health conditions and weight issues. Smoking cessation, insomnia and stress management programs are also offered, and programming is becoming increasingly available online. 
"CHIP gives you confidence in terms of getting back on your feet," says Ed Lambert. Following a heart attack and angioplasty two years ago, he went through CHIP, along with his wife, who liked the program's approach. They've been gym-goers ever since, still heading to the same Y at the same time they did when they were in the program. 
Housed at the YM-YWHA in Côte-des-Neiges, the program boasts a one-stop shop of health professionals, including doctors, nurses, dietitians, kinesiologists and psychologists. Together, they design individualized programs pairing exercise with education and lifestyle management strategies.
The program generally runs three to six months comprising supervised exercise classes three days per week. Various time slots are available, with a maximum of eight people per session. CHIP kinesiologists circulate every few minutes to make sure exercises are being done safely and effectively, and provide tips geared to clients' specific objectives. Upon completion of the program, clients leave with a regimen to follow.
"At the end of 12 weeks, typically across the board, you'll see their lipid parameters, blood glucose levels and blood pressure improve," says CHIP Director Dr. Steven Grover, who is also Director of Cardiovascular Risk Assessment at the MUHC.
The multidisciplinary program, which includes a cardiovascular evaluation, gives participants personalized fitness targets—especially crucial for those recovering from a cardiac event, who need to build heart strength without overdoing it or who may be experiencing side-effects of medications. 
Working out with a partner or group also helps to stay on track. "When they're with us at CHIP, they have an appointment that they're keeping so it makes them come more regularly and more often," notes CHIP Program Coordinator Lisa Masse. CHIP kinesiologists will also check in with participants who haven't been to class in a while. There's also a particular camaraderie among CHIP participants. "You get to talk to and discuss your 'aches and pains' with other people who have been in a similar situation as you, and the staff are always available to answer your questions," says Ian Rich, who also joined CHIP following heart surgery. He's since lost 30 pounds and overhauled his eating habits.
When tackling a fitness goal on your own, small actions like wearing a pedometer and logging activity minutes help measure progress day to day. Rich uses online apps to monitor his calorie intake and keep from making bad choices—he quit buying a favourite coffee beverage upon discovering it had 300 calories.    
Most key to success is being realistic. Set short-term, reasonable and attainable goals, such as losing a half pound to a pound a week, and don't be discouraged if you hit a roadblock, Dr. Grover cautions. "The people who are successful at making any behavioural change are the ones who aren't put off by the fact they fell behind in the past few weeks, learning that you can pick up again and it's okay." 
Visit www.chiprehab.com or call 514 489-6630 for more information about CHIP.