An inspired and inspiring social worker at the MUHC: Claire Duchesneau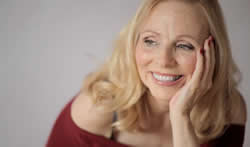 Claire Duchesneau has been a McGill University Health Centre (MUHC) social worker at the Montreal Chest Institute, for 27 years specializing in HIV/AIDS. Born into a musical family, she started singing at a very young age and never stopped, despite later suffering from significant hearing loss. It is this combination, and her tireless and compassionate work with HIV+ refugees that has made her the main subject of a documentary on music and healing.
It only takes listening to Duchesneau for a few minutes to figure how dedicated she is to her patients, many of whom come from the Democratic Republic of the Congo, Burundi and Rwanda, where they have experienced atrocities and lost relatives. Over time, her patients have become a source of inspiration to her. "Many of these patients are very vulnerable," she says, "but they are also models of resilience for me."
Four years ago, Duchesneau was diagnosed with cancer. She feared that chemotherapy would affect her hearing more, so she recorded an album. "Music has helped me through my cancer," says Duchesneau. "It is a thread in my life that helps me deal with the sad stories I hear day in and day out." Wishing to offer music as a gift to her patients, she helped a group of African women followed at her clinic to record an album of their own.
After 17 years supporting these patients, listening to their stories and learning about the wars that have marked their lives, Duchesneau feels she and her colleagues are now part of their history. "We lived it through their eyes and hearts," she says. Nevertheless, there are still many things that are beyond her understanding. "Their stories are so far from our reality that sometimes it is impossible to imagine what they are going through or have gone through."
In April 2014, Duchesneau will travel to Rwanda, to participate in the national commemoration of the 1994 genocide. She hopes to return with an even clearer understanding of her patients' realities. During this trip, she will accompany a Rwandan woman who lost several members of her family during the war. To help this patient raise the necessary funds to make this trip, Duchesneau will be doing a benefit concert, along with Barbara Lewis and Chad Linsley, on February 14, from 12 to 1 PM, at Livingston Hall in the Montreal General Hospital. The admission is public and free but Duchesneau hopes people will drop something in the jar. With this concert, she also wants to educate the community about Rwanda, because, as she says, "genocide is an attack not just on the actual victims but on all of humanity."