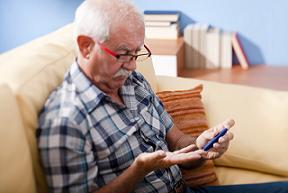 Research and innovative therapies at the MUHC
Two million Canadians have diabetes, which either occurs when the pancreas does not produce enough insulin (type 1 diabetes: most common in children) or when the body cannot effectively use the insulin it produces (type 2 diabetes: most common in overweight adults). Ten per cent of Canadians with diabetes have type 1; 90 per cent have type 2. 
At the MUHC, clinicians and researchers are working to address both type 1 and type 2 diabetes with several unique treatment programs.
Montreal Children's Hospital: Pediatric Insulin Pump Centre
"We treat close to 500 youngsters, most of them with type 1 diabetes," says Dr. Laurent Legault. "About 15 per cent of these children are using insulin pumps." 
Insulin pumps constantly monitor and control users' blood glucose levels, allowing much better control of diabetes than traditional insulin injections. Major studies have shown improved diabetes control reduces the risk of serious complications in later life. 
"The increasing use of insulin pumps reflects the trend towards more intensive treatment for diabetes," says Dr. Legault. "We are also using new types of insulin. These have the potential to improve both quality of life and control. 
"The Centre is unique in the pediatric field in Quebec. It's been officially open since 2005, but we've been working in the area since 2000. In addition to treating children, our team of experts helps other centres develop their own programs." 
In an ideal world, type 1 diabetes would be prevented altogether. The Children's is also involved with research into diabetes prevention. "We're the only centre in Quebec involved in TrialNet, a large research initiative with the goal of preventing type 1 diabetes," Dr. Legault says. "People with diabetic family members can be tested to determine their risk. Based on their test results, we can suggest prevention strategies to help slow down or prevent the development of diabetes."
Advanced research into type 2 diabetes
The adult hospitals of the MUHC are also doing advanced research into diabetes. "For example, we're working on regrowing insulin-producing cells in the lab for transplantation into people with diabetes," says Dr. Lawrence Rosenberg, A.G. Thompson Chair of Surgical Research at the MUHC and professor of Surgery and Medicine at McGill University. "These transplanted cells may enable the bodies of people with diabetes to produce at least some insulin, reducing the amount of treatment required.
"We're also testing a new drug therapy which induces the growth of insulin-producing cells," says Dr. Rosenberg. "The drug is based on a protein normally found in the pancreas. We have completed several human trials, and results so far are promising. This therapy also has potential to vastly improve diabetes treatment."
Despite advances in treatment, the majority of type 2 diabetes patients are still treated with either insulin injections, insulin-sensitizing drugs or a combination of these two therapies. "We need to do more to prevent type 2 diabetes," says Dr. Rosenberg. "The root causes of the diabetes epidemic are lack of physical activity and poor eating habits. As a society, we need to do more to address these issues in a coordinated fashion." 
There is now overwhelming evidence that regular physical activity, weight loss and adherence to a sensible diet can greatly reduce the risk of type 2 diabetes.
Diabetes, its symptoms and treatment:
What is diabetes? 
People with diabetes don't produce enough insulin to control the sugar in their blood.
What are the symptoms of diabetes?
frequent urination
thirst
fatigue
weight loss
stomach pain
rapid breathing
fruit-scented breath
A child with diabetes taking insulin can also suffer from blood sugar that's too low (hypoglycemia). These episodes are temporary and need to be treated with sugar.
What causes hypoglycemia?
a missed or late meal
strenuous exercise without enough food
too much insulin
vomiting
What can be done to treat diabetes?

Children with diabetes need to work constantly to control the disease so it doesn't control them. A daily routine includes:
two or more injections of insulin
regular, healthy meals
regular exercise
regular blood and urine tests
How genetics contribute to diabetes




   Diabetes – Dr. Rob Sladek, an endocrinologist, along with Dr. Natasha Garfield, Director of the Diabetes Clinic at the MUHC, and Dr. Gilda Bastasi, a nutritionist specialized in diabetes education, talk about how genetics contribute to diabetes and how to ward off the disease.