McGill International TB Centre fights tuberculosis from the Canadian North to the Global South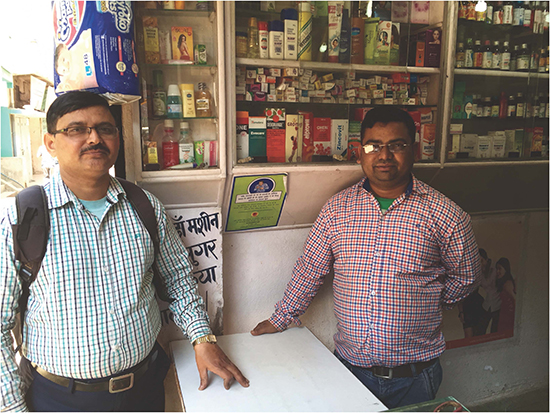 Project worker and a pharmacist from the IC-IMPACTS project. Photo credit: Amrita Daftary
Tuberculosis is caused by the bacteria Mycobacterium tuberculosis that most often affects the lungs. The infection spreads from person to person through the air. When someone develops active TB, the symptoms (cough, fever, night sweats, weight loss etc.) may be mild or nonexistent for many weeks. This can lead to delays in seeking care, and that can result in transmission of the bacteria to others. Without proper treatment, up to two thirds of people with TB may die.
Engaging the community to enhance early detection of TB
TB occurs in every part of the world but India bears the highest burden of the disease, and many cases remain undiagnosed. To tackle this global health problem, a subsection of the McGill International TB Centre team, led by associate director Dr. Madhukar Pai, is conducting an innovative research project that engages pharmacists to improve early detection of TB. The project, funded by IC-IMPACTS, is being implemented in Patna, a city in Bihar, one of India's poorest states.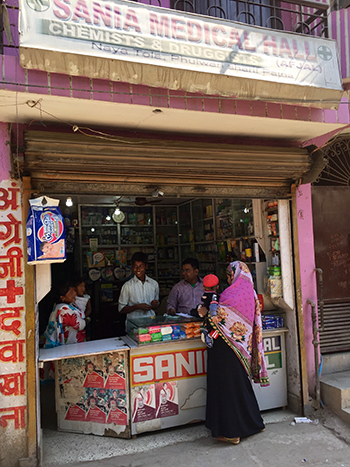 Pharmacy in Patna, India.
Photo credit: Amrita Daftary.
"Pharmacies are the first point of contact for many undiagnosed patients, and serve as optimum entry-points to screening services," says Dr. Pai. "Engaging pharmacy providers could help shorten the diagnostic pathway for TB and enhance early case detection."
For Dr. Amrita Daftary, a pharmacist and researcher who grew up in India and who has been managing the IC-IMPACTS project since it started in December 2015, this is the kind of innovative and aggressive project needed to find TB cases.
"We are not doing enough to find the people who actually have TB in India; there is a lot of delay in the healthcare system, and there is still a lot of stigma that leads to delays in screening. Nobody wants to come forward and talk about it," explains Dr. Daftary, also a scientist with the McGill International TB Centre. "It is very important to tap into the capacity of all types of healthcare providers and into individuals involved in the cascade of care for TB."
The research team will be recruiting 105 pharmacies in three areas of Patna. Pharmacists are being trained to triage patients with a cough or suspicious TB symptoms, and then send them to a screening  and referral service immediately, where they will access to free digital chest X-rays, among other services. Their findings from the first two months of implementation in 30 pharmacies are quite promising. Of 247 chest x-ray referrals made, 88% were completed and 57% were found to be abnormal. Of 109 doctor referrals made, 97% were completed and 30% TB cases were notified, all of which were initiated on treatment.
"We are really doing something new because pharmacists seldom refer patients for screening services; traditionally they just give over-the-counter medicines," says Dr. Daftary. "Now we're giving them a little bit of extra capacity to capitalize on the strong bond that patients have with their local pharmacists."
This project is being done in collaboration with an Indian NGO, World Health Partners, which has a program where patients who see a pharmacist or a doctor are automatically entered into an e-Health system. This gives them access to free screening, free diagnostic tests, and ultimately free treatment if they do have TB. 
"We believe our intervention will serve as an effective pilot for broader expansion in India, where novel initiatives are urgently needed to mitigate the impact of TB," concludes Dr. Pai. 
Reducing time to diagnose and treat TB in remote communities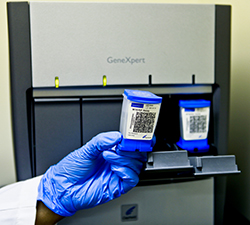 GenXpert TB sample.
Photo credit: Madhukar Pai
Innovative approaches of this kind are also being used by researchers at the McGill International TB Centre in the Canadian Arctic, where TB remains a major health problem in the Aboriginal population.
Dr. Olivia Oxlade and Dr. Kevin Schwartzman and their colleagues recently published a computer prediction system using field data that were previously generated by the TB Center team in Nunavut, using a TB test called GeneXpert, a high-tech molecular technology used for rapid automated testing for the diagnosis of TB. This system allowed them to model the clinical impact of using GeneXpert in the Aboriginal population with high rates of TB and also to determine the associated long-term costs of using the GeneXpert machine.
"We found that the GeneXpert machine, which leads to rapid and more sensitive TB diagnosis,  would  be expected to speed diagnosis and treatment by a week in persons with contagious TB," says Dr. Schwartzman, who is the director of the Respiratory Division at the McGill University Health Centre. "The use of GeneXpert in such remote communities could change the picture of diagnosis and treatment of TB.''
According to Dr. Schwartzman, if this technology could also be used to help healthcare providers decide whether they will discharge hospitalized patients with suspicious symptoms of TB earlier due to faster diagnosis, it would reduce healthcare costs.
 "Our findings imply that this technology can be used in remote Arctic communities to achieve important health gains and cost savings in the long run," adds Dr. Schwartzman. "It can reduce dependence on results of tests where specimens must be flown south for analysis."
The research team will be looking at other approaches to reduce and prevent TB disease in Arctic communities in the future.
Useful links
World TB Day 2016: Unite to End TB
McGill International TB Centre
IC-IMPACTS: ENGAGING COMMUNITY PHARMACISTS IN INDIA TO ENHANCE EARLY DETECTION OF TUBERCULOSIS
Oxlade O, Sugarman J, Alvarez GG, Pai M, Schwartzman K (2016) Xpert®MTB/RIF for the Diagnosis of Tuberculosis in a Remote Arctic Setting: Impact on Cost and Time to Treatment Initiation. PLoS ONE 11(3): e0150119.  http://journals.plos.org/plosone/article?id=10.1371%2Fjournal.pone.0150119
On social media
@McGill_TB                                                                                                                                                       @StopTB
#WorldTBDay                                                                                                                                                       #UnitetoEndTB