Evelyne Pytka: Renewing the love of food for diabetics
By Tamarah Feder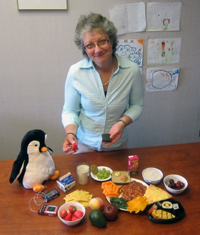 Evelyne Pytka is a clinical nutritionist and certified diabetes educator who helps children and their families navigate the challenges of living with Type 1 Diabetes – and renew a love and trust of food.
For Evelyne Pytka, teaching kids how to live well with their diabetes is as much about getting them excited about the science as it is about the pleasures of food.
When Evelyne Pytka was approaching mid-life, she was working as a professional violinist and a mom to her three small children. She was also an enthusiastic cook and food-lover. That was also when she learned she had Type 1 Diabetes. Although Pytka had already been considering a career change, the news of her diabetes served to focus her goals. As she worked on her new and, at times challenging relationship with food, she began writing Almonds & Raisins and Mostly Muffins, a cookbook for healthy eating, which she self-published in 1994. That experience and the research involved in developing the book, inspired Pytka to learn more about living with diabetes and share what she learned with others. Pytka headed back to school fulltime, starting with CEGEP, to get her qualifying courses. Then, in 1997, Pytka graduated from McGill with her Bachelor of Science in Nutritional Sciences (Dietetics and Human Nutrition). Soon after, she began working as a clinical-nutritionist at the Montreal Children's Hospital (MCH). 
Research and treatment for diabetes were rapidly evolving at the time, including the liberalization of nutritional recommendations and the introduction of insulin pumps in pediatrics. This innovation to insulin administration gave greater control and independence to children with diabetes. As the number of pump users began to increase, so did the need to better educate families on the options, and how to adapt to the new edible opportunities available to them. So, Pytka continued with her studies and built on her experience in the Pediatric Clinical Nutrition Department at the MCH, earning her accreditation as a Certified Diabetes Educator and certified insulin pump trainer.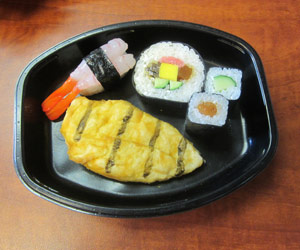 She also launched a local chapter of the Canadian Diabetes Association's Diabetes Educator Section (DES), and now serves as the Chair of the Association's Pediatric Interest Group. "There are nearly three hundred million people with diabetes around the world, of which more than 9 million live in Canada. About 10% of these individuals have Type 1 Diabetes," noted Pytka. "And yet, in spite of its prevalence, there is still a great lack of understanding about the disease. For many of those living with diabetes, they carry a sense of shame and guilt; consequently – and to potential detriment – sometimes even hiding their situation." For Pytka, equipping patients and families with knowledge and confidence can lift that burden. 
Although her formal training is vital in the information she imparts to patients and their families, it is Pytka's sensitivity to the struggles that children with diabetes and their families experience that makes her really good at what she does. As someone living with diabetes, Pytka is uniquely positioned to understand how intimidating and stressful this diagnosis can be. "It can suddenly alter and stress relationships, especially with food. Parents naturally worry about protecting their children from harm of any kind," Pytka acknowledges, "but suddenly, that concern is heightened exponentially as they consider the impact of the food they prepare and when their children may be eating something out of their sight."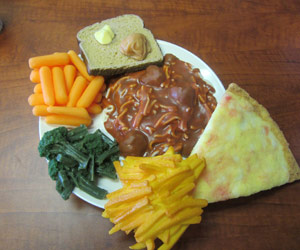 Pytka helps families overcome that intimidation and learn how they can integrate a new understanding of food into their daily life. In teaching children and their caregivers how to match insulin to food by calculating the carbohydrate they will eat, they can learn how to include all foods while still meeting the need for good diabetes control. 
In her office housed in a grey stone opposite the Montreal Children's Hospital, families are welcomed in by a room adorned with drawings by kids – her patients – and a table set for a feast with spaghetti, chicken, French fries, sushi, brownies, beverages, fruits and veggies, and more. Alas, upon closer inspection the food is made of rubber, but they certainly help in getting the attention of, and connecting with, her audience. 
Turning the seemingly insurmountable into the routine is where Pytka's teaching talents shine. Pointing to the plates of rubber food, she rattles off the estimated carb content as easily as reciting the alphabet, "Typically, a piece of pizza like that would be 25 grams of carbs. That serving of carrots 7 grams, the nachos 30 grams." A cuddly penguin sits on the table, proudly wearing his own insulin pump, another disarming teaching tool that lets people know this is something they can get a grasp on.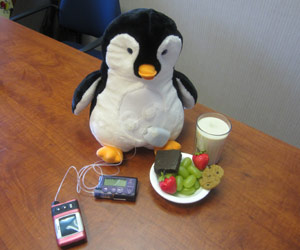 She explains to families the need to understand and monitor how different foods, stress levels or physical activity can impact blood glucose levels. "It's really about taking on a different perspective and developing a respect for this shift in our relationship to food, activity and to life in general." 
Pytka gets to know the families she works with, how they interact and important food issues: favourite foods, who does the grocery shopping, and who prepares the meals. The cultural or religious traditions families follow also play an important role in how she tailors her teaching. "There is an intimacy about food, and when it takes on a threatening position, it can call many aspects of life into question." By understanding these nuances, Pytka is able to show families how they can continue with their traditions and replace their fear with fun, and an appreciation of how it can keep them healthy and happy.