DEBATE: Challenges to AIDS prevention
As part of World AIDS Day, held on Saturday, December 1st, the McGill University Health Centre, in collaboration with the Consulat général de France à Québec, organized a debate discussing new challenges facing the prevention of HIV/AIDS transmission in the convivial atmosphere of the Usine C bistro, in the Village of Montreal.
Facts:
18, 000 Quebecers are living with HIV/AIDS
41 % of HIV-infected people are regularly followed and treated
Quebec gets between 300 and 450 new HIV cases every year
An estimated 25 % of people infected do not know
HIV infection among Men Who Have Sex with Men is reaching 14 % in Montreal
While there is a growing range of methods to prevent the transmission of HIV/AIDS i.e., condoms, screening and treatment to reduce the risk of transmission among people with the virus, the use of Post-Exposure Prophylaxis (or PEP) or Pre-Exposure (PrEP) for some individuals without HIV but who are at high risk for HIV infection, raises serious and important questions.
It is essential to reflect and assess the relative success of these efforts at prevention, as well as anticipate the ethical and economic challenges that lie ahead. The event was also the opportunity to explore the issues with two experts from France and learnt about the latest scientific collaborations between France and Quebec.
Members of the general public, representatives of the LGBT (lesbian, gay, bisexual, and transgender) community, community association members involved in the fight against AIDS, clinicians and scientists attended the event and were part of the discussion. The discussion, which included various questions from the audience, was moderated by Yanick Villedieu, host of Les Années lumière, scientific program on Radio-Canada (95.1 FM).
It was with the common goal of promoting Francophone scientific culture and supporting scientific collaboration between France and Quebec and thanks to the MUHC and funding from the Consulat général de France à Québec that this public and free event was made possible.
MEDIA COVERAGE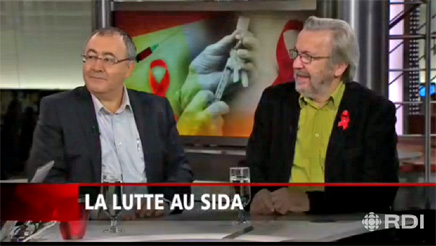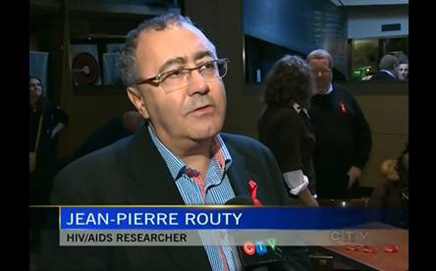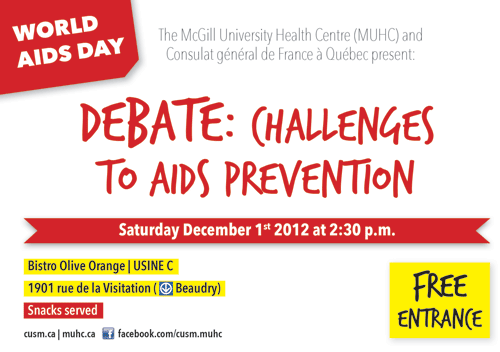 More about our panelists :
Jean-Michel Molina, is Head of the Infectious Disease Department at the Saint-Louis Hospital, Paris and a professor of medicine at the Univ. of Sorbonne Paris 7, Paris Cité. A clinician and HIV specialist, Dr. Molina is also responsible for clinical trials at the French National Agency for Research on AIDS and Viral Hepatitis (ANRS). He is the lead researcher for the ANRS-IPERGAY clinical trial whereby an antiretroviral treatment of HIV involving pre-exposure prophylaxis, is given"on demand" to men who have sex with other men at high risk for HIV infection.
Vincent Coquelin, is HIV prevention coordinator for sexual risk reduction and screening at Paris-based AIDES, the first French organization to fight against HIV/AIDS . M. Coquelin works on developing community-based screening techniques involving rapid tests intended to reduce sexual risk and encourage preventive action. He also coordinates AIDS activists who accompany participants in the ANRS-IPERGAY clinical trial.

Our panel will also include local people involved in the fight against HIV / AIDS such as:

Ken Monteith, Executive Director of COCQ-SIDA, a coalition of Quebec community organizations involved in the fight against AIDS. The coalition brings together community actors in the field of HIV / AIDS for efficient joint action with relevance to people living with HIV in Quebec.

Réjean Thomas, CEO and Founder of the Clinique médicale l'Actuel, a center of excellence that provides quality health care in terms of screening and treatment for sexually transmitted infections (STIs) and blood-borne infections, as well as care for people living with HIV / AIDS. Last July, Dr. Thomas and his team opened l'Actuel sur rue, a new walk-in clinic with rapid screening in the heart of the gay Village in Montreal .

Bertrand Lebouché is a clinician-scientist in the Department of Chronic Viral Diseases at the MUHC . His work at the Montreal Chest Institute focuses on the ethical implications of new strategies around HIV prevention. Dr. Lebouché also coordinates the research project at l'Actuel sur rue.

Jean-Pierre Routy is a clinician-researcher and hematologist at the Research Institute of the MUHC working to develop a therapeutic vaccine cure for AIDS based on personalized immunotherapy.

Cécile Tremblay works as a clinician-researcher at the University of Montreal Hospital Research Centre (CRCHUM) and at the Quebec Public Health Laboratory. Dr. Tremblay is also the main investigator for the Quebec portion of the Ipergay clinical trial scheduled to begin shortly in Montreal.

And finally, a renowned researcher who was one of the first scientists to study HIV / AIDS, Mark Wainberg is the Director of the McGill AIDS Centre and also a professor of medicine, microbiology and immunology at McGill University. In the late 1980s, Dr. Wainberg and his research team helped to develop 3TC, a drug now commonly used to treat AIDS.