Budding rapper writes and performs a song of appreciation for family and the care he received at the MUHC Royal Victoria Hospital after overcoming a deadly disease
Demetri Paschalis raps. In typical teenage fashion, he started in his mother's garage with friends at the age of 18, and he hasn't stopped. So when he looked death in the eyes last year at the age of 20, and lived to tell the tale, he wrote a song.
"The words were released in the form of emotions that I concealed during the almost two months I was in the hospital," says Paschalis. "When they flooded from me I just wrote my heart out. I wanted to create awareness of how life is fragile, the value of family and friends and how we are often blind to this. But it is also my way to thank the Royal Victoria for doing such an amazing job and saving my life."
In January 2012, Paschalis started to cough up blood. He was misdiagnosed with sinus infections and pneumonia by several local clinics and a hospital. As his health began to dramatically decline, his mother rushed him to the Royal Victoria Hospital (RVH) Emergency Department where he was immediately triaged. Paschalis' blood oxygen level had fallen from the normal 90 to 100 per cent to only 50 per cent, and within an hour of his arrival he had started to vomit blood.
"He was given a blood transfusion and then admitted to the ICU (Intensive Care Unit)," says Jamie Kostarides, Paschalis' mother. "A week later we were told he had Goodpasture's disease."
Goodpasture's is a rare and serious autoimmune disease in which antibodies attack the lungs and kidneys. It affects approximately 1 in 2 million people. Unless a diagnosis is made rapidly and treatment is given, patients often die from internal bleeding and kidney failure.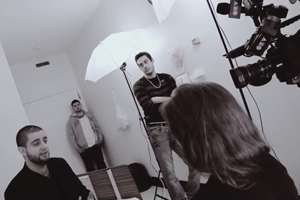 CTV video shoot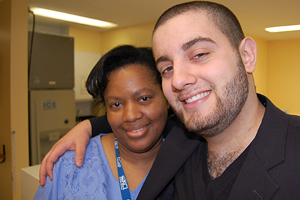 Jacqueline Saunders, Unit Nurse and Demetri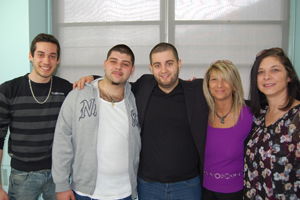 Karim Akawi (friend), Terry Tsapaliaris (cousin), Demetri, Jamie (mom), aunt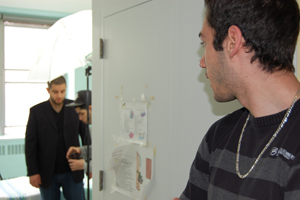 Demetri setting up for CTV video shoot with Karim Akawi (friend) looking on
"Within a couple of weeks of being in the ICU, Demetri's kidneys had completely shut down and blood had flooded his left lung," says Kostarides, whose sister joined her at Demitri's bedside and stayed with them throughout the ordeal. "At that point they advised us that they needed to put Demetri in an induced coma for 48 hours."
While sedated, Julia Lefebvre, one of Paschalis' ICU nurses, noticed his CD by his bedside and played it so she could get to know him through his musical tastes. "I wanted to humanize care for Demetri," she says.
Paschalis ultimately underwent plasmapheresis—the removal, treatment, and return of blood plasma from blood circulation—and chemotherapy, to control the cells that were attacking his organs. As he regained his health and strength he continued to listen to his music.
Around mid-March, he was moved to the Medical 10 ward of the RVH, where nurse Jacqueline Saunders admitted him and stayed close to his side. "Demetri is amazing," she says. "I saw this disease once before about 20 years ago so I knew what to expect. One of my concerns was his mother—I saw how nervous, tired and anxious she was."
"Jacqueline was like my angel," says Kostarides. "Everybody became like family in the hospital, coming up to us making sure we were ok, giving us all the info they could. We were sleeping there 24/7; they gave us a room and they provided us with social services. It is clear they don't just care for the patient—they care for the entire family."
In Paschalis' opinion, all of the positive reinforcement and support given to his mother and aunt strongly contributed to his recovery.
For Kostarides, she would never go to another hospital other than the RVH again. "No hospital could replace this one. I don't know how the healthcare workers do it day in and day out. I thank God they are here as they saved my only child. I will be forever grateful."
Paschalis' song is released under his artist name, Don Delta, featuring G. Fraser. To listen to the song and watch the music video on YouTube, click here (www.youtube.com/watch?v=-XgCmAHX2F0 ).