By Julie Robert
Nikolas Ouimet is 14 years old. Since birth, he has had very poor vision. He suffers from Leber Congenital Amaurosis (LCA), a hereditary disease that often causes blindness in newborns. Thanks to the work of Dr. Robert Koenekoop, a researcher at the Montreal Children's Hospital (MCH), Nikolas may have the chance to get a better view of the world around him.
"I see colours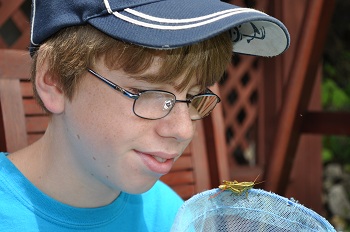 and large shapes such as trees, but I can't make out birds or butterflies," Nikolas described. "I'm so happy about this discovery, as there's a chance my sight may get better. I hope one day I'll be able to see."
Nikolas's case is what allowed Dr. Koenekoop to discover a new genetic dysfunction that causes LCA. Even before Nikolas's first birthday, the researcher and director of the MCH's Ocular Genetics Laboratory at the McGill University Health Centre saw that the young boy suffered from LCA, but he was not able to identify the cause. At the time, knowledge about this disease was limited, but Dr. Koenekoop tirelessly continued his research.
"Around the age of two, Nikolas started developing retinal problems. I knew the cause had to be a gene we didn't know about, because he responded negatively to tests for other genes already known to be responsible for LCA," explained Dr. Koenekoop. After many years of work, and with the help of his international colleagues, Dr. Koenekoop discovered that Nikolas's condition was caused by the NMNAT1 gene, which is thought to play an important role in metabolism.
LCA is a rare genetic disease that appears at birth or during the first months of life. It affects approximately 1 out of 80,000 newborns. Although there is currently no recognized treatment for this disease, researchers have discovered 18 genes that are responsible for this type of blindness.
For Dr. Koenekoop, the discovery that NMNAT1 is one of the genes responsible for LCA has generated the most enthusiasm, because it provides a better overall view of how the disease develops. "Currently, we are able to identify the gene responsible for LCA in 75% of children. We're getting closer to the point where we can identify all genes responsible for this type of blindness in children and develop effective treatments."
"This is probably one of the most important discoveries in neuroscience and blindness in the past 15 years," said Dr. Koenekoop. "Nikolas was the first person in the world found to have a mutation in this gene. When I called his parents, they were relieved and happy."
"This discovery has been a high point in our lives, The cause has been identified, and we can now hope for a treatment – not just for our son but for other children suffering from this genetic disease," said Julie Lupien, Nikolas's mother. "From the start, Dr. Koenekoop has supported us and kept up hope. He has been a real breath of fresh air."
Nikolas, who has a passion for beautiful cars, is hopeful that Dr. Koenekoop's discovery may one day take him from standing beside a car as an admirer to getting behind the wheel and driving it.