Operation Winterize helped vulnerable patients brave the cold
When the weather turns cold and the temperature dips, many of us never think twice about pulling out the winter gear from the back of the closet. A board meeting with Social Services in January of 2022 highlighted the issue that not everyone is fortunate enough to have warm clothes. This led to an ambitious project to buy much needed winter gear for trauma patients at the MUHC – some of whom have nothing when they are ready to be discharged from hospital.
"Operation Winterize surpassed our expectations," says JoAnne Booth, secretary at the Friends of the MUHC. "We fundraised $10,444 and donated $10,000, for a combined total of $20,444."
"We are talking about vulnerable patients; refugees, homeless people, etc. Often when they are admitted to the hospital their clothes are cut off. If they're lucky they have a decent pair of shoes to go home in. It's a real issue," explains Laura MacFarlane, vice president of the Friends.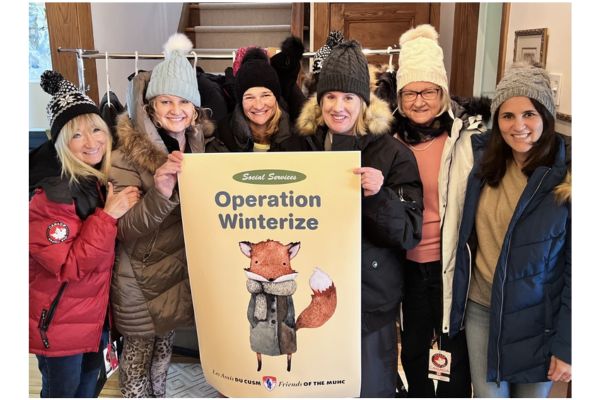 (L to R) JoAnne Booth, Laura MacFarlane, Anthea Dawson, Mary Spencer, Joanne MacPhail and Ana Maria Plata
Pandemic catalyst for fundraiser
The Friends is a registered charity dedicated to supporting the MUHC. It helps buy critical equipment and fund essential programs and services. The idea for Operation Winterize came about because of the pandemic.
"COVID restrictions meant the MUHC wasn't allowed to accept gently-used clothing. Social workers were going out on their lunch break and after work to buy winter gear for patients who were leaving our hospitals," says JoAnne. "This was our opportunity to step up and help the social workers and the patients."
Storage was a major hurdle
The bargain hunting started in earnest in April of 2022. The Friends hit the stores for end of season and clearance sales. Laura laughs as she recalls the shock on the face of one sales associate at a store in Décarie Square. "I said we need 30 coats, the man took a deep breath and I said, you heard me right."
Finding storage for their growing inventory was a job in itself. Once units were secured, the Friends were on the move, a convoy of vehicles, coat racks and plastic containers stuffed with merchandise making its way from JoAnne's home to the hospitals where social workers waited with warm smiles and open arms. Laura fondly recalls a bone-chilling December 21st delivery to the Montreal General Hospital (MGH). "It really was like Christmas. Nothing beats looking at somebody's face and they're saying, Do you have any idea of the difference you have made? It's really quite emotional."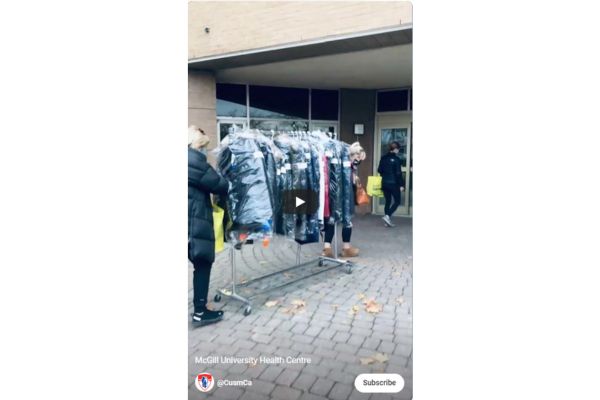 The campaign evolved
In all, seven deliveries were made to four sites; Glen site, Allan Memorial Institute, Lachine Hospital and MGH. The Neuro's share was stored at the MGH. Faced with evolving needs, the initial campaign was adjusted to buy other clothing items that were in demand.
What was bought?
152 pairs of socks
152 sweat pants/shirts
123 scarves
116 pairs of undergarments
106 winter jackets
87 hats
70 pairs of gloves/mittens
48 pairs of boots
Laura Patch is a social worker with the traumatic brain injury team. She was interim clinical coordinator for Social Services at the MGH during Operation Winterize. "At the General we helped more than 40 patients," she says. "The response has been nothing but positive. Providing patients with brand new clothes gives them with a sense of dignity and importance, as well as reassurance when it is finally time to leave the hospital."
What's next for the Friends?
Visit www.friendsmuhc.org to meet the team and learn more about the different ways they support the MUHC.
Picture Gallery