MUHC OPTILAB receives prestigious triple ISO certification — A first in Quebec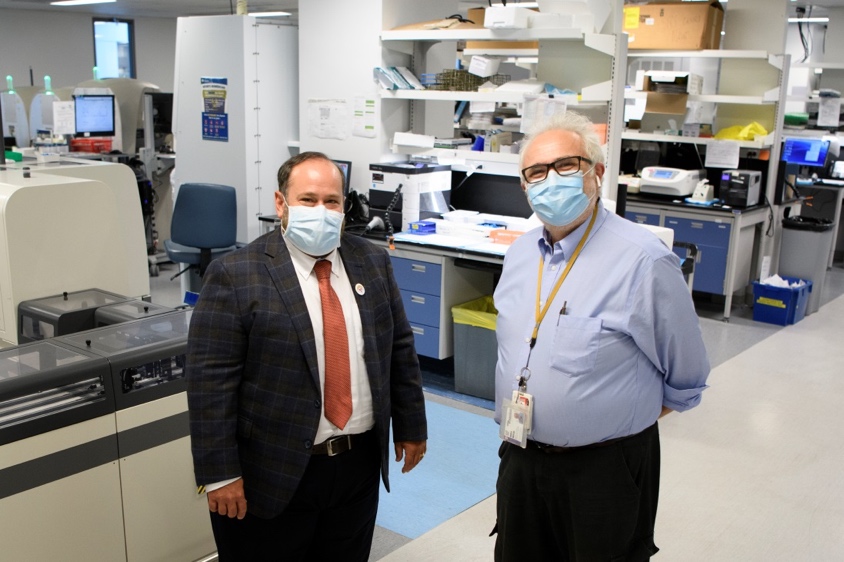 Dr. Andre Dascal, medical director of OPTILAB Montréal-CUSM and chief of clinical laboratory medicine at the MUHC and Enzo Caprio, Clinical administrative director of OPTILAB-Montréal CUSM
The McGill University Health Centre (MUHC) is proud to announce that its multi-site laboratory OPTILAB Montréal-CUSM is the first of the 12 OPTILAB clusters in Quebec to receive ISO accreditation (ISO 15189:2012, ISO 22870:2016, and CAN/CSA-Z902-15 when applicable) from the Bureau de normalisation du Québec and Standards Council of Canada (SCC). This accreditation attests to the high standards that OPTILAB Montréal-CUSM has achieved in all of its labs, a significant team accomplishment during a global pandemic when lab results are in great demand.
 "This triple ISO accreditation is concrete proof that extensive thought and effort are being put into assuring the highest level of performance throughout OPTILAB Montréal-CUSM," stated MUHC President and Executive Director Dr. Pierre Gfeller. "I wish to congratulate our multidisciplinary teams on this achievement and thank them profusely for always striving to make the changes that allow us to meet the evolving needs of the population; after all, we mustn't forget that laboratory results play a vital role in diagnosing, monitoring, screening, and treating patients so labs must keep pace and we are doing exactly that!"
An extensive evaluation
The evaluation process was long, in-depth and delved into every aspect of the lab's operations.  Spanning a period of almost two years, the accreditors visited all 15 labs for a total of 34 visits.  In all, 205 evaluation questionnaires were completed and submitted by the OPTILAB Montréal-CUSM Quality and Performance team.
The laboratories were evaluated according to 12 criteria established by the BNQ: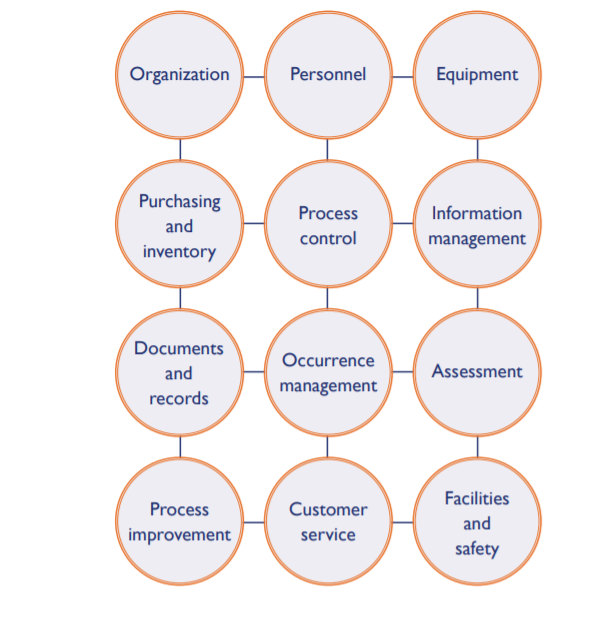 To obtain the ISO certification, all labs in the OPTILAB Montréal-CUSM territory, which spans from Montreal to Abitibi, were required to pass all 12 subcategories and prepare continuous improvement action plans when necessary. This colossal task was achieved through the collaboration and engagement of various site leads.
Although the accreditor inspections ended in September 2019, the work to earn the certification continued, even when the COVID-19 pandemic was declared in March 2020, a true testament to the teams' ambitious objective to obtain the ISO certification.
 "Despite the unprecedented times, the accreditation process was never suspended. It's a true privilege to lead such a dedicated team of laboratory professionals," says Enzo Caprio, Clinical administrative director of OPTILAB CUSM. "Technologists play a critical role in health care. The ISO certification is proof that we meet superior standards and provide reliable, credible, and quality tests for our patients and physicians."
"Our cluster's 15 laboratories provide support to several healthcare establishments, ranging from large academic health centres to smaller rural ones. Regardless of the site or institution, there is great need for superior quality laboratory services, including pathology, microbiology, biochemistry, hematology and molecular/genetic testing," says Dr. Andre Dascal, medical director of OPTILAB Montréal-CUSM and chief of clinical laboratory medicine at the MUHC. "When the provincial OPTILAB project was implemented in 2017, quality was the primary objective. Since then, we have broken certain silos and leveraged our team's competencies to forge a multi-site laboratory with standardized testing. The ISO certification is proof that we have been successful and that we are on the right track for this long-term project. Mr. Caprio and I would also like to acknowledge the work of all involved technologists, clerks, managers, coordinators, and Yamama Tamim, assistant to the director for quality and safety and Kathy Kyriazopoulos, interim associate clinical-administrative director."
A Shared Accomplishment
This certification is an accomplishment shared between several partner organizations, and their effort has received praise from leaders of the CIUSSS West-Central Montreal, CIUSSS of the West Island of Montreal and the Abitibi region..
"I would like to extend my congratulations to OPTILAB Montréal-CUSM for this significant achievement," said Dr. Lawrence Rosenberg, President and CEO of CIUSSS West-Central Montreal. "This accreditation is further confirmation of the accuracy and reliability of OPTILAB's laboratory services, whose dedication to quality is especially important at a time when the public's need for precise and timely testing has never been greater."
"I would like to warmly congratulate OPTILAB on obtaining this ISO accreditation, the ultimate recognition of compliance with the highest quality standards," said Lynne McVey, President and CEO of the CIUSSS West Island. "We salute the extraordinary collaboration of our teams, who have worked together with the utmost determination to achieve this goal."
"The ISO certification of the Abitibi-Témiscamingue CIUSSS laboratories is the result of a colossal amount of work by all the teams, led by two assistant quality managers, Pierre Blanchard and Nancy Gingras. Collaboration was at the heart of the steps leading to this exceptional achievement. I would also like to acknowledge the support and advice provided by the CISSS teams in Abitibi-Témiscamingue throughout the certification process. Thank you and congratulations to everyone," said Judith Laberge, administrative coordinator of the laboratories.
Laboratory sites of OPTILAB-Montréal CUSM presently accredited
Server laboratories

 

MUHC
Jewish General Hospital ( pathology and microbiology)

McGill University Health Centre (MUHC)

 

Glen site
Montreal General Hospital
Lachine Hospital

CIUSSS West-Central Montreal

CIUSSS West Island

Saint Mary's Hospital Centre
Lakeshore General Hospital
LaSalle Hospital

CISSS de l'Abitibi-Témiscamingue

Val-d'Or CLSC and Hospital
CLSC de Senneterre
Hôpital de Rouyn-Noranda
Hôpital d'Amos
Centre de soins de courte durée La Sarre (CSCD)
Pavillon Sainte-Famille
Point de service de Témiscaming-et-de-Kipawa

PARTNER ORGANIZATIONS
(not part of this accreditation or will be accredited separately)

Régie régionale de la santé et des services sociaux du Nunavik

Centre de santé Inuulitsivik
Centre de santé Tulattavik de l'Ungava

Conseil cri de la santé et des services sociaux de la Baie James

Hôpital de Chisasibi
CMC Mistissini